This car falls in the same line as that polarizing M5 powered 635CSi I posted a little while back. Purists will not like this, but really some of the mods made here make this a more functional and enjoyable driver's car and the styling and paint give it a bit of flare that turns heads of the more casual auto observer.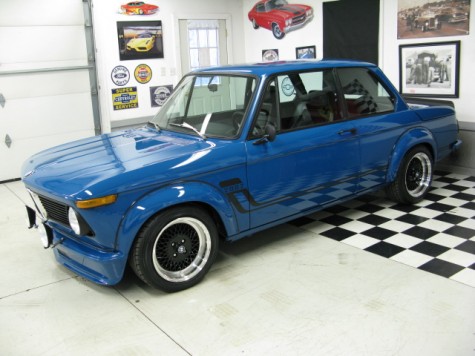 The most obvious thing about this car is the paint. The seller lists this as being the now some what traditional BMW Laguna Seca blue, although in these photos it looks a bit darker blue than the OEM color. (possibly just a lighting or camera artifact) Either way it looks pretty snazzy. The body has other eye catching features like the fender flares front air dam with extra lower lip and an OEM turbo 2002 trunk spoiler. A Euro rear bumper is also bolted on. The car has had the chrome trim replaced for black which compliments the black pin striping and the black honey comb 15 inch Enkeis.
Momo and Recaro items spruce up the interior, complete with modern ICE.
Mechanically the car is listed as having exactly 100,000 miles with recent head gasket, new front brakes, 5 speed transmission and a limited slip rear differential.You might want to double check on that mileage figure and see how close to 100k it actually is or if that is just a guess on the seller's part.
I like the looks of this one. It is currently is just under $13,000 with several bids and the reserve not met.
~Evan