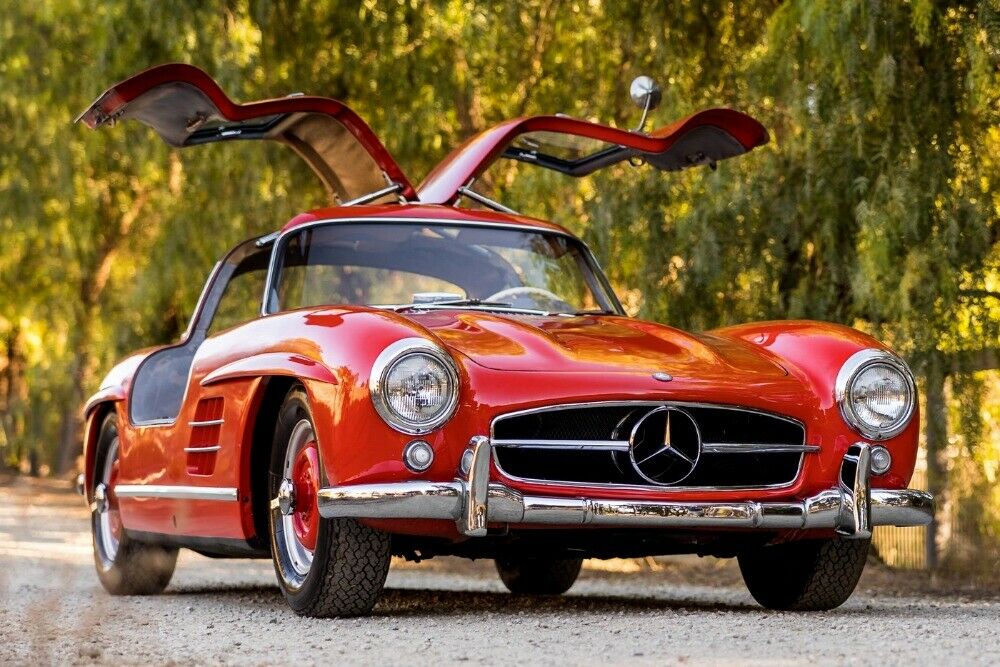 Over 65 years later, this 300SL continues to amaze. There is a reason why it is the only car with a production number over 1,000 that commands seven-figure price tags. Each one of them is special in their own way and some will argue it is up there with the greatest cars ever produced. These cars are not for the faint of heart or those with the tight wallet. Despite having full factory support from Mercedes-Benz and a very active community, they don't change hands all that often. Public sales are few and far between given the production numbers, and when they do sell, it's usually in the headlines.
This 1955 up for sale in California is said to have been been in private hands for the past 40 years and taking a look at it, I could buy it – the story, at least. This is not a restored car or even an all that well maintained one judging by the description, but that doesn't seem to deter this well-known dealer asking the moon for it.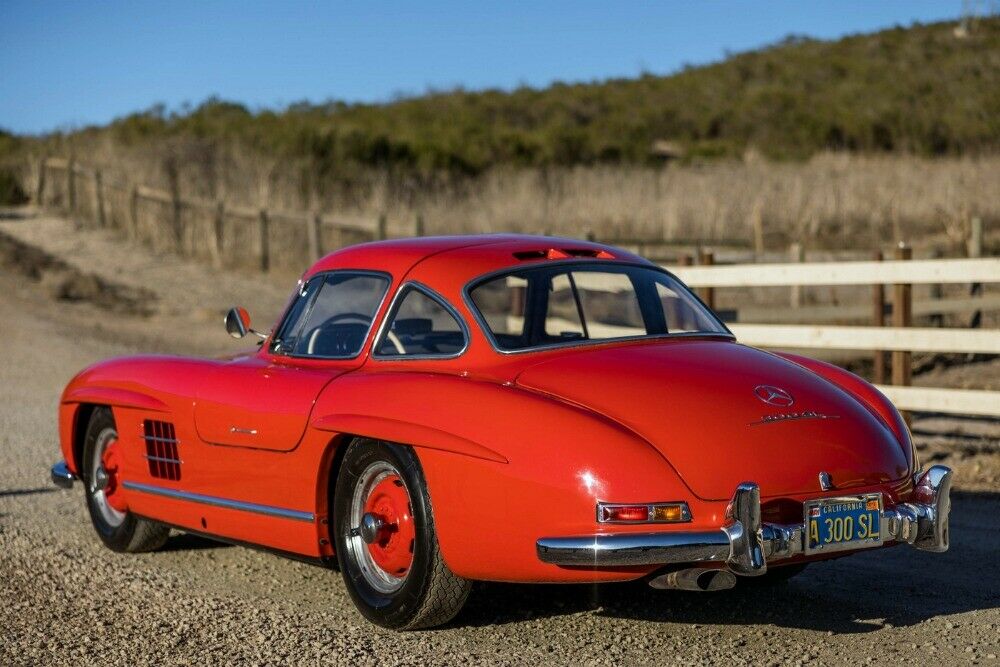 Year: 1955
Model: 300SL Gullwing
VIN: 23334
Engine: 3.0 liter inline-six
Transmission: 4-speed manual
Mileage: TMU
Location: California
Price: $1,295,000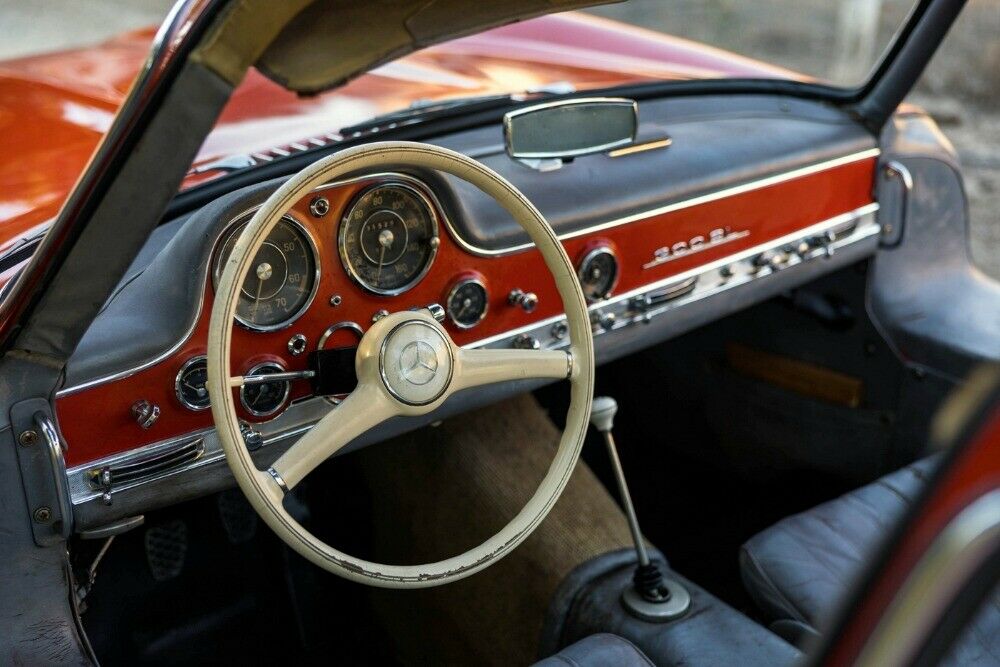 1955 Mercedes-Benz 300SL Gullwing – Factory Equipped Rudge Wheels

This special order, factory equipped Rudge wheel Gullwing remains in charming, largely original condition as a longtime California car recently coming out of 40 years of private ownership. Presented today in its original color combination and retaining its matching numbers engine, this uber-desirable spec 300 SL coupe is primed for recommissioning to be used as-is or as the perfect candidate for full concours restoration.

Chassis no. 198.855-675-2431. Engine no. 198.855-675-2431. Body no. 198.855-675-2431. Matching numbers. DB 534G Fueurwehrrot paint. Original gray leather interior. Largely original condition throughout. US Delivery. Longtime California car. Original owners manual. Original concave star. Original tools and bag. Original belly pans. Original jack and spare wheel.

Within the past several months, the Gullwing was serviced and has been started for the first time in many years. As testament to the robust nature of the W198 power-plant, this engine runs strong but will require tuning for regular road use and certainly the rest of the mechanicals on the car require recommissioning for regular use. Importantly, chassis 5500457 retains its original, matching-numbers engine, original date coded Rudge knock-off wheels as installed by the factory and remains in largely original condition with no signs of significant rust or accident. This Gullwing retains its original tool roll, jack, owners manual, several registrations from previous ownership tenures dating back decades and a charming original 1970s-era California blue plate that reads, A 300 SL.

Just out of 40 years of private ownership, this 300 SL Gullwing remains in usable, largely original condition with its grey leather interior still in place despite 65 years in its wake. With scant few of these ultra-desirable, factory equipped Rudge wheel 300 SL Gullwings remaining in unrestored condition in the world today, this longtime California example of Mercedes most prized design is a rare opportunity to own and enjoy a matching numbers Gullwing on the road as-is or as an exceptional candidate for concours restoration.

Chassis no. 198.855-675-2431
Engine no. 198.855-675-2431
Body no. 198.855-675-2431
Matching numbers
DB 534G Fueurwehrrot paint
Original gray leather interior
Largely original condition throughout
US Delivery
Longtime California car
Original owners manual
Original concave star
Original tools and bag
Original belly pans
Original jack and spare
Price: $1,295,000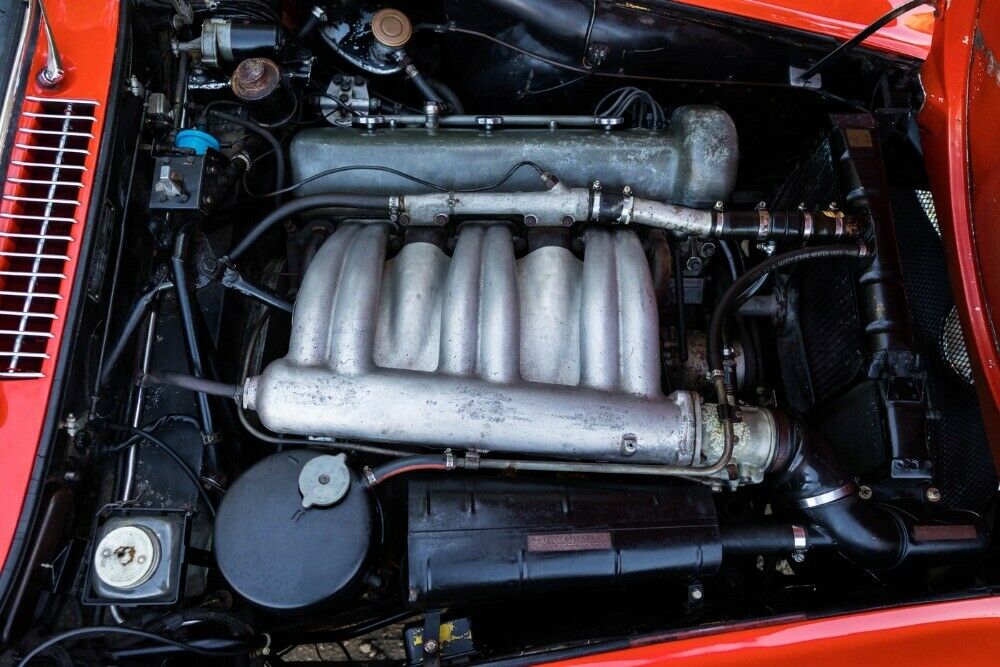 Without question a handsome car. This example has the ultra-desirable knock-off Rudge wheels that 300SL owners will pay $50,000 for without question, but that seems to be where the music stops. The important bit here is that the selling dealer, which is known to be the king of "as-is" cars, mentioned that is was recently been started for the first time in many years. It also mentions that "will require tuning for regular road use and certainly the rest of the mechanicals on the car require recommissioning for regular use". Uh oh.
There are two problems when servicing a 300SL. The first being finding someone qualified to do. That isn't really the problem, but rather when they can fit you in. You don't call a 300SL specialist and have them say, "Yeah, I can look at it Friday morning. Leave the keys in the drop box." It doesn't work like that. The small handful of these experts are booked months in advanced, if not years for anything more than an oil change. The second problem is obviously the cost.  If at any point the thought of "How much is it?" other than to wire the money enters your mind, you shouldn't be owning a 300SL. These are in the league of true "open checkbook" cars. Fix whatever is wrong, regardless of cost, no matter what. No one wants a project 300SL at a premium price, which is exactly what we have with this one.
I'm not sure where the $1,300,000 figure came from. This car clearly needs tens of thousands in service, if not more, and is cosmetically pretty rough. There is a reason why there is only one photo of the interior at an unfocused angle, and why the rest of the information is vague. We've literally seen nicer cars sell for hundreds of thousands less recently with this 1956 and this 1957. The '56 had a recent engine-out service, while the '57 underwent a full three-year restoration. I know those wheels add some value to the car here, but not $400,000 worth. Judging by those comps, I'd struggle to pay more than $1,000,000 for this one. Even that I think would be an overpayment. Any thoughts?
– Andrew