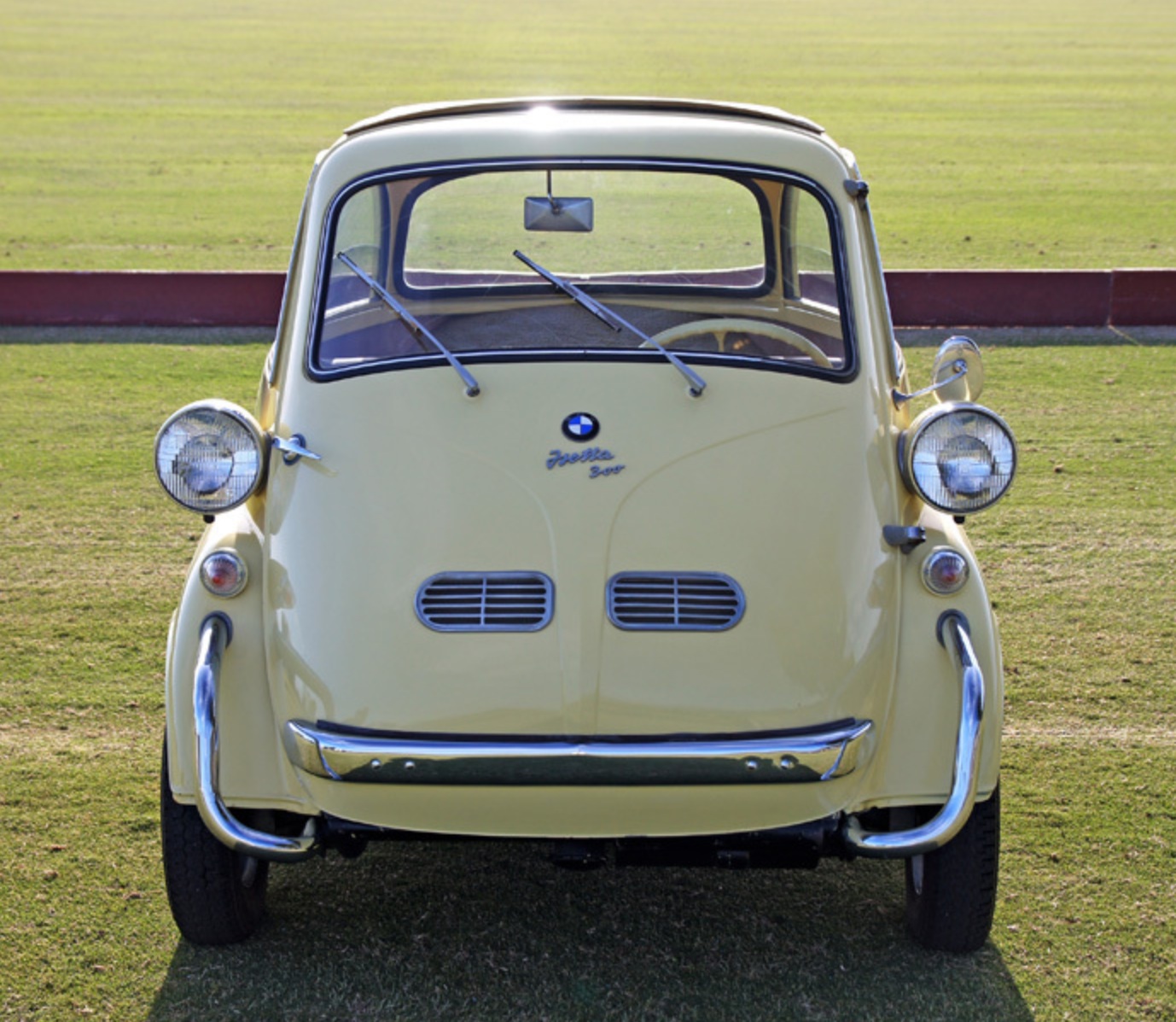 If you go back a few decades, you'll realize that small cars like the Smart and Toyota/Scion iQ are not that new of a concept. In fact, they aren't really that small at all. In postwar Europe, a vehicle came about out of necessity that was even smaller: the bubble car. This was the answer to getting folks back on their feet and mobile when few could afford a full-sized car. These tiny runabouts, usually powered by engines derived from motorbikes, were built by a few manufacturers. Perhaps the most famous of the breed is the BMW Isetta.
Virtually unlike anything that came before or after it, this two seat microcar had a front-hinged door and could fit in a parallel parking space head first. Powered by a one-cylinder engine, performance was leisurely, which was fine, as these cars were used mainly in urban settings. While the notion of such a small car seems far and away removed from the current BMW product portfolio, it serves as a reminder as to how this company was hanging on for survival after the war. This Isetta for sale in California has been treated to a comprehensive restoration and is painted in a period appropriate color.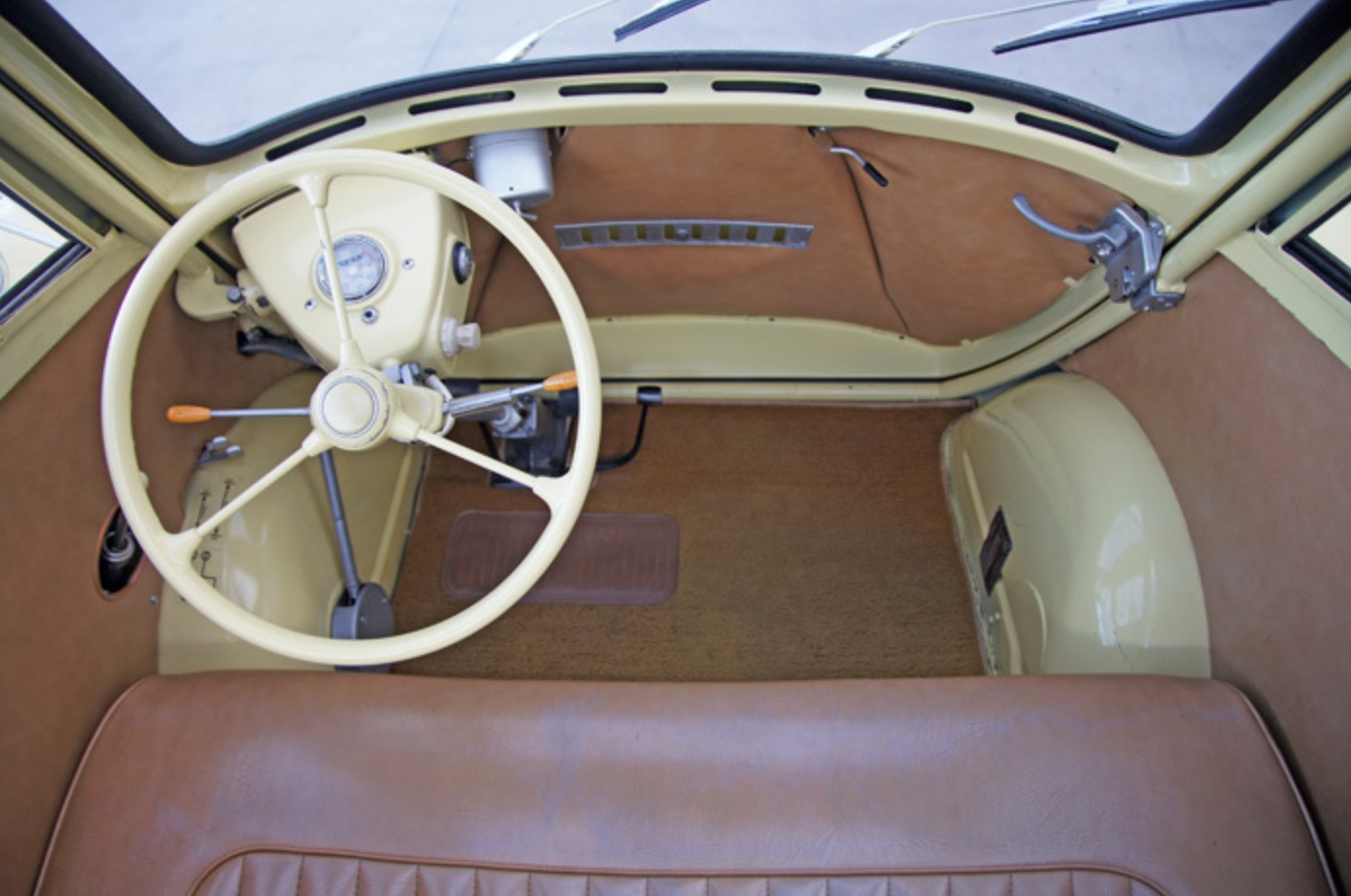 Year: 1957
Model: Isetta 300
Engine: 298cc four stroke one-cylinder
Transmission: 4-speed manual
Mileage: 32,023 mi
Price: Reserve auction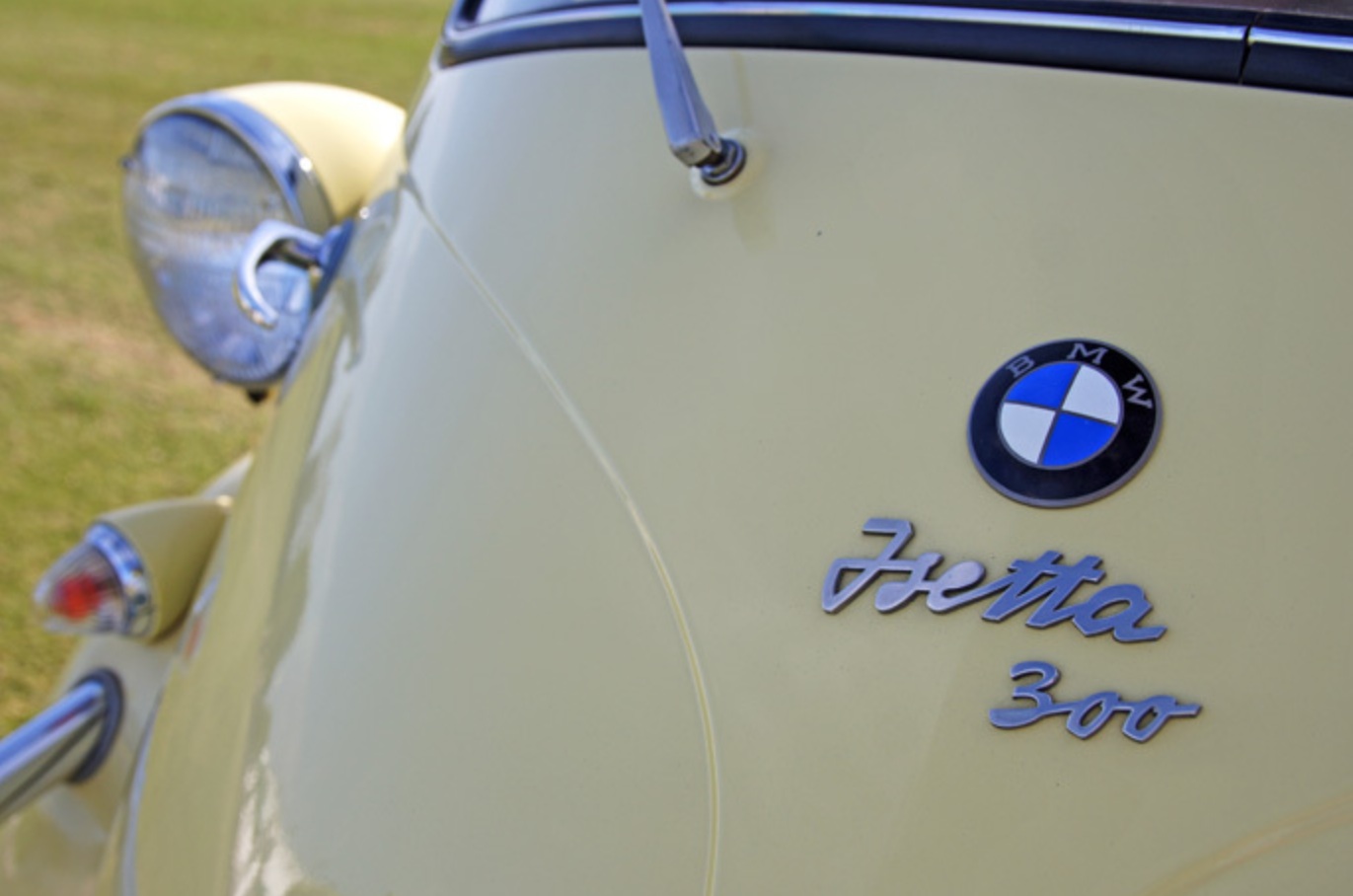 Offered for sale is our incredibly original, always California owned, numbers matching, rust free, professionally fully rebuilt original numbers matching engine and original transmission 1957 BMW Isetta 300 finished in its rare factory correct Weisgold (paint code 19567) over tan. Produced for the US market, it has been a Southern California car from new, stored for the better part of three decades between the 1970s and 2000s, and most recently a labor of love for two brothers who mechanically and professionally restored the car together (rebuilt original engine, rebuilt original transmission, carb, fuel system, brakes, clutch, electrical, etc.), preserving the cars beautiful originality and charm. Of all the classic, collector and unique cars we've owned, none has garnered more attention from other drivers and pedestrians than the Isetta. Thumbs ups, waves and requests for photographs run rampant. And perhaps the nicest aspect of that attention is that it's always accompanied by smiles – you just can't help but feel good looking at it.

This is only complimented by the cheery factory correct finish, a warm pastel yellow that's entirely era specific and stunning in person. Presenting beautifully, it's only marred by the most minimal of imperfections (the odd, touched up rock chip), none of which are significant enough to appear in any of the pictures. The interior shows only a light and evenly beautiful patina, its handsome tan upholstery, interior panels and carpeting all in excellent condition. All of the chrome is great shape, as is the rubber, front and rear windshields and each of the sliding windows. The body is completely straight and the undercarriage is solid, straight, and rust free.

Mechanically the car is in excellent shape, its original and recently fully rebuilt and refinished one-cylinder, four stroke 298cc engine starting easily and idling consistently. This has to be the strongest Isetta that we have owned mechanically. The car shifts well, pulling through each of its gears strongly and is quite sure footed, handling tightly on its incredibly short wheelbase and driving and braking straight. Surprisingly peppy (BMW rated the car as being able to reach speeds of 53 MPH!), the car is as much fun to drive as it is to look at. With its Italian designed space-age looks, it's interesting to picture how the car must have been received by consumers in the 1950s. "Practical" is certainly one adjective that was used, because despite its unique looks, the car is of course incredibly fuel efficient and easy to park with ample room for two adults.

Isettas have skyrocketed in value in recent years with auction examples routinely fetching $50k+ and showing no signs of slowing. As such, this is an excellent opportunity at a beautiful and solid example of a wonderful investment car, whether it be for the serious collector/investor, a promotional vehicle for a business owner or a unique driver for the weekend enthusiast. Please bid accordingly. Thank you for your consideration.

We want this car to go to great home and would be happy to further discuss it and answer any questions, so please feel free to email us or call us at 805-202-4557. You can also visit us online at GoodmanReed.

Goodman Reed Motorcars

We've always had an appreciation for classic European cars and over the years have created an eclectic personal collection. We only buy cars that we'd personally be interested in owning and generally only sell them to make room for other acquisitions. That time has come for this Isetta (if the price is right, of course – this isn't a fire sale). We try to give accurate descriptions of the cars we're selling, but we're enthusiasts, not experts, and we encourage and are happy to help facilitate personal or professional inspections. But please do so before bidding, as the alternative harms our ability to make sales to other interested parties who have done their proper due diligence before bidding.

For U.S. buyers a 10% non-refundable deposit is required within 3 days of the auction's end, the balance to be paid within 7 days of the auction's end. Foreign buyers must pay in full within 7 business days of the auction's end. Buyer is responsible for shipping, however we'd be more that happy to help with recommendations and arrangements. The car is listed locally and we reserve the right to end the auction at any time should it sell prior to auction's end. Thanks for your interest.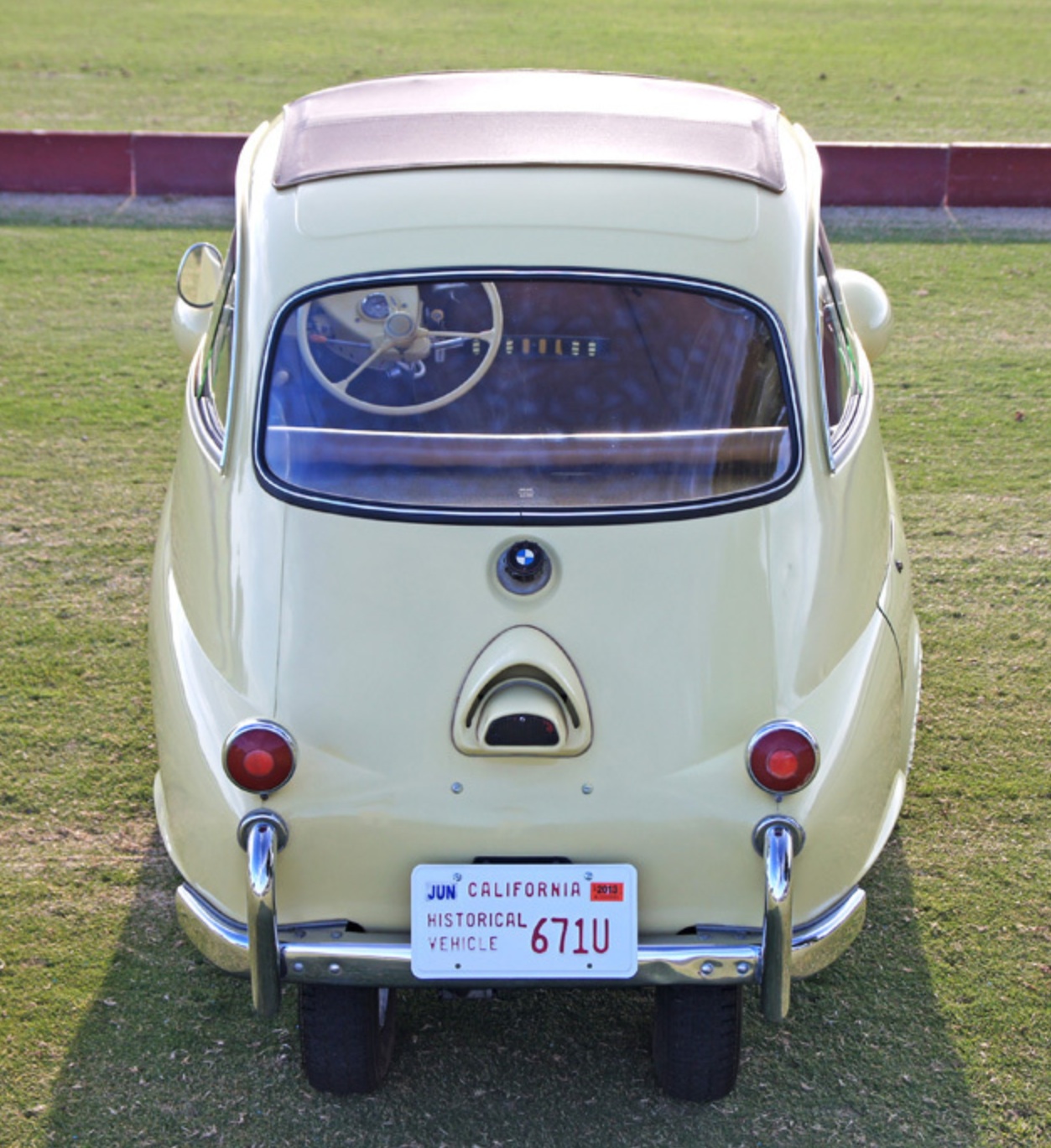 This little car can't help but make you smile. It just looks happy. With that happy demeanor comes a surprisingly dear price. A lot like that other auction darling of late, the Amphicar, prices for bubble cars in good nick have shot up in recent years to the point where good ones are no longer play toys for the novice enthusiast. A good Isetta like this could be capable of bringing upwards of $40,000 to the right person. In fact, a restored Isetta 300 brought a shade over $40,000 at the Barrett-Jackson auction last year. Average cars in good running condition are trading hands between $20,000 and $30,000. For the quality of this restoration, I'd suspect this one is worth somewhere between $35,000 and $40,000.
-Paul