The 1957 Mercedes-Benz 190SL we featured last month failed to meet its reserve with a final bid of $40,600. Bidding is a little higher this time around. Will it be enough to snag this classic roadster?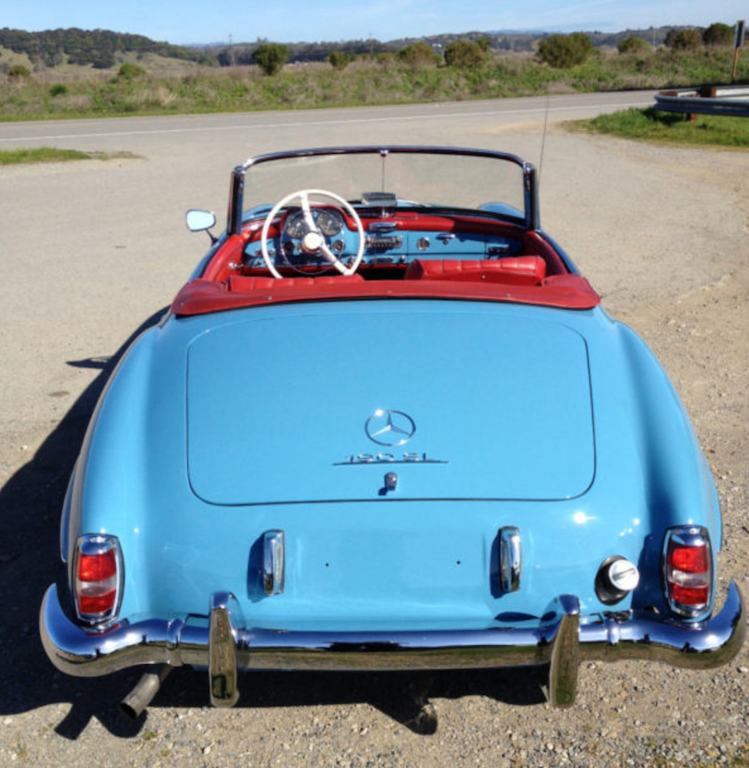 The below post originally appeared on our site March 20, 2013:
The Mercedes-Benz 190SL had the unfortunate fate to be sold alongside the 300SL Gullwing and roadster for its entire production span. While it may look like its bigger siblings, the similarities are skin deep. The 190SL rides on a shortened version of the chassis used for the W121 sedan, or Ponton, as it is more commonly known. The car featured a 1.9 liter four cylinder engine with twin Solex carburetors. Producing 104 horsepower, it wasn't destined to win many races off the line and the engine earned a reputation as a bit of a rough runner, as owners had trouble keeping the carbs tuned right.
With the introduction of the W113 (Pagoda) SL in 1963, the 190SL and its legacy faded, as most people preferred to collect the more rare 300SL or go for the newer, faster, six cylinder SLs. Today, the 190SL is gaining in popularity and value, like many vintage SLs. While it doesn't wear the hue it emerged with from the factory in the fifties, this 190SL for sale in California looks rather cheerful in blue over red leather.
Year: 1957
Model: 190SL
Engine: 1.9 liter inline four
Transmission: 4-speed manual
Mileage: 110,391 miles
Price: Reserve auction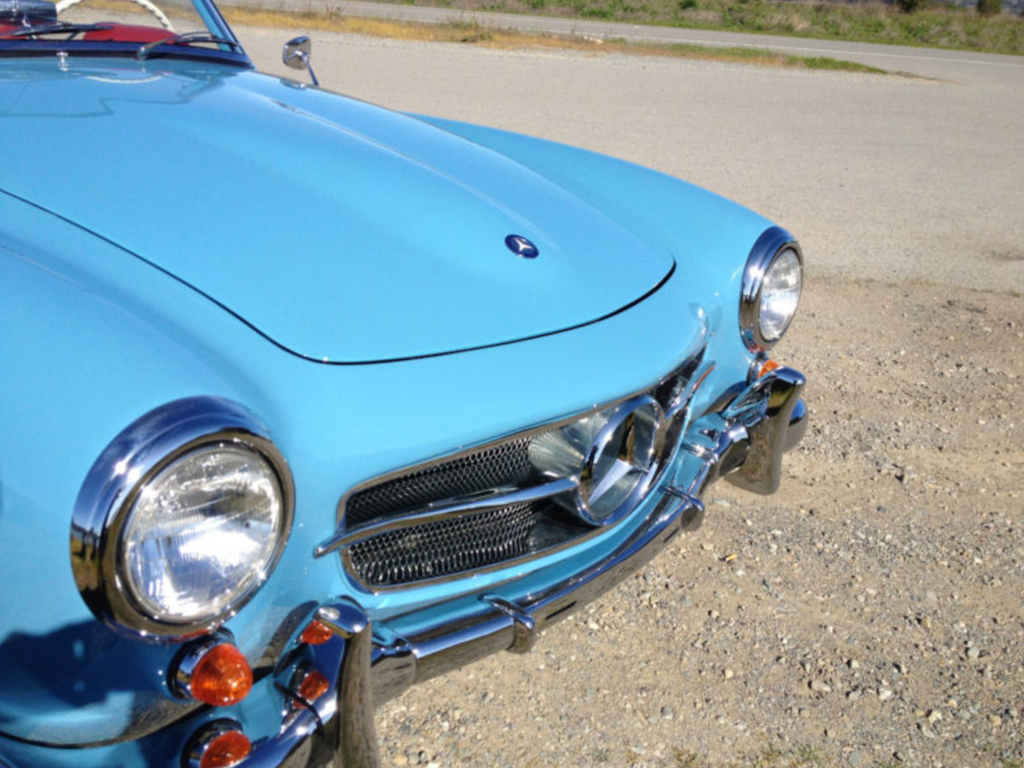 1957 Mercedes Benz 190 SL Roadster!

Brand new paint job, that took over a year for just body and paint. Originally a white 190. The car was stripped to bare metal and completed. The paint is immaculate. A very "BEAUTIFUL." The car was painted in a special order color available in 1957 called "DB356 HELLBLAU LIGHT BLUE" car amazing inside and out! The chrome work on the car has also been redone. Nothing in this car was overlooked. Interior all original except carpet was replaced with best Original Reproduction available, original fuel injection replaced with dual Weber carbs prior to my ownership. New tires. The engine and trunk bays freshly repainted as well. The car has original motor with 110,391 miles and it runs great. Not enough can be said about the beauty of this car and how it looks driving down the road. "AMAZING"…

Also with the car in the auction I have have some original parts that go with car. Air cleaner, intake manifold, as well as a few other bits. A $2,000.00 deposite is required within 24 hours after winning bid. I also reserve the right to end the auction at any time.
For collectors seeking 300SL looks but who may not be in a hurry, the 190SL fits the bill. Some early 190SLs were raced, but most were used as boulevard cruisers, functioning well as such. At the low end, expect to pay around $25,000 to $30,000 for a 190SL needing a lot of work. Perfect examples can be had for up around $75,000 to $80,000. With a little over two days left, the reserve on this car hasn't been met. From the bidding, I'd suspect the seller is looking for somewhere around $45,000 to $55,000.
As an aside, the seller states that this car was originally equipped with fuel injection. What he probably meant to state is that the Solex carburetors were replaced by Webers, which tend to be more reliable.
-Paul