What a better way to close out Wagon Week with some more Alpina goodness? BMW never produced an M3 wagon for series production, but Alpina took to task to try and fill the void in the 1990s. The B6 2.8 Touring was based on the E36 Touring that the US market never saw. This was an interesting Alpina, as the engine capacity was not increased. Rather, custom heads, cams and pistons were added along with a performance exhaust system, bringing power output to 240 bhp, or US-spec M3 levels for those keeping track. Curiously, most of these B6 2.8 Tourings were equipped with a 5-speed automatic gearbox.
This B6 2.8 Touring for sale in Calgary comes to us from our reader Gerry. While older, tuned cars can sometimes be a risk, Alpina has made a name for itself over the years of putting out a quality product based on the "ultimate driving machine."
Year: 1997
Model: Alpina B6 2.8 Touring
Engine: 2.8 liter six cylinder
Transmission: 5-speed automatic
Mileage: 145,000 km (90,098 mi)
Price: $14,500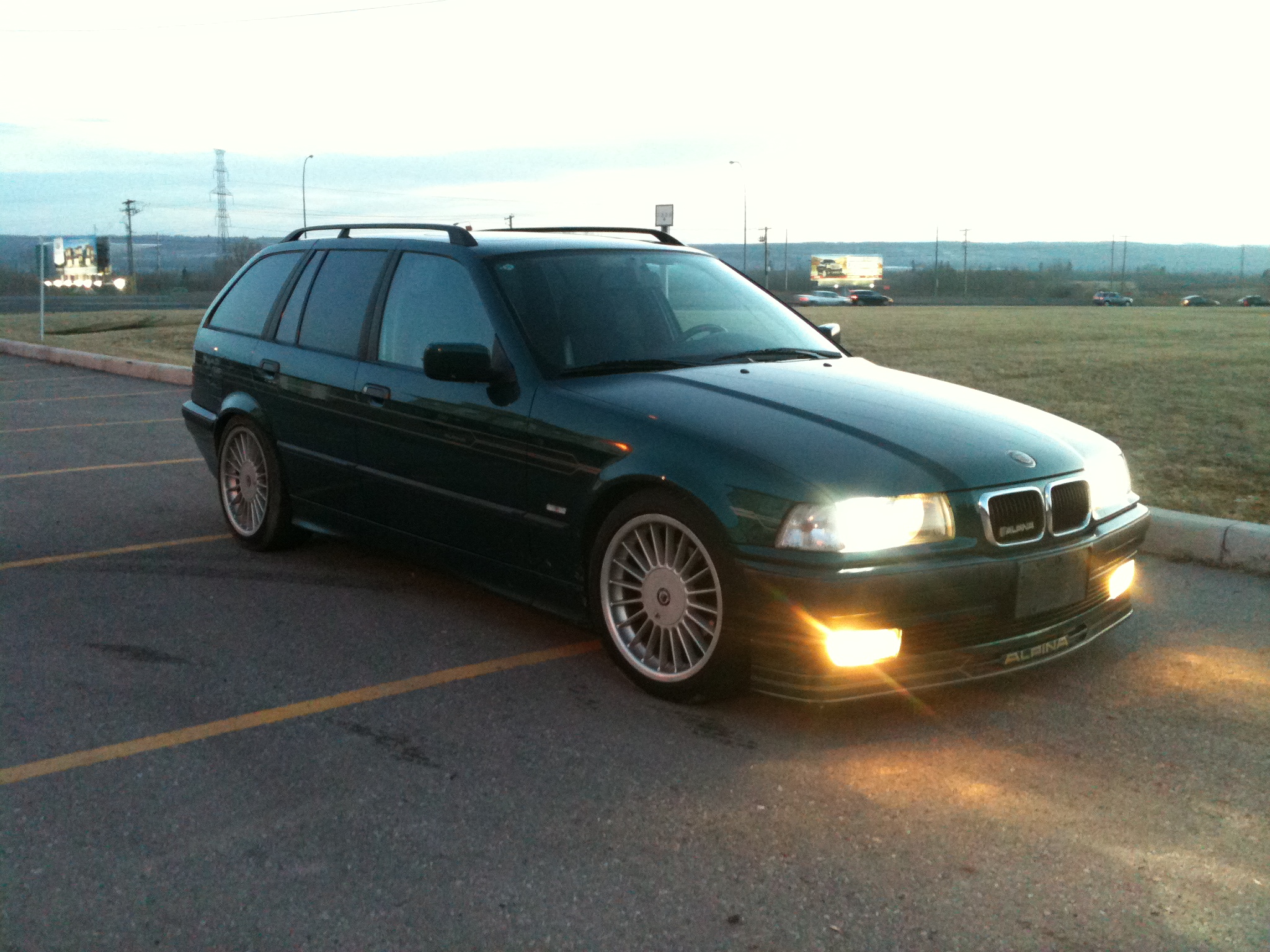 A very rare Alpina B6 2.8 Touring (wagon). It is #41/136.

Here is your chance to own a E36 M3 wagon. Alpina seized the opportunity to make these as a touring M3 was not produced by BMW. This is a wagon with power and handling to match. Not your average BMW. Potentially one of the best balanced wagons on the earth.

Service History/inspections:

This car has had the 60km, 80km, 100km and 120km services. I just got service at 143km. Recent inspection by local independent German shop will be available to interested parties. Runs great, sounds great.

Factory Options:

It has all the features of the second generation three series. Automatic dual air, traction control, power sunroof, remote power door locks, adjustable height headlights, fog lights, pw. Rear pass through and armrest seats.

Aftermarket items:

The car also has a pioneer carrozzeia hard drive stereo DVD with GPS (Japanese version). The only aftermarket components on the car are the stereo and aftermarket HID's in proper housings (a good thing if you know E36's). Everything else is stock Alpina and BMW. The car has new tires.

"Individual" Alpina items:

Alpina scripting,

3.71 rear end ratio

Alpina supplied instrument cluster

Full Disclosure:

The only flaws in the car are the paint chip in the front left spoiler (pictured) and a few road rash chips (145km car), and a small chip in the original windshield. Interior has a bit of sagging door liners (chronic e36 issue). Engine bay will be cleaned when weather warms up. The rear wiper water line is missing from engine bay, its brittle and needs complete replacement.

Model History:

This model is a limited edition, made for Japan only, with a total of 136 E36 touring (wagons) made in the 2.8 series. There were a total of 276 E36 Touring (wagons) in the world (B3, B6, B8 ranging from 2.8L to 4.6L). The B6 was also made as a E30 and E21's, so the E36 is designated by /2 (vs E30 /1 and E21 /0).

Alpina Production History:

From the BMW factory, these cars were shipped to Alpina with some special available to Alpina bmw items (like the rear end ratios, sport seats, BMW roundels removed) and then fitted with Alpina developed parts. The engine for example, started life as an aluminum block 2.8L from the 328 touring (M3's have cast iron), and custom head, cams, forged pistons, custom tune, stainless full length headers and exhaust, were developed by Alpina from their decades of experience building BMW based engines. It was taken to the US spec M3 power level (192hp to 240hp).

The body kit (spoiler, pinstripes), interior (seat fabric, sport seats, carpet, floor mats, steering wheel, blue instrument cluster), suspension (bilstein sport gas shocks and higher spec springs, swaybars and bushings), 5-speed transmission (not available on a 3 series) and glorious wheels are all Alpina spec parts.

Production Timing:

This car was built by BMW March 3, 1997, making it the best of the breed (of the E36's) as its a later production model. The late cars have factory upgraded parts on things that broke on earlier cars: maintenance items like cooling and suspensions.

Alpina is more than just a tuning company (ala AMG or Ruff), it is a dedicated manufacturer. See articles.

Serious sale, business requirements for sale.
For those of us in the US, it's always tempting to gaze at the automotive equivalent of forbidden fruit just over the border. There may be a way to register this tuned hauler in some states, but it would take a lot of research before pulling the trigger. But for our northern neighbors, this is certainly a neat way to have practicality with performance along with a dose of rarity usually associated with high-end exotics thrown in.
With that, I'll take this opportunity to thank everyone for following us throughout Wagon Week. Stay tuned for other theme weeks and the usual helping of desirable classics in the coming weeks.
-Paul