Hot on the heels of a wild and woolly wagon week, I'm still thinking of fun utility vehicles. Usually when we're writing up Vanagons they are GoWesty-type Syncrobaru monsters with every possible camping and survival accessory ever imagined, selling for close to $100,000. Today's Vanagon eschews the popular Westfalia camper top for a Wiensberg while continuing the Syncro with Subaru Swap theme. Wiensberg tops are known for combining the full standing room of a high top with the serious camping capabilities of a pop-top. Despite Sycnro and a much more willing flat-4 from the other side of the Axis, apparently losing the "Westy" status also helps bring the price down to earth at *just* $36,000 Canadian. I love that this van possesses all of the toughness without the pretension of the craziest Vanagons, helped by T4 Eurovan steelies and a subdued green-and-black paint scheme. Someday I'll have a go-anywhere-forever Vanagon, and hopefully it will be as well executed as this.
Year: 1990
Model: Vanagon Syncro Weinsberg
Engine: 2.2l Subaru flat 4
Transmission: 5-speed manual
Miles: n/a
Price: $35,500 US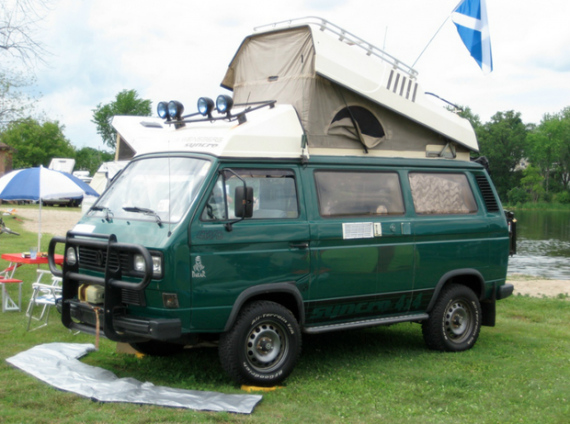 "It's not a show van but a real work horse, no bells, no whistles but a very Unique Wiensberg Pop/high top camper. Its currently my daily driver and is needing some love. A real good service to the motor and brakes this spring will be needed."

Specification

Professionally installed engine conversion
SA bull bars
blown hot air central heating
front and rear diff locks
high level spot lights
fully working 4wd system
loads and loads of storage space
bigger T4 Euro van steel wheels
wheel carrier
rock sliders
amazing pop up high roof
Double glazing
trailer and roof tent not included
Yours for $36,000 Canadian.
I'd like more information on the engine conversion and some pictures of the inside, but I love the unique high-pop-top and ultimate versatility. It's a shame the amazing camper trailer pictured doesn't come with it. Even so, this is one of the few Vanagons that could show up next to some GoWestys and say "yeah, but do you have on of THESE!?"
-NR