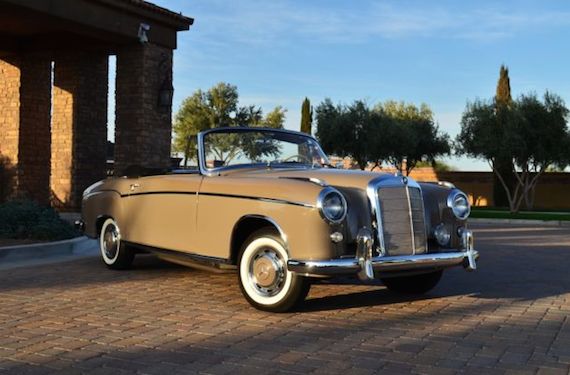 Taking over from the pre-war 170, the Ponton was Mercedes-Benz's all-new design, which would help the company emerge from the ashes of war and help mold it into the recognized luxury vehicle manufacturer it is today. This platform spawned a number of variants, one of which was a rather reserved, elegant four-place cabriolet like the example we see here for sale in Arizona. With a modest 105 horsepower inline-6 hooked up to a 4-speed manual, it's just enough for the relaxed cruising a classic Benz like this inspires.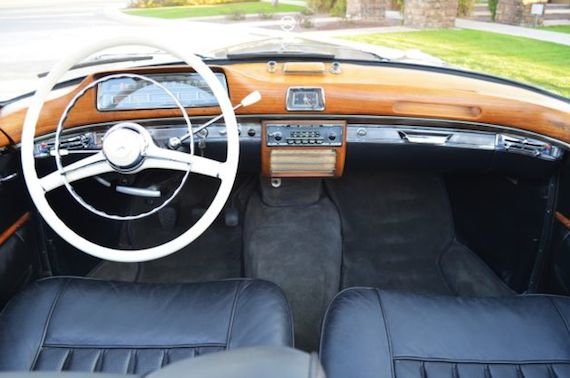 Year: 1957
Model: 220S Cabriolet
Engine: 2.2 liter inline-6
Transmission: 4-speed manual
Mileage: 14,950 mi
Price: $119,995 Buy It Now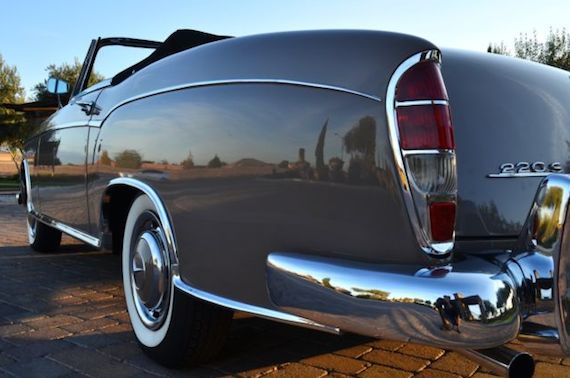 This stunning 1957 Mercedes-Benz 200S Cabriolet is a US specification car and was delivered new to its first owner in 1957 in California. The car has been in two long term collections and has been used on rare occasions to local Mercedes Benz club meets and shows and retains all of its original equipment as it left the factory. The car has the bullet proof Mercedes built 2.2 litre straight 6 cylinder engine, its original spare and original owner's manuals and shop manuals.

The car has undergone a full body off restoration; the paint was done to a very high standard in its original color of Light Beige or "hellbeige" over correct Black leather and is 100% rust free. All of the chrome and bright work have been done to a very high standard and looks stunning. The leather interior and carpeting has recently been replaced in its original factory spec material and colors. The leather shows almost new and the carpets are tear and stain free. A brand new German soft top has just been put on the car using only correct factory materials and all of the soft top, window and door rubbers have just been replaced. The only thing on the car that has not been restored is the wood dash board, which is absolutely stunning and has a beautiful patina to it. Most 220's have had their wood redone with a gloss finish, but this car still has its original non lacquer finish and looks beautiful. The car has a correct matching boot cover for the soft top which snaps in easily.

The engine has been completely rebuilt and tuned to factory specs, all pieces have either been replaced or rebuilt and painted or re-powder coated the exact way the car left the factory. This 220S Cabriolet runs and drives like the day it left the showroom floor, it start right up and runs incredibly smooth. It idles perfectly and accelerates smoothly. The 4-speed manual transmission is exceptionally smooth and shifts without any issues. The suspension has all been sorted and rebuilt or replaced and feels incredibly smooth and tight. The brakes are new and feel excellent, free from any squeaking or fade. All of the electrical equipment on the car appear to be in excellent working order. All of the headlights, taillights, dash lights, turn signals side marker lights and choke light are all functioning as designed. This 220S sits on its correct and original Mercedes-Benz dish wheels with matching body color with correct newer white walls. This is an absolutely stunning hand built 220S Cabriolet, in stunning and rare colors. These are becoming increasingly hard to find and have taken a huge increase in value, following their 300SL brothers.

If you have any questions regarding this stunning 1957 Mercedes-Benz 220S Cabriolet please call or email. 480-310-8814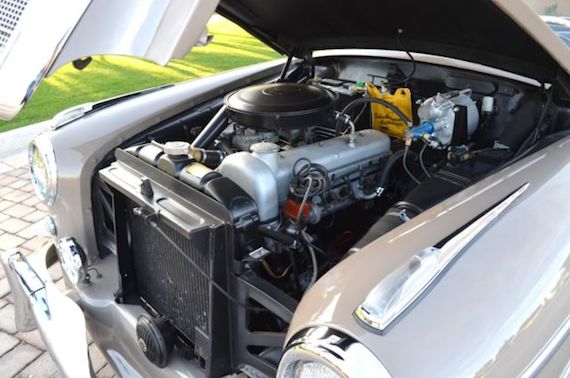 The 220S Cabriolet had its fair share of exposure on the silver screen years ago, appearing in such classics as The Odessa File with Jon Voigt and The Godfather Part II, where you could see a 220S Cabriolet being parked amongst Chryslers, Packards and other American iron of the era during the opening scenes at the house in Tahoe. These were meticulously well engineered vehicles that appealed to a certain type of clientele, a request that importer Max Hoffman was more than happy to oblige. Even a decade later, when my father had his 1967 230S sedan, few people in Philadelphia were driving foreign cars, let alone a Mercedes-Benz. They really stood out amongst the crowd.
-Paul