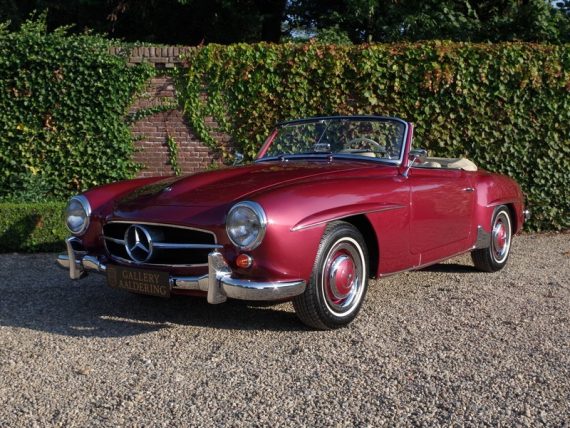 If the W198 300SL price tag of over a million dollars is just slightly over your budget for a late-1950s to early-1960s Mercedes roadster but you still want the iconic design, look no further than the W121 190SL. At only one-tenth of the price tag but not just one-tenth of the car the 300 is, the 190 is still a model that you can't really go wrong buying. So let's take a look at this pristine 1958 located in the Netherlands.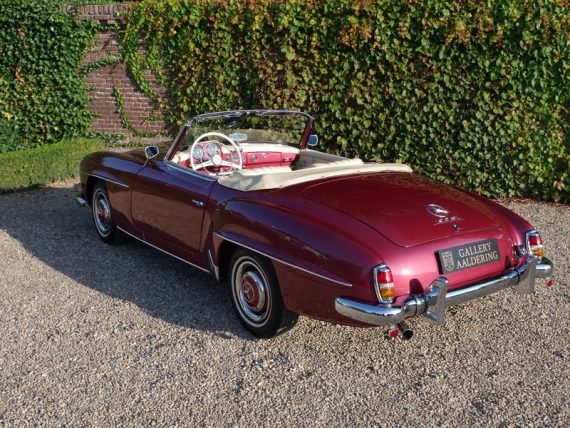 Year: 1958
Model: 190SL
Engine: 1.9 liter inline-4
Transmission: 4-speed manual
Mileage: 56,075 km (34,843 mi)
Price: €135,000 ($151,611)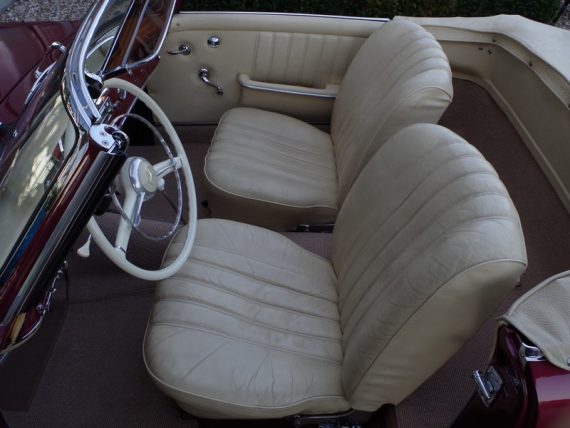 Body-off restored Mercedes Benz 190SL. Originally from the USA and more than 20 years in The Netherlands. Several years ago completely restored into every detail. This was a Dutch restoration which is carried out at a very high level. Technical overhauled by recognized / well-known Mercedes specialist. Runs great and is obviously equipped with its original Solex carburetors! Always very well maintained by the same specialist and therefore perfectly working and driving. The restoration is fully documented, with numerous invoices and many restoration photos. Bodywork is excellent, so are the panel fittings, the chrome and paintwork. In the color 'almandinrot' with a beautiful beige leather interior. Features an original Becker "tube" radio, Kienzle dashboard clock, mica-chrome visors, right mirror, jack and wheel wrench. Really perfect into every detail!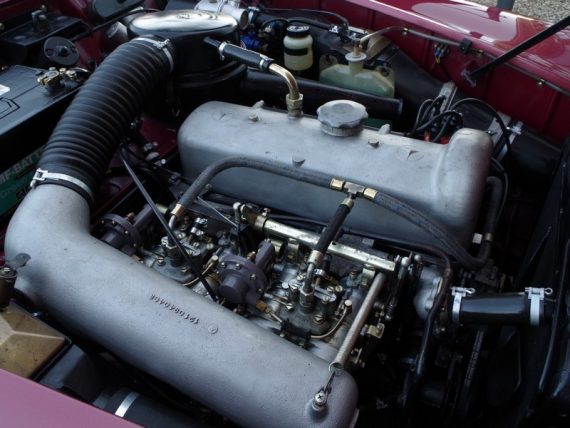 You probably know the story of the 190SL by now but we can have a quick refresher. It's the little sibling to the legendary 300SL with similar styling, engineering, suspension and detailing but unlike the 300SL that had a tubular space frame, the 190SL rode on a shortened monocoque platform. That, and the 190SL got much more pedestrian dual carburetor 1.9 liter four cylinder as opposed to the mechanical direct fuel injection 3.0 liter inline six.
This example was a U.S. car that made its way back to Europe to reside in the Netherlands. The new Dutch owners put this car through a full restoration that looks pretty much perfect with the exception of the seats. They look awfully worn and dirty for being a 100% totally restored car at one point, or maybe the owner just wasn't very clean. It just strikes me as odd for a car that went through a restoration.
I always thought if that if you look at the 190SL independent of the 300SL, these cars are really stunning and classic. It's just when you know in your mind that the 300SL exists you somehow downplay how good the 190 is. This plagued values for these cars for a long time. You could pick up a really nice 190SL a handful of years ago in the $50,000 range. Now, good luck finding a nice one under $100,000. I don't know if that it's the aphorism of "a rising tide lifts all boats" that's hitting the classic car market or collectors are finally realizing how special these cars are. This one is priced at just over $150,000 which seems a bit high but I'm sure it's an adjustment for its market. If this car was for sale in California I think it would be about 20% cheaper. But, at the end of the day I don't see 190SL values dropping anytime soon.
– Andrew