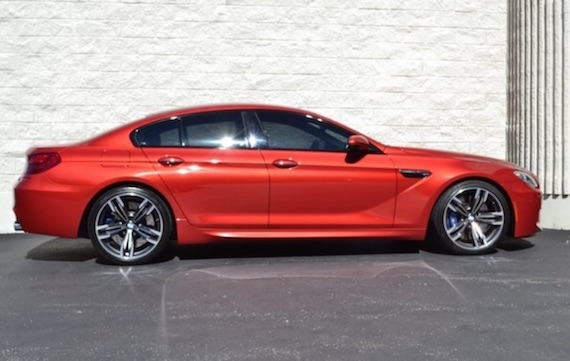 For my first BMW post, I wanted to go with something a little more unique than a run-of-the-mill M3 or M5. I can't imagine that many people are aware that BMW offers their M6 Gran Coupe with an option for a manual transmission. This makes it one of very few high-end, performance oriented luxury sedans still available with a third pedal. There is no such option available on the Porsche Panamera or the Audi RS7, and certainly not on the Mercedes CLS63 AMG. So I decided to go with a very striking Sakhir Orange Metallic M6 Gran Coupe with a 6-speed manual transmission.
Searching through various BMW forums, I couldn't find anything on a manual M6 Gran Coupe. However, I did come across a thread on m5post where a consumer was recently contemplating whether to order their new M5 with a DCT or a manual (6MT), and asking for guidance on what to order. Surprisingly for a car enthusiast forum, the vast majority of votes went for DCT. Commenters said that the F10 M5 was not designed for a manual, and that the DCT was much better suited to the car. In the end, the original poster decided to go with the DCT. Bummer, but I guess that makes the manual that much rarer. Anyhow, given the unpopularity of the 6MT on the current M5, I can only imagine that it's even less common on the M6 Gran Coupe.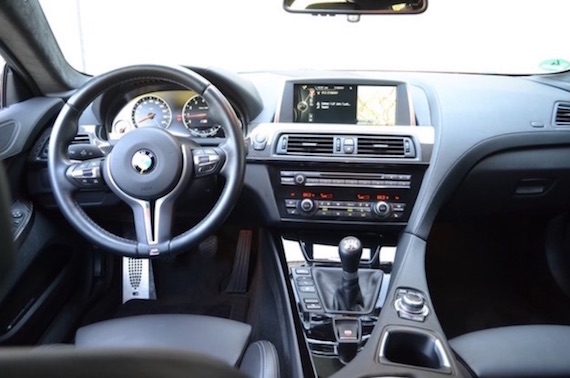 Year: 2014
Model: M6 Gran Coupe
Engine: 4.4 liter twin-turbocharged V8
Transmission: 6-speed manual
Mileage: 41,126 mi
Price: $71,587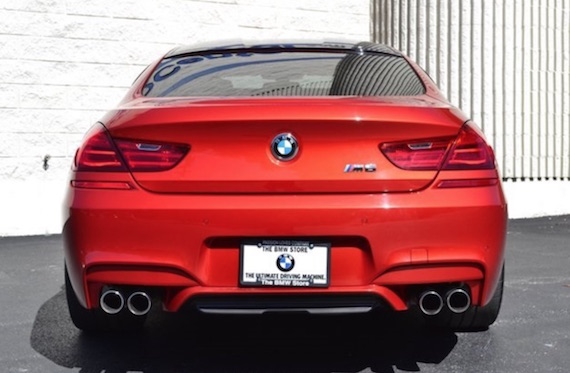 NAVIGATION and REAR VIEW CAMERA. Best color! The BMW Store EDGE! If you've been thirsting for just the right 2014 BMW M6, then stop your search right here. This is the ideal car that is guaranteed to fit your needs. Climb into this fantastic BMW M6, knowing that it will always get you where you need to go, on time, every time. We only make one thing. The Ultimate Driving Machine.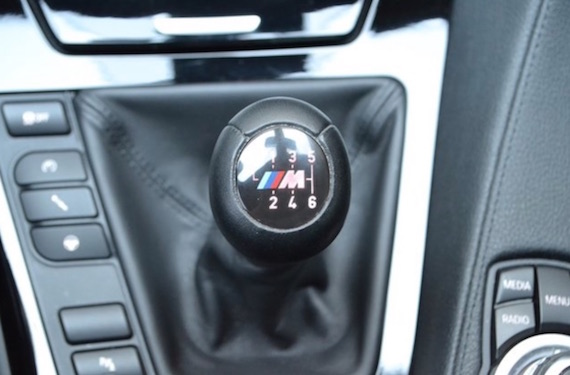 While the 6MT is unarguably this car's most unique feature, the exterior color combination really adds to the conspicuousness of this very handsome sedan. Amazingly, the Estoril Blue calipers that BMW's M division puts on the majority of their models seem to go with every exterior color offering, including this one. They look great with the Sakhir Orange exterior (although, I understand that looks are subjective).
Unlike with older cars, there appears to be no premium attributable to the manual transmission on this M6. At $71,587, the car has already lost about 40% of its original value, and is a pretty good buy. With a 560 horsepower 4.4 liter twin-turbo V8, there are few luxury sedans that can offer a similar combination of style, performance, and exclusivity, and at the depreciated price, the car is a good alternative to a new base 6 series Gran Coupe. If you are looking for a sedan that will stand out in even the most impressive crowd of performance cars, this M6 would be a great option. Additionally, the rarity may enhance any potential for future appreciation (although, rarity alone has little to no effect on upwardly adjusting any valuation in the absence of desirability).
-Andy (Cap'n Clean)