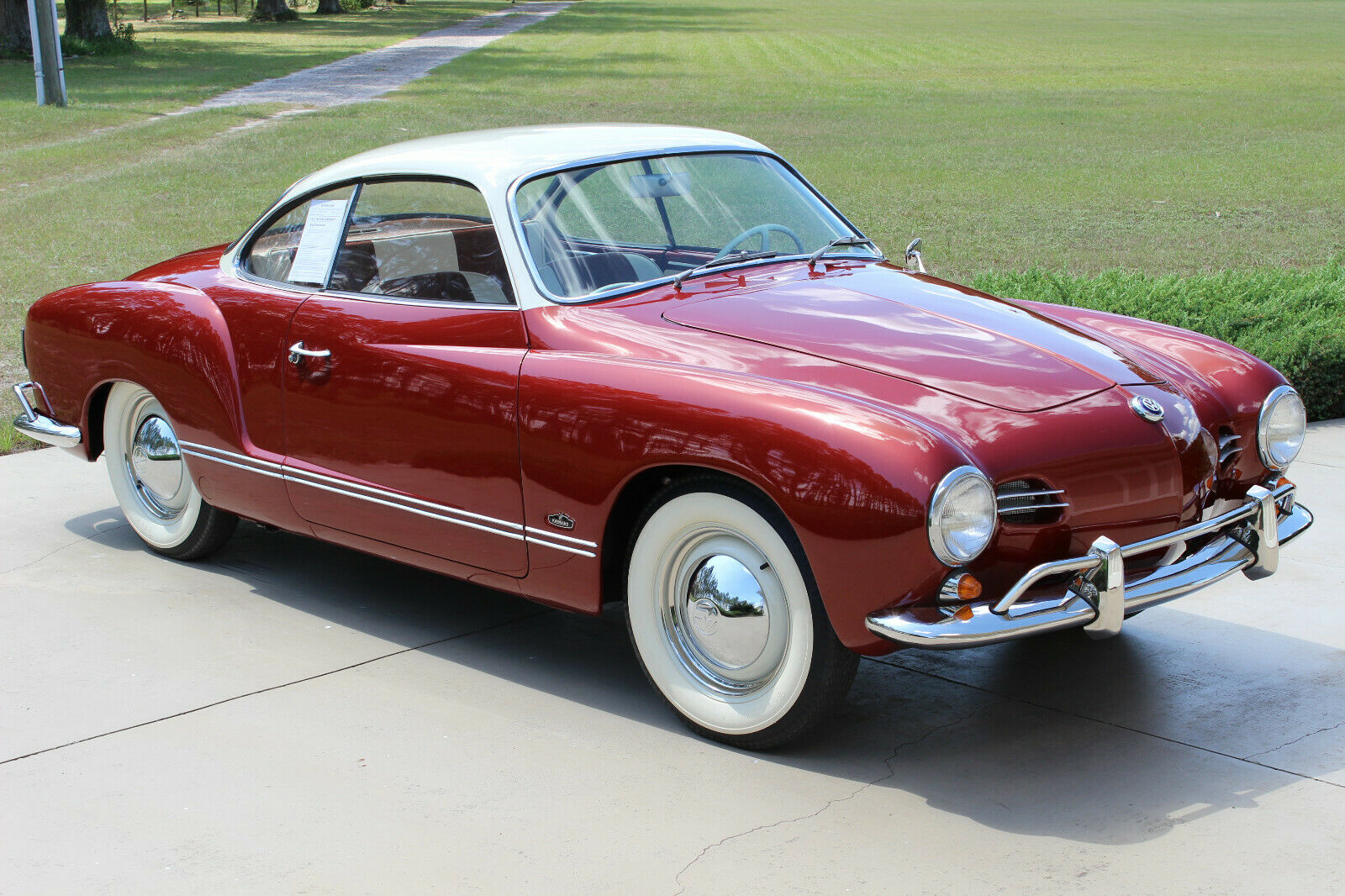 As much as all of us would love to be Jerry Seinfeld, causally trading the most historic air-cooled Porsches on a whim, the reality is that we're not. But, as ever, I offer a potential solution. The Karmann Ghia gave you Porsche looks on a Beetle budget. Shortly after the Beetle's arrival in America, VW's new sport coupe arrived for the 1956 model year. Like the later Scirocco also built by Karmann in OsnabrŁck, Volkswagen based its model on the normal production line Beetle but the swoopy body came from the Italians – technically, borrowed from a Chrysler, actually. Those lines were notoriously complicated; outside of items that open, the body is one piece and constructed entirely by hand. The rear-engine, rear-drive 1.2 liter flat-4 air-cooled clatter wouldn't get you anywhere as fast as the looks suggest, but then why are you in such a hurry?
About 400,000 were produced in total and they're not impossible to find today. They're also more affordable than really top-tier Beetles and early VW Vans, but more significantly you really do get exotic looks on a shoestring budget still. While getting into a fully sorted '58 356A will set you back around $130,000 – $150,000, you can get into a beautiful early example of the Ghia fully restored for only a fraction of that price: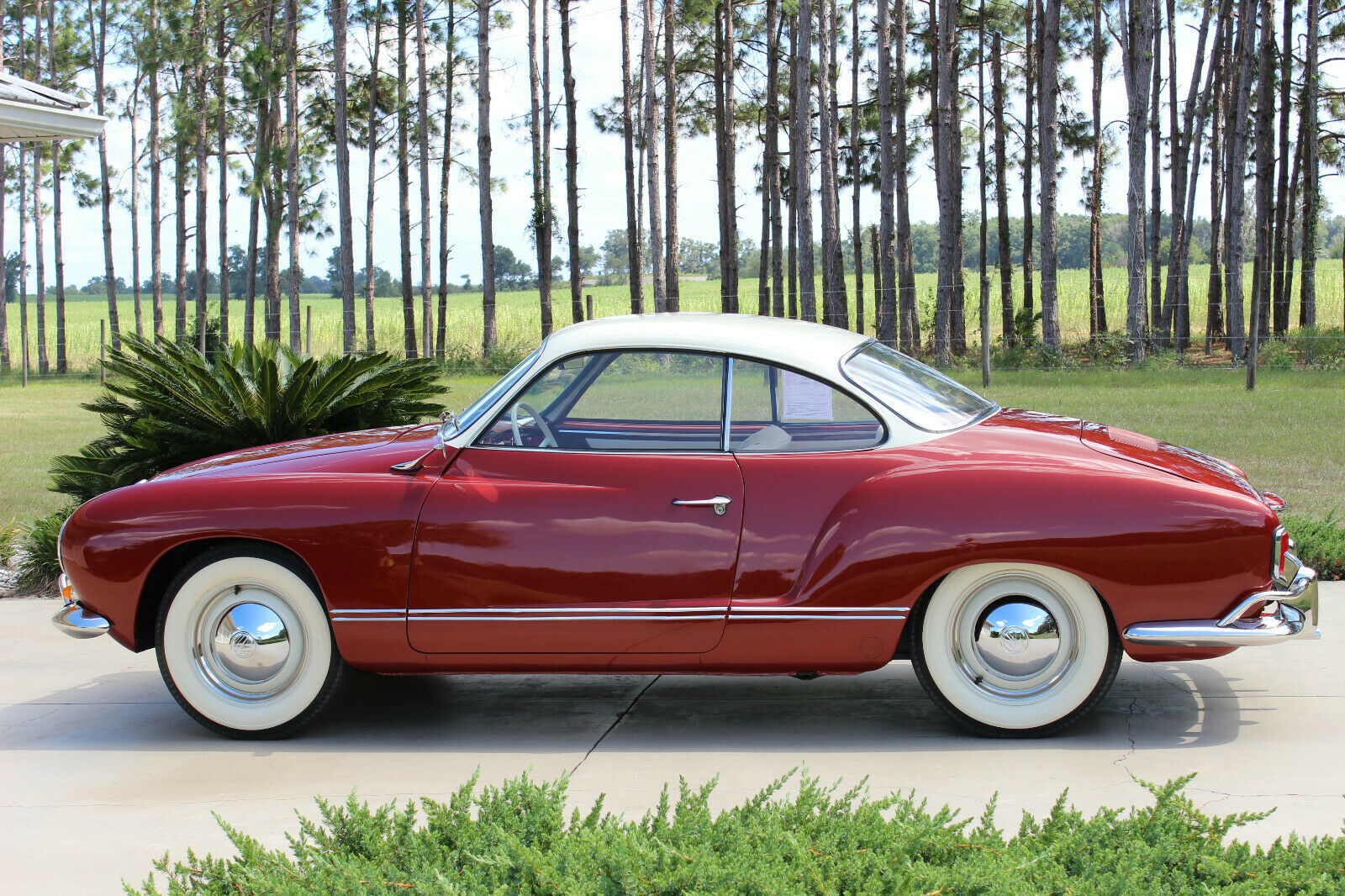 Year: 1958
Model: Karmann Ghia
VIN: 18114
Engine: 1.2 liter flat-4
Transmission: 4-speed manual
Mileage: 18,114 mi (shown)
Location: Bell, Florida
Price: $46,500 Buy It Now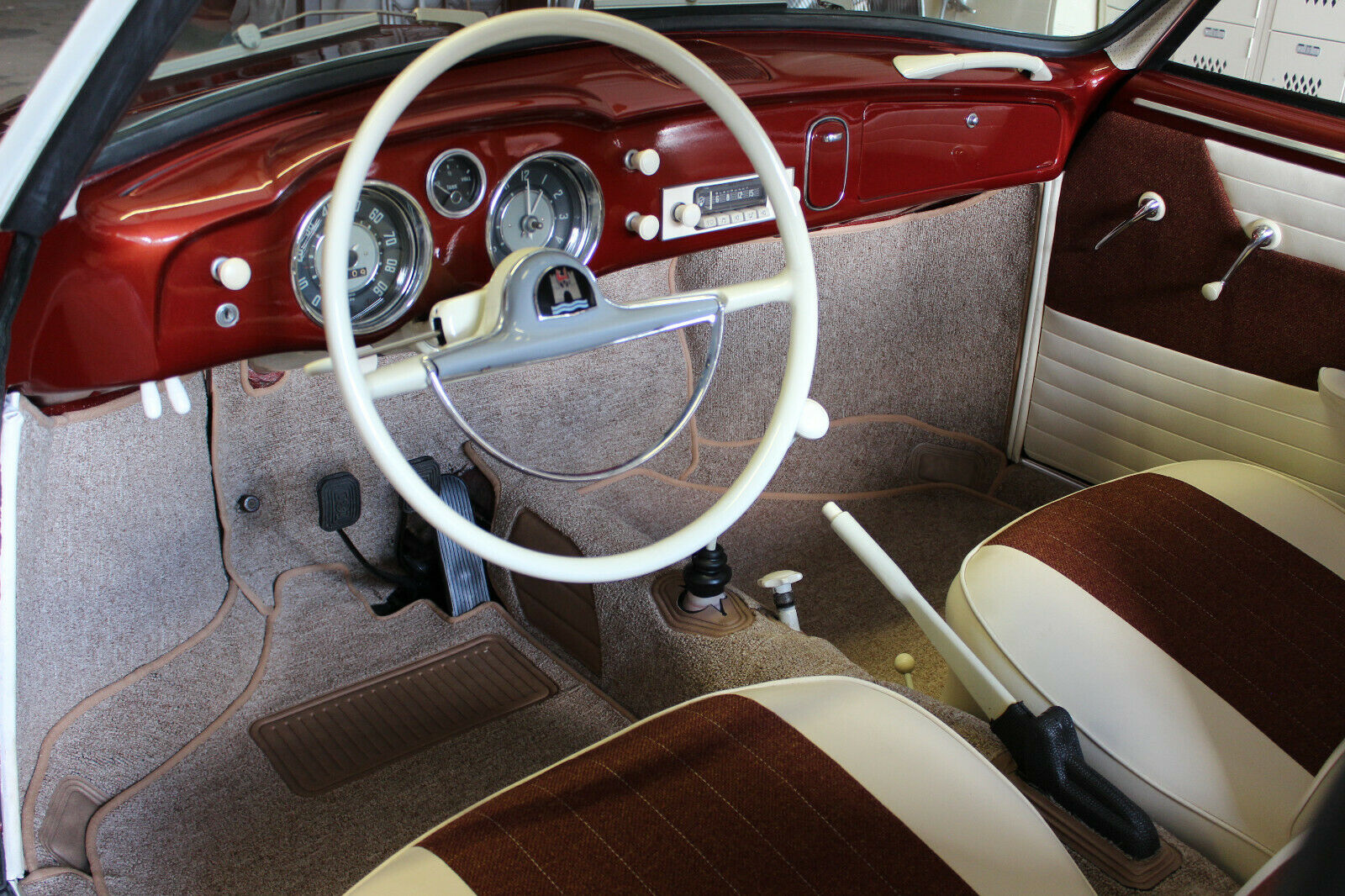 This is a numbers-matching Low Light Karmann Ghia in its original color of L345 Cardinal Red. This car is in remarkably fine condition. The Stiftung AutoMuseum Volkswagen Zertifikat (VW birth certificate) shown in the pictures comes with the car. The certificate and letter from the Museum confirm that it retains its original paint color and 36 hp engine. This beautiful Ghia was built on March 18, 1958, equipped with M355 US-Equipment and M128 White Wall Tires.

BODY / CHASSIS: I have never seen a Low Light with a body and undercarriage as nice as this. I was told that the body has never been off the chassis, and that the floors, body, nose, trunk, etc. are original and have never had any notable damage or rust. The doors, hood, and trunk lid are in outstanding alignment. One of the pictures shows the inside of the nose (which still has its original paint,) and you can see how pure it is. This car received a body-on restoration approximately ten years ago and has been driven less than 90 miles since. About the only notable flaws I found are a few dings in the metal trim around the windshield and rear window (these trim pieces could be replaced or re-chromed by the next owner if desired.)

MECHANICAL: This classic Volkswagen runs and drives beautifully. The tire tread looks nearly new, but the tires are probably about ten years old. The steering and suspension feel excellent. The engine has a 30 PICT carburetor installed, but the original 28 PCI is included if you want to rebuild it.

GAUGES / ELECTRICAL: This Ghia retains its original 6-volt system. The gauges, odometer/speedometer, lights, electrical, etc. all work excellent except that the clock is not working. The AM radio turns on and the knobs and buttons work properly, but there is no antenna installed so I canít get it to tune in any stations. The odometer currently reads 18,114, but I donít have records to determine the actual mileage. It is sold mileage exempt because of the age.

Please feel free to contact me through eBay, or by phone or text at (352) 283-0268, if you would like additional information or would like to see it in person.

PAPERWORK AND DEALER FEE: I am a long-time classic car hobbyist and a licensed Florida car dealer (Classic Investment Motorcars Inc.) This means that you will be required complete the sales and title transfer forms with us, which can be done in person, by email, or through the mail. We charge a flat fee of $100 to cover paperwork, documentation, postage, and other costs. This fee cannot be waived and applies regardless of whether you are an individual or a dealer.

SALES TAX: If you live in Florida or want to pick up the car in Florida, we are required to collect the applicable sales tax and tag/title fees. I am not required to collect the sales tax if the vehicle is shipped out of Florida by commercial car carrier (you will take care of that where you live.)

DEPOSIT AND PAYMENT: A $500 non-refundable PayPal deposit is due within 24 hours of the end of the auction or buy-it-now purchase. The balance must be paid by cash, cashierís check, or wire transfer within seven days of the end of the auction. All cashierís checks must clear my bank before the vehicle can be released. If the winning buyer fails to pay in accordance with these requirements, we may, at our option, make second chance offers or re-list/remarket the vehicle and the deposit will be forfeited.

SHIPPING: Arranging and paying for shipping is the responsibility of the winning bidder/buyer. We will do our best to cooperate with your shipping company, domestic or international. We may also be able to help you arrange shipping at a reasonable rate, but the responsibility ultimately remains with you.

THIS VEHICLE IS BEING SOLD AS-IS, WHERE-IS, WITH NO WARRANTY EXPRESS OR IMPLIED. As with any used car, there may be wear and minor imperfections consistent with the mileage. The odometer reading is as of the listing date but might be higher at the time of sale due to test drives. Please feel free to inspect the car in person or have it inspected by a reputable third-party inspection service. Please bid or make an offer only if you are serious and can complete the purchase. If you are the winning bidder/buyer, you will have entered a binding contract to complete the purchase. The sale location is Bell, Florida, Florida law governs, and venue lies exclusively in Gilchrist County, Florida.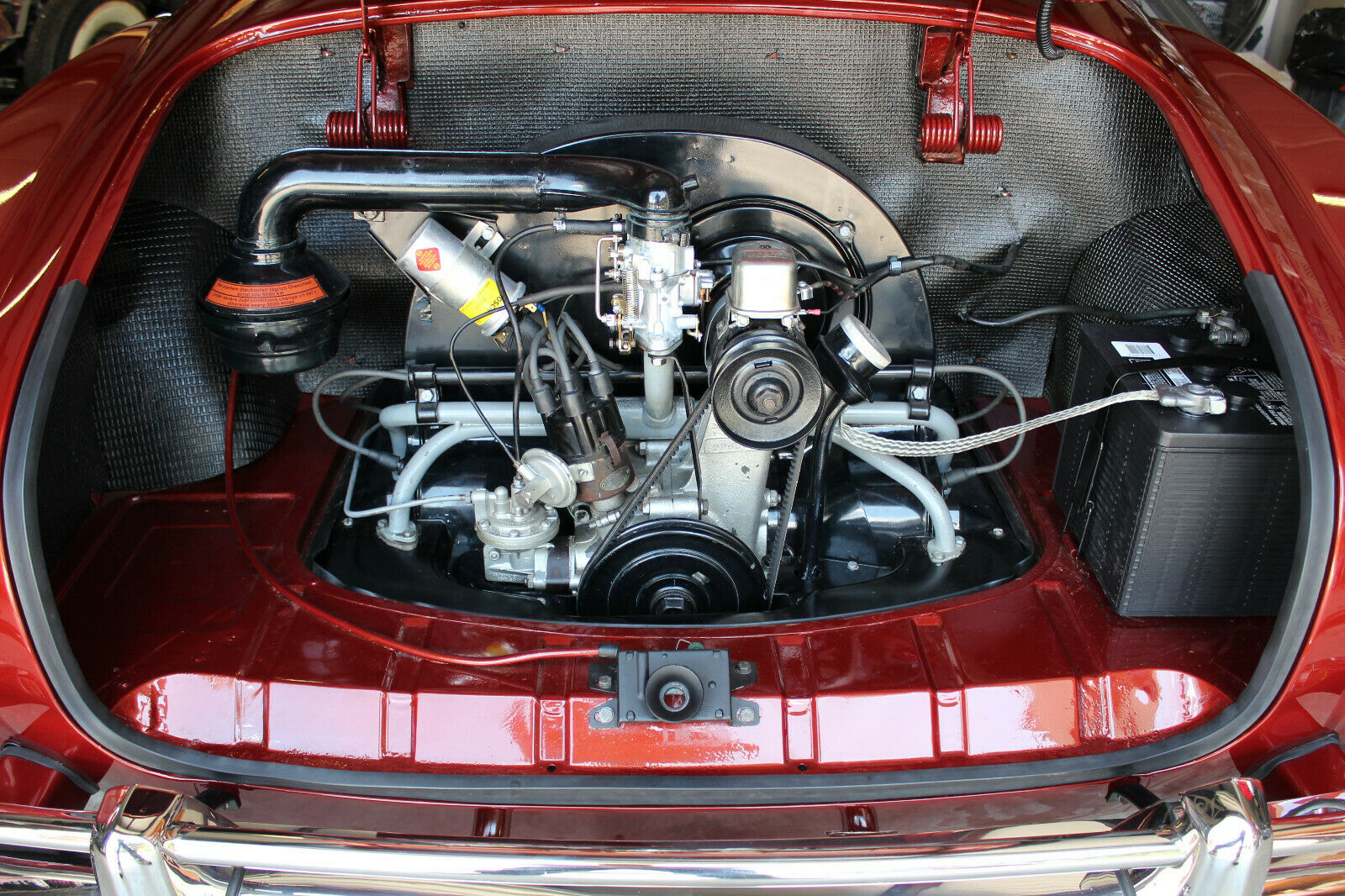 Gosh, I'm in love. I don't get weak in the knees for air-cooled VWs but this one caught me staring. This is just a stunningly beautiful example of how classic those lines are and would be a good example to make the argument that this was the best looking Volkswagen design ever. The low-light models with whitewalls are, to me, the prettiest of the bunch even if they're the slowest. It's a great two-tone color combination both inside and out and the condition looks museum-ready, never mind show-ready. There aren't too many cars that you could afford and drive to a Concours and park next to a 300SL Gullwing and have them look right at home, but this is one.
So between the early example which are usually priced higher and the pristine condition, it's no surprise that the asking price feels very high for a Ghia. And indeed, few trade over $40,000, but there are a couple of examples that when presented in the right color combination and condition bring very strong bids. I think this is one of those examples that I'll be wishing to appear under the Christmas tree.
Happy Holidays to all!
-Carter