Immortalized by the actor James Dean, the Porsche 356 Speedster has become one of the most highly prized classic Porsches. This model was born from the suggestion by US importer Max Hoffman that a simpler, lower cost open roofed model would sell well stateside. A little under 1,200 of these two seater Porsches were built, before the Cabriolet D arrived in 1958. With a higher windshield, comfier seats and roll up side windows, it added a touch of practicality to an otherwise purist package. This Convertible D for sale in Illinois was restored by a well known Porsche specialist and a more powerful, enlarged engine.
Year: 1959
Model: Convertible D
Engine: 1.9 liter flat four
Transmission: 4-speed manual
Mileage: 12,989 mi
Price: Reserve auction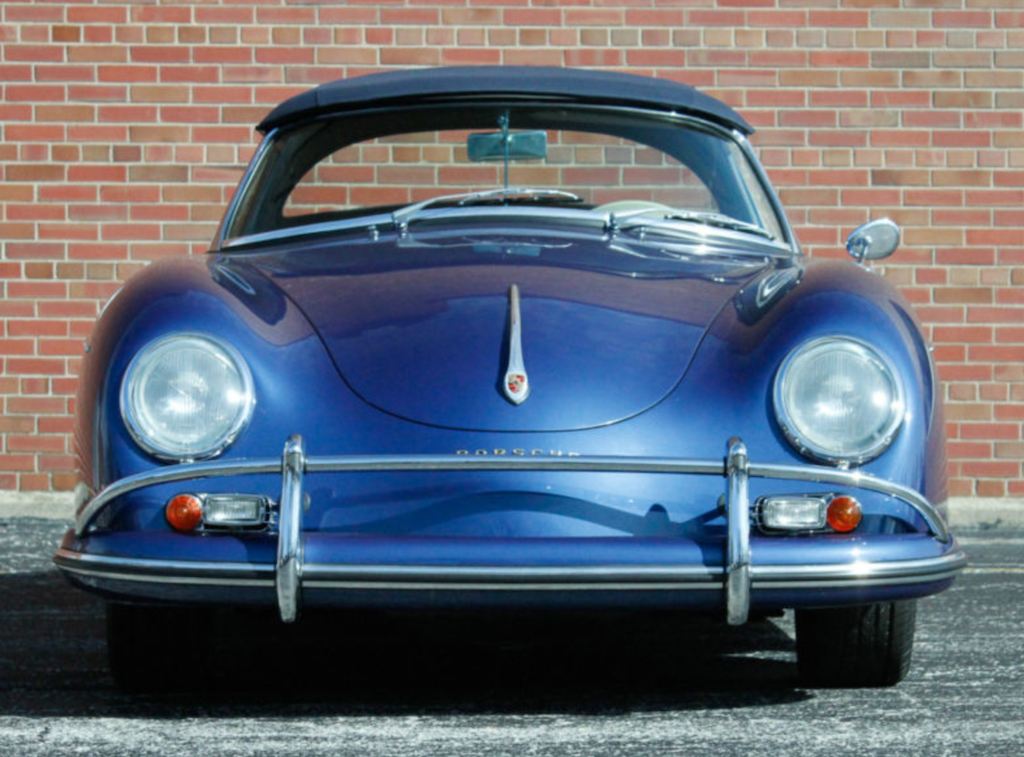 This 356 is the most unique car I have ever seen and had the pleasure to drive!! This car was totally restored by the world renowned Gary Kempton. Sad to say the Porsche world lost a true artist with his passing. However his legacy lives on in this absolutely beautiful Porsche. This multi-year restoration is second to none and you would be hard pressed to find a more perfect Porsche for your collection. Every nut and bolt has been restored to to perfection.

Needless to say there is absolutely no rust and every body panel is fit to perfection. The paint is flawless and is a special color that was requested by Ferry Porsche for his own 356 at the time. Gary was able to find the color code after much research and was able to duplicate the color exactly. The interior is finished in a beautiful full leather Cashmere beige that is soft and supple. Every piece of trim has been refinished to factory perfect condition. The engine although not original to the car is very special. It was commissioned to be built by Curt Zitza. Below is the detail in his own words;

"We use a new SCAT Porsche sized crank, new Carrillo rods and a new mild cam. We use factory Porsche twin plug helicopter
heads that have been re-valved and all ports flowed. We use Electromotive fuel injection and custom tune each engine on a stuska 300 hpdyno. Our engines make approx. 190 hp at 6000 rpm. The engine is approximately 1950 cc's. The engine requires a separate oil cooler andf iltration system – we use an Accusump – two oil coolers behind the front grill and oil filter in left rear fender. It is an electromotive complete ignition system, capable of delivering timed spark and timed fuel injection. changing the gear ratio in gears 3 and 4 makes the performance remarkable. this combination delivers awe inspiring never before experienced 911 performance in a 356 without butchering the car to change over the 911 power plant. Customer experience include: raced against a c2 nose to tail to over 100 mph." Curt Zitza

Included with this car is the orginal engine,date coded wheels,stock brakes and all necessary parts to return it back to factory condition. This is an exceptional Porsche..it needs nothing and is ready for a dicriminating new owner. For complete details please call Ron Barnaba # 630 417 5387

Here is a link to several pictures: http://hqinventory.com/86395/
The Convertible D is less valuable than a Speedster, but less valuable in the Porsche world still means a lot of money. For a good one, you'll be paying into the six figures, with the best examples approaching $200,000.
-Paul