The 1972 BMW 2002tii we featured last month is back up for sale, with a $28,500 Buy It Now price.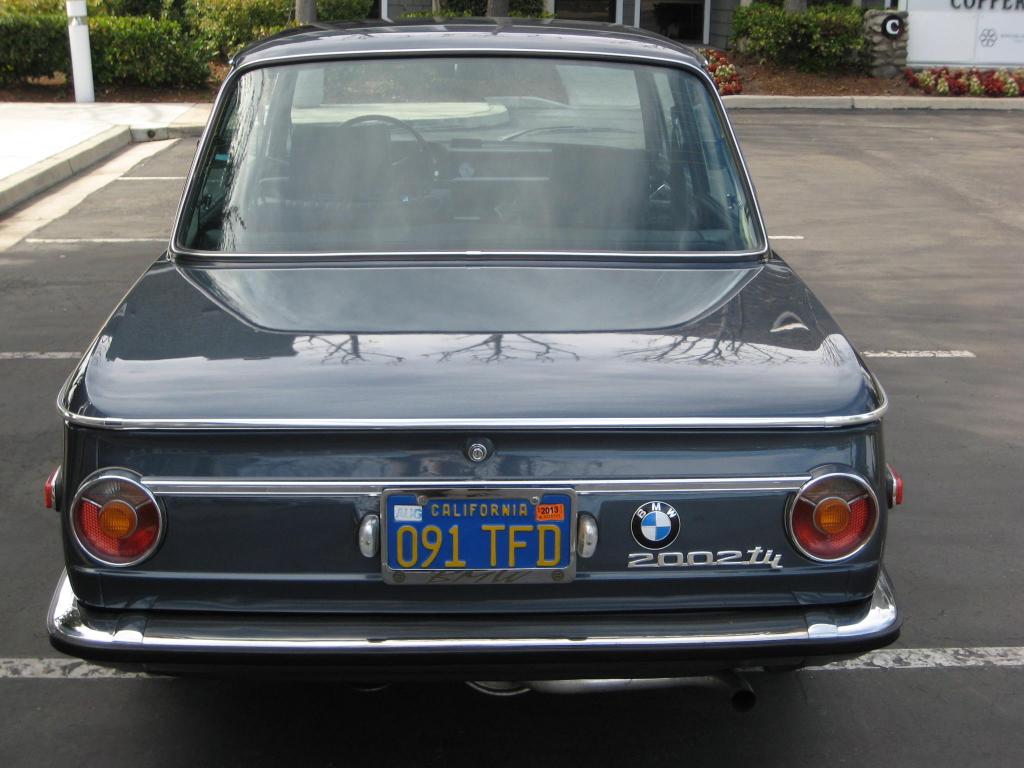 The below post originally appeared on our site March 21, 2013:
As I hear and smell and feel the parts of my 1988 BMW, I'm constantly reminded that I am not driving a modern car – and I like it. And as most car contemplations go, my next thought is "so, what's the next level?" Pushing further back in BMW's history brings up two main objects of desire: the E9 3.0CSi and the 2002tii. The tii was the pinnacle of accessible 2002s and created a whole new benchmark for sporty sedans. For all the light-quick-fun praise lavished upon the Mk1 GTI, the 2002 was roughly the same weight with 20 more horsepower… a decade earlier. Sounds like a hoot to me.
I love that the 80s brought the zenith of non-computerized cars, but if I did follow my brain further back in history, this 1972 2002tii is the kind of vintage Bavarian that I want. A good example was brought back to greatness with a frame-on restoration including paint, interior, and engine. You could eat off any piece of this car, including the spare wheel well and the engine compartment. The only modifications are a 5-speed transmission and some later wheels, keeping it looking like a forgotten showroom model, preserved for your enjoyment today.
Year: 1972
Model: 2002tii
Engine: 2.0l inline-4, 130hp
Transmission: 5-speed manual
Mileage: 79,800 before recent overhaul
Price: Reserve auction, currently at $17.6k, Buy It Now at $29,500
Here is a chance to own mint condition original California native rust free 1972 BMW 2002Tii in Grey metallic color (Arktisblau Metallic #045). This BMW is original Tii model with matching number. The previous owner upgraded this car from a 4-speed to a 5-speed transmission. I purchased this car in winter 2010 and have since driven it less than 3,000 miles. At the time of my purchase the car had the original paint and it was solid car to begin with, however I did the frame on restoration and painted the car only because the metallic paint on the roof & rear truck of the car faded due to sun exposure. Likewise, the car went through complete engine overhaul last year using all OEM parts (Bavaria Auto repair, spent over $6,500). The car drives very strong and the 5 speed transmission shifts smooth. All electrical works as it should. The interior and the exterior are in mint condition; please check the photos as it reflects the condition. I believe I'm the 2nd or the 3rd owner of this car, but I do not have any supporting history records to sustain this fact.
I know I nitpick these ads, but it's not "mint condition original" if it's had an overhaul. But at least it's all been done LIKE original! We've had some awesome 2002s here recently with wild colors and huge fenders, but this one encapsulates what made this car such a sea-change for BMW: simple and great looks, a tight package and a fun little engine. Almost $30k is pushing the envelope for me even with all of the work done to it. Considering the amazing Colorado Orange 2002tii Paul featured 2 weeks ago sold for $16k with fewer miles and a similar restoration, I'm going to have to suggest this seller ease up a bit and drop his price about $10k.
-NR