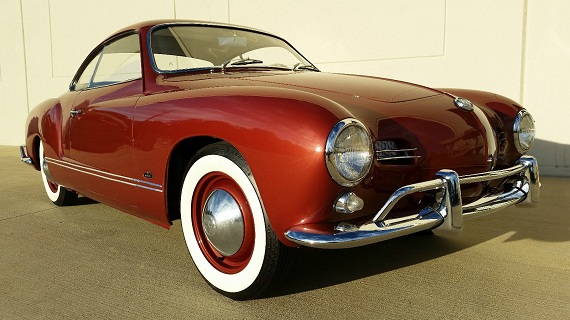 It's been a little bit since we looked at some nice Karmann Ghias, and today there are two lovely but very different examples in the marketplace. These are lovely designs; granted, not the best driving cars in the world – but a car that really will set you apart from the crowd and will make everyone smile. Of the Karmann Ghias, my favorites are the early "low light" models and the Type 34 from a bit later – luckily, here's an example of each: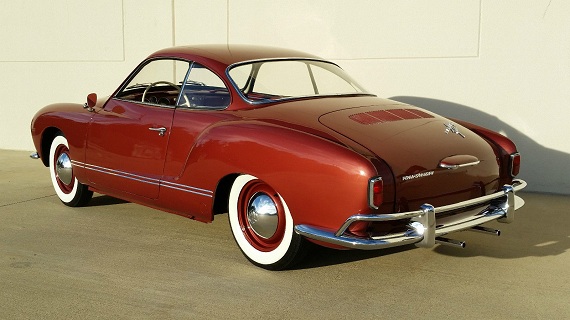 Year: 1959
Model: Karmann Ghia
Engine: 1.2 liter flat-4
Transmission: 4-speed manual
Mileage: 17,936 mi
Price: Reserve Auction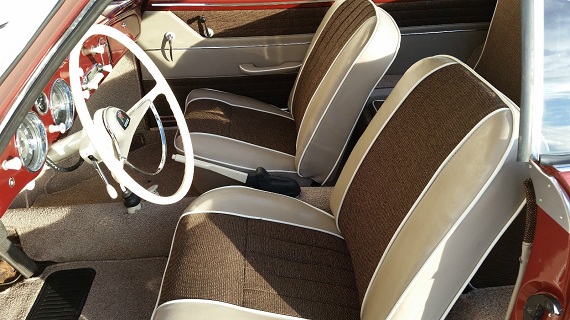 1959 VW KARMANN GHIA LOW-LIGHT COUPE.

VW BIRTH CERTIFICATE CONFIRMS THAT THIS IS AN ORIGINAL #'S MATCHING FRAME/PAN, BODY, AND ENGINE AS WELL AS THE ORIGIANL L-354 CARDINAL RED COLOR.

THIS GHIA UNDER WENT A FULL BODY, PAINT, INTERIOR AND MECHANICAL RESTORATION APPROX. 2 YEARS AGO BY A VW RESTORATION SPECIALIST IN MICHIGAN. ALTHOUGH NOT A 100 POINT PERFECT CONCOURS RESTORATION, THE FINISHED OVERALL PRODUCT RESULTED TO BE EXCELLENT. EVERYTHING FROM BODY/PAINT, CHROME, TRIM, WHEELS/ TIRES, INTERIOR SEATS, CARPET, HEADLINER, ENGINE, SHOCKS, GAS TANK, AND MUCH MORE WAS RESTORED BACK TO AS CLOSE TO ORIGINAL SPECIFICATIONS AS POSSIBLE USING THE BEST PRODUCTS AND MATERIALS AVAILABLE TO THE MARKET PLACE.

SOME ADDITIONAL SPECIAL DETAILS ABOUT THIS GHIA INCLUDE:

* ORIGINAL FLOOR PANS IN AMAZING SOLID/ PRESERVED CONDITION.

* ORIGINAL BLAUPUNKT RADIO.

* ORIGINAL GLOVE BOX DOOR WITH FUEL AND TIRE PSI SPECS LABEL.

* ORIGINAL FRONT BODY NOSE WITH NO SIGNS OF PREVIOUS ACCIDENT.

* ORIGINAL 6 VOLT ELECTRICAL SYSTEM.

* ORIGINAL SEKURIT GLASS (EXCEPT THE WINDSHIELD).

* LATER 1959 PRODUCTION (JUNE).

* ALL ORIGINAL NUMBERS MATCHING BODY, PAN, AND ENGINE.

* ORIGINAL L-354 CARDINAL RED COLOR PAINT.

* ORIGINAL BODY VIN PLATE AND ORIGINAL VIN STAMPING ON FRAME.

THIS GHIA HAS BEEN DRIVEN ONLY ABOUT 50 MILES IN THE PAST TWO YEARS SINCE THE RESTORATION WAS COMPLETED. IT HAS BEEN SITTING IN A CLIMATE CONTROLLED ENVIRONMENT IN A PRIVATE COLLECTION. A NEW BATTERY AND FRESH GASOLINE WERE JUST ADDED TODAY WITH THE ENGINE FIRING RIGHT UP AND RUNNING FLAWLESSLY! A FULL UPDATED MECHANICAL AND ELECTRICAL SAFETY CHECK SHOULD BE PERFORMED BEFORE DRIVING REGULARLY DUE TO THE AGE AND AMOUNT OF SITTING TIME OF THIS VEHICLE. ALSO NOTICED TODAY BY OUR DETAILER WAS THAT THERE ARE A FEW AREA'S WHERE THE NEW PAINT HAS DEVELOPED WHAT LOOKS LIKE AN AIR POCKET UNDER THE PAINT FINISH; HOWEVER, THE PAINT BASE AND CLEAR COAT LOOK NORMAL WITH GREAT SHINE.

WITH A SIMILAR LOW-LIGHT KARMANN GHIA COUPE HAVING JUST SOLD THIS PAST SUMMER AT AUCTION FOR CLOSE TO $45K, IT'S CLEAR THAT THESE RARE VW'S ARE ON A UP HILL CLIMB OF DESIRABILITY AND APPRECIATATION. THIS CAR'S UN- MOLESTED HISTORY AND ORIGINALITY MAKE IT A SMART INVESTMENT WITH LOT'S OF SMILES AND FUN TO COME 🙂 !!

THANK YOU FOR YOUR INTEREST!!

PLEASE FEEL FREE TO CONTACT PAULO AT (301) 370-6866 WITH ANY QUESTIONS OR TO SCHEDULE A VISIT WHICH IS ALWAYS RECOMMENDED WITH CLASSIC RESTORED CARS. OF COURSE DUE TO IT'S AGE, THE ODOMETER READING ISN'T GUARANTEED TO BE ACCURATE. THE VEHICLE IS SOLD AS-IS/ WHERE-IS WITH NO WRITTEN NOR EXPRESSED WARRANTY.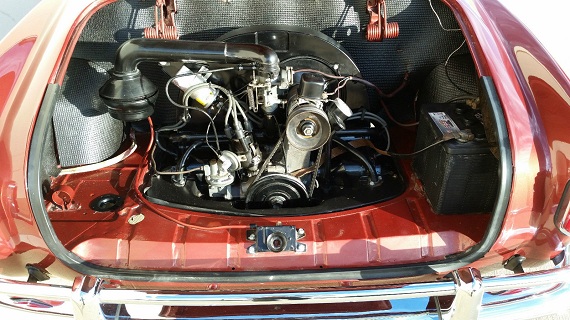 In my mind, this is about as nice as a non-Type 34 Ghia gets – a lovely color, an early model, and in prime condition. The simplicity of the interior is so refreshing compared to more modern cars; this is basic transportation, but basic with plenty of style. The Cardinal Red exterior really highlights the best aspects of the car, and the color matched wheels are perfect. I compare this design quite favorably to the Mercedes-Benz 190SL; it's no Gullwing, but boy is it a pretty design. But because it's not a Gullwing, you won't pay even 190SL prices – a top condition '59 should set you around $20,000 – less than prime condition Beetles and Kombis by a long shot, and while those other Volkswagens are cool my money would go here. I'm not familiar with the auction that the seller is referring to, but Hagerty is usually quite good on keeping up with values on these cars, and you could bet if a similar example to mine doubled in price, I'd be upping my insurance by a lot – yet Hagerty shows a flat market on these Ghias.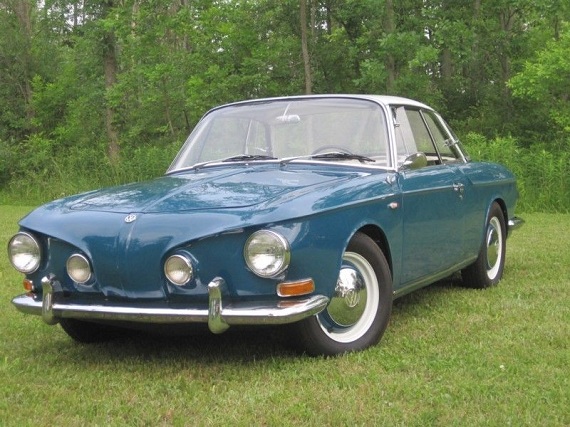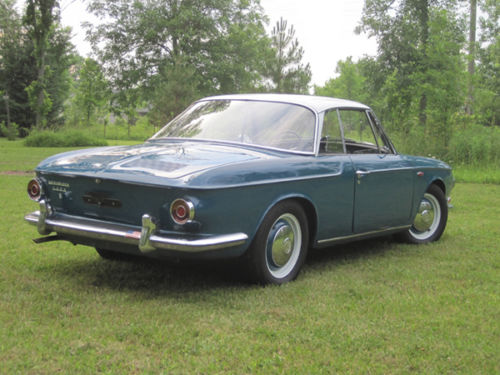 Year: 1964
Model: Karmann Ghia Type 34
Engine: 1.5 liter flat-4
Transmission: 4-speed manual
Mileage: 43,723 mi
Price: Reserve Auction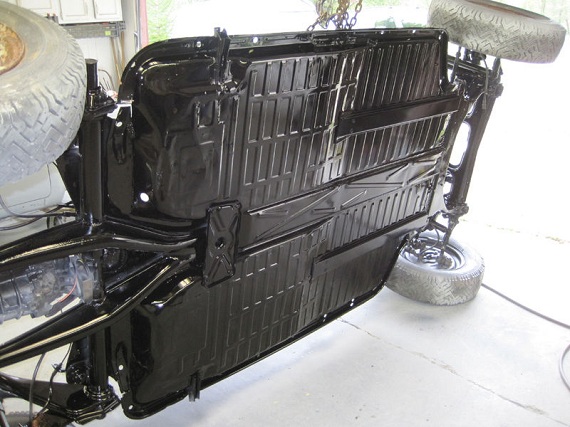 Back up For sale: Due to a non paying bidder 1964 Type 34 Karmann Ghia

This is a numbers matching (according to the German title) body off restoration. VIN #0390620

This car was purchased new at Josef Huber VW, on April 11th 1964, by a US serviceman and driven in Germany. It was then shipped to the USA (Port of Seattle) in late June/early July 1964, where it spent the next several years in the Seattle area, until the first owner moved to the Des Moines area in 1968 when it got involved in an accident. A salvage yard operator (2nd owner) bought it with hopes of replacing the damaged parts and reselling it, but found parts were impossible to find, so he put it into storage (a large field) until 2004 when he listed the car on E-bay. Russ Wolfe (3rd owner) purchased the car from him, with the intention of rebuilding/restoring the car and returning it to the road. Russ sourced the front clip and floor pans, along with rebuilding the original engine, and replacing the pans and front clip in 2008. On Thanksgiving weekend of 2009, Russ called me and accepted my offer on the car, and on April 28th 2010, I became the 4th owner. Once home, I proceeded to tear it down, inventory what I had, make a list of what was needed, and went from there.

I spent the next 2 years sourcing parts, taking the car to bare metal, and removing rust. The first part I needed was the behind the rear seat metal (over the transaxle), as this area was completely rusted out. I was able to get it, along with a VW logoed safety glass windshield as the car still had it's tempered glass one in place. That piece was installed, along with rebuilding the front of the rear trunk floor, before the body was separated from the pan. The pan along with the front and rear suspension assemblies were then sandblasted, epoxy primered, then painted black, and finally clear coated, then set off to the side, while the body got it's share of attention. The pan also got new ball joints, tie rod ends and new boots for the swing axle trans.

The body shell got all of it's existing paint removed, rusty metal cut out, new metal installed, more sandblasting, and finally sealed in epoxy primer, before the entire bottom of the car was painted and clear coated before being set back on the pan. The roof was then shot in bright white, then covered to keep any overspray off it. The rest of the body was then block sanded, and epoxy primed several times, before the inside of both trunks and the interior were painted a custom mixed (no formula existed) Sea Blue #2 (the original color) Concept paint, that was scanned from the inside of the glove box door. In the mean time, the door hinges were rebushed, inside of the doors painted, then a door check rod kit was installed, then the doors were attached, and aligned to the body for final body working and paint (Dec of 2010). At this time winter arrived and work stopped until early March, when the body was final sanded, sealed and a fresh coat of Sea Blue #2 was applied, along with a clear coat.

In April of 2011, the car started to get reassembled with a new headliner from Sew Fine, along with new seals from ISP West, KGPR, and several other sources. In June of 2011, I ordered up a wide 5 disc kit from SoCal Imports, and purchased a set of disc brake spindles to modify for the wide 5 disc brake kit. I also purchased rebuilt a dual circuit master cylinder, and a new steel brake line kit from Wolfsburg West. New rear wheel cylinders were also installed along with new hoses to finish the brake system. I also converted to DoT 5 brake fluid at this time. It was at this time that I cherry picked 5 rims, that got sandblasted, epoxy primed, painted black, then the outsides were painted 2 tone in matching body colors, along with getting 4 new tires installed (the spare was a low mileage radial I already had).

I then ordered up a carpet set, along with seat covers from Sew Fine, and these were installed, as were the original rubber floor mat pieces with the 341 part number embossed on them. In June of 2012, I picked up a decent set of bumpers, and then about a month later, I also recieved another set from another source. I was then able to combine the best of the 2 sets to make a really nice set of bumpers for the car.

I should mention here, that I converted the car to 12 volt, but I still have all of the 6 volt parts that came off the car that I didn't re-use (they go with the car). Some of it was missing, so I went with the conversion, since I had what was needed to convert it to 12 volt. The same applies to the front drum brakes, as I did a disc brake conversion on the front (bolt on set up) mainly for safety. This includes a tub of wheel cylinders, brake shoes and drums. I'm also including the extra bumper parts, as I have multiples, but not in the best condition.

I also have the service manual (with dates of service), and a type 34 owners manual (both in German), along with the German title. At present, there are 43,723 original miles.

New parts:

Front, rear, ¼ window seals, door seals, and tail light seals

Front and rear trunk seals from ISP West

Door seals (lower), check rod kit, upper trim to roof seals from KGPR

Door window trim with seal, and a bunch of other small trinket parts from AirHead parts

Wide 5 disc brake kit from SoCal Imports

Brake line kit from Wolfsburg West

Carpet kit, seat covers and headliner from Sew Fine

NOS wiper arms

NOS muffler and tail pipe

Reproduction hood striker plate

Reproduction inner ¼ window latch parts

Front turn signal seals

This car is one of 7,000 built in 1964 for world wide sales, and one of 256 known to exist world wide.

listing the car for a friend of mine. Please read the full description and the terms before placing your bid. please be aware that there is a non refundable deposit and there will be no returns. this car is for sale locally and reserve the right to end the auction at any time. any ?s please contact Bob by phone only at 1-810-357-3073 or by email @ bobsnotch@aol.com you can also view the whole build thread at http://www.thesamba.com/vw/forum/viewtopic.php?t=412120 thanks for looking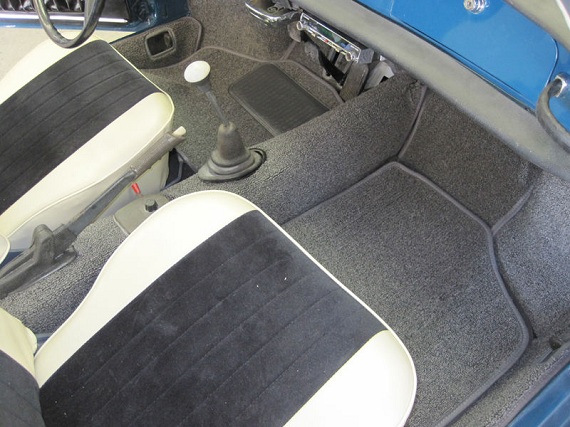 Here's another well-restored car, but this time a much more rare Type 34 model. Only a few hundred of these cars are still around, and they're a quite rare sight in the U.S.. This car seems to have been done right, which is why it's a bit surprisingly that the pictures for the auction aren't a bit better. I think the Type 34 presents better in white, green or red, personally – the Sea Blue is nice but to me the car doesn't look outstanding, like some other examples I've seen. That in part could be the pictures though, as other examples that I find online in Sea Blue look quite nice. The Type 34, because of its rarity, tends to bring a bit more money than the regular Karmann Ghia – still, though, they are quite affordable compared to similar early Porsche, BMW or Mercedes-Benz models. I'd expect this car should be priced around $30,000 based upon some other examples that have sold, but find the right buyer and it could be higher. Either one would be a lovely and unique addition to any enthusiast's car collection, but boy that '59 is sure striking to me and gets my vote between these two.
-Carter