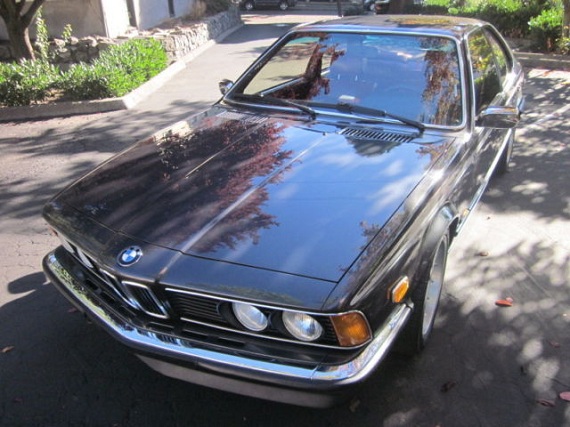 I bang on about how much I prefer the look of the European market cars from the 1980s over the U.S. spec cars, and this is especially true amongst BMWs. For some reason, the powers that be at BMW decided to do the worst integration of DOT bumpers of all the European manufacturers; it was almost as if they said "Oh yeah? Well, take this, then!" Bulky, with too much plastic, rubber accordions and fading stainless trim, they stand out as a stark reminder of how simple and pretty the European bumpers on many of the same models were. However, it's not often that we get to see two very similar models for sale at the same time; today, however, there are two nearly identical BMW 635CSis on eBay. Both are 1985, dark metallic colors, red leather, 5-speed manuals and updated wheels – and in their own way, each is lovely. Does the Euro-spec car win out for me once again?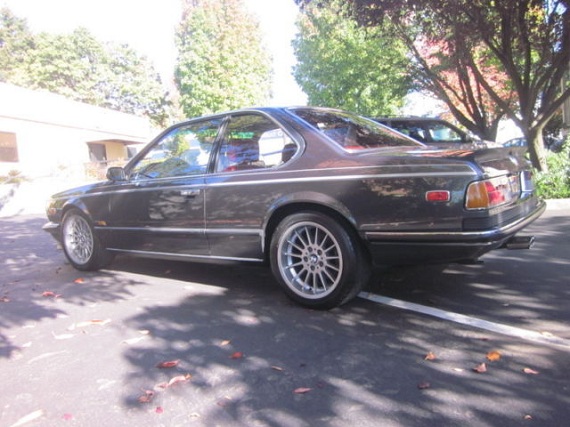 Year: 1985
Model: 635CSi
Engine: 3.4 liter inline-6
Transmission: 5-speed manual
Mileage: 115,035 mi
Price: No Reserve Auction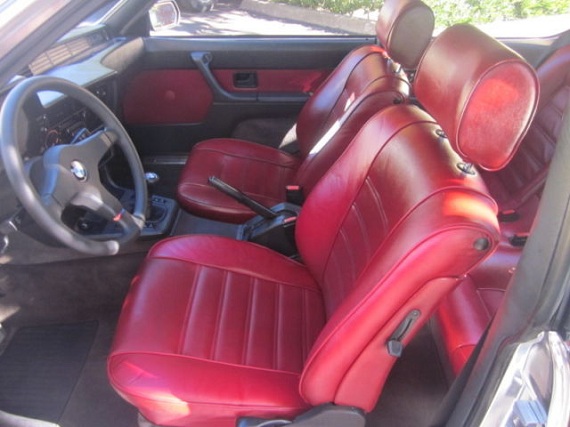 *NO RESERVE!*

115,035 Original miles

1985 BMW 635 CSI Euro Car

(Runs and Drives)

This 1985 BMW 635 CSI Euro Car is an unbelievable automobile and has been in hibernation for the past eight years. This sleek and sexy car is very collectable and highly sought after. The greatly appreciate in value and very few are ever offered for sale, especially the small bumper euro car version.

This particular car is the alpina edition which you can see by the silver bowl body stripes, the large mesh wheels and the rear trunk spoiler. The car is finished in beautiful anthracite gray metallic exterior which is in excellent shape along with the silver special edition stripes. The wheels are also in perfect condition with no curb rash or scratches.

The laser straight body panels are factory fit as you can see this car is virtually new. The small chrome euro bumpers fit tightly against the body panels and wrap smoothly around them. The sleek front grill is also in perfect shape with no rock chips, cracks or imperfections. The alpina signature trunk spoiler is also soft and pliable like the day it was installed.

As I said these euro cars are highly sought after and do not come for sale very often on the retail market, they always sit in collection museums and people never part with them.

The car retains all the original factory glass which is clear and crisp with no delamination or imperfections. The power sunroof opens and closes just like it should from the factory.

Open the door to see the 635 signature stainless thresholds and door jams which are perfect bright and shiny with no dents or scratches. The car retains the original blood red glove soft leather with bucket seats that recline. The leather is supple with no cracks, tears, or wear marks.

The dash is in immaculate shape as well. The rear seats look like they have never been sat in. The door pockets open and close like the day they were installed. The tweed Euro headliner has a couple small imperfections. The rear package shelf pockets have speakers installed in them. The steering wheel is also in great shape along with the instrument cluster gauges.

The car has power windows, power door locks, air conditioning, power working sunroof, adjustable headlights, manual tilt, power steering, power brakes and is a blast to drive.

The original in-line six cylinder 3.0 power plant is very tidy as you can see in the photographs. The engine has an aftermarket air intake and aluminum strut bar for handling and performance. Only a small amount of aftermarket parts have been installed.

The car has a five speed manual transmission that is very tight and shifts smoothly between all the gears, the clutch is very tight with no slippage and grabs halfway up. The motor runs very smooth and doesn't miss a beat.

Keep in mind when bidding on this car you are partaking in a once in a lifetime opportunity to own a 635 CSI European automobile. The car has very low miles and drives excellent!

Please call David Martindale @ 503-453-9669 if you have any questions.

Highest Bidder will own this vehicle. Please only bid if you're serious about
purchasing this vehicle. Bidders with 0 feedback will need to contact me before bidding. Negative Feedback Bidders will be blocked. Good Luck and Happy Bidding.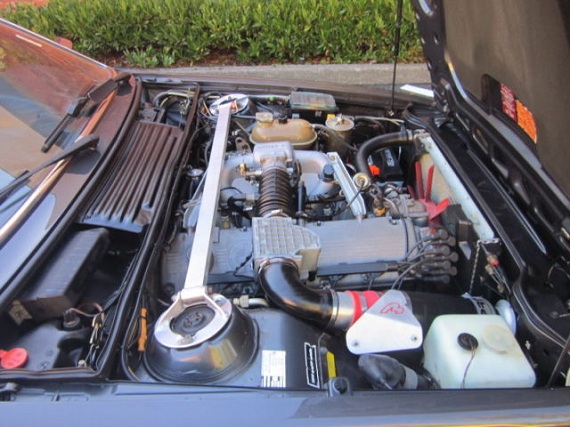 Since the 635CSi was legally for sale in the U.S. in 1985, it's a bit rare to see a later model grey-market import like this. Most are the earlier editions which far outshine what was for sale at U.S. BMW dealers. Right off the bat, the Euro-car has a leg up for me; the color combination is stunning with Graphite Metallic covering the unbelievably red interior. Unfortunately, the car doesn't have the sport seat option – these more flat seats aren't as comfortable as the more heavily bolstered sport seats in my experience. The Style 32 wheels are a great update and work well for a much newer OEM wheel design, though they've fooled the seller into thinking the car is an Alpina. It's not, and the rear spoiler is a typical 635CSi OEM spoiler and so are the stripes in Europe. But, that's not the only mistake the seller makes, as they also refer to the motor as a 3.0 liter instead of the correct M30B34 3.4 liters. Those 3.4 liters churn out 215 horsepower stock – a healthy bump up from the U.S. spec 182 horsepower, and coupled with the lower weight of the Euro model this car is much more a screamer and about a half step towards the M models. Miles are in check and the condition appears good; the only downsides are the non-sport seats and unfortunate U.S. safety lights that are drilled through the bodywork. The dealer also doesn't mention any mechanical history or records, but they're much less critical on non-M cars. Bidding is past $7,000 at time of writing, and I'd expect this car to change hands somewhere around $10,000 given the condition, color and look – it's spot on.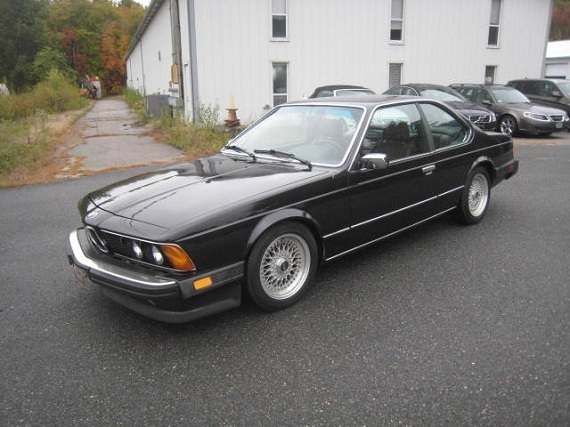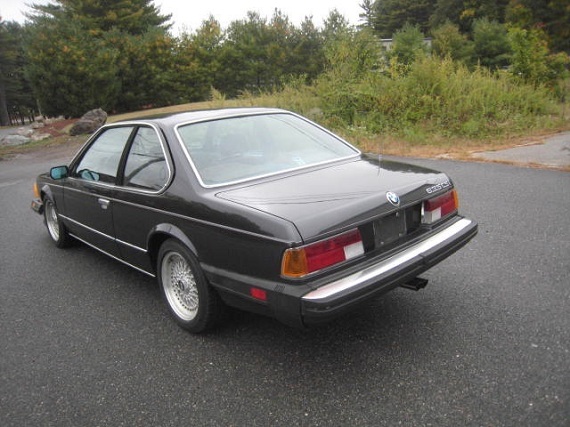 Year: 1985
Model: 635CSi
Engine: 3.4 liter inline-6
Transmission: 5-speed manual
Mileage: 149,627 mi
Price: $9,995 Buy It Now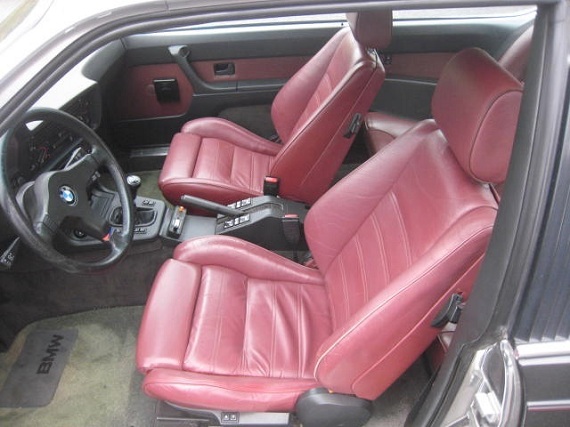 Stunning in Diamond Metallic Black over cordovan red leather this beautiful 635CSI coupe with a rare 5 speed manual transmission has been lovingly cared for over the past 22 years by the same fanatical architect owner – every service record since new. Tasteful upgrades include sport seats, shocks,springs,wheels and exhaust. Drives strong , straight and balanced – does not feel like an old car. Body is clean and straight. Interior is gorgeous with no cracks in dash or mouldings. Original glass. This one is a keeper. We offer the highest quality of condition possible at a price that will make you wonder about the inflated prices at the fancy franchised dealerships. We offer a better quality vehicle at a lower price because of our patience, experience and the selectivity of our buying coupled with extremely low overhead and fair profit margins – we don't even gouge you for that last $189, $345, $495 or even $799 that other dealers do with their phony document fees. We operate out of a simple climate controlled warehouse and ask our clients to visit us by appointment so that we do not have to pay for extra staff. Everything we have learned over the past 40 years is reflected in the values of our operation. Check us out at www.ganleyautoadvisors.com or call us at 978-265-4461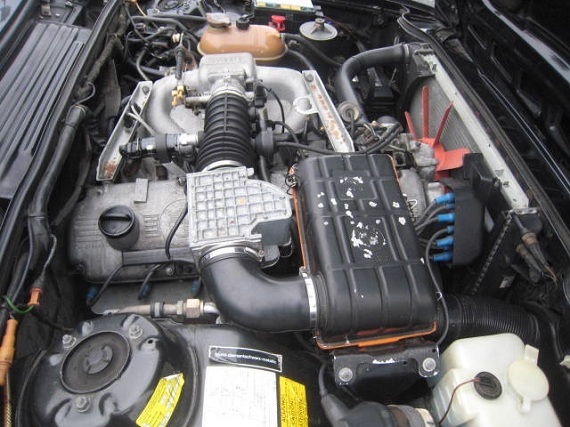 Records make the world go round for automotive enthusiasts, and this U.S. spec 635CSi has them in droves. The hand written log is one of our favorite to see – this car was obviously loved and appreciated by the former owner. They took the time to get a well specified car in Diamond Black Metallic with Cordovan Red sport seats – a nice combination for sure. The BBS RS wheels are both period and a very expensive option both new and today and suit the design perfectly. The sport springs and exhaust aren't brand specified – it'd be nice to know, but they're probably well suited judging by the rest of the car. Downsides? Well, the car has those unattractive U.S. spec bumpers; but more worrying is the rust popping through the fenders. That's certainly something that you'd want to take care of immediately if you were hoping to keep this well-presented 6 long term.
Which is the winner? Well, as usual I'm afraid the looks of the European car once again win me over, though truth be told I wish I could combine the two. I prefer the sport interior and records of the U.S. car, and I think the wheels are a better fit. However, at $10,000 both of these cars offer a lot of character, great classic looks, a fantastic driving experience and smiles for years to come. These cars are still one of the best deals going in classic BMWs.
-Carter