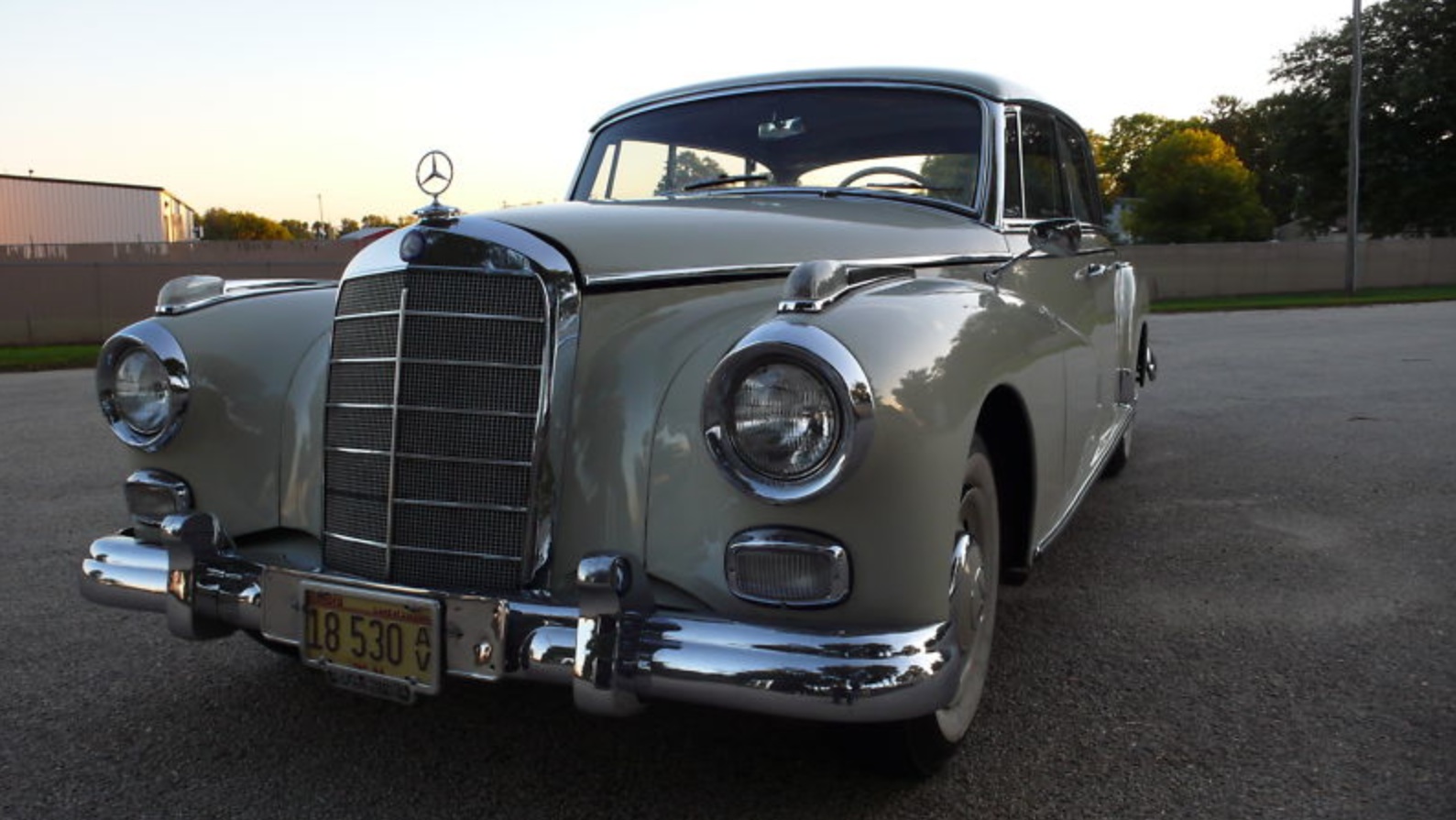 As World War II came to a close, there was a period of industrial reorganization for the countries involved in combat. The Axis powers found themselves on the losing side of the battle and turned to rebuilding what was left of their homes and factories. Now that munitions manufacturing was halted, the focus turned to motorcycle and automotive production in some cases. Mercedes-Benz emerged from the war battle scarred but certainly not dead on arrival. Relying partly on old chassis, they introduced the 300 class in 1951 at the Frankfurt Motor Show. Offered as both a saloon and cabriolet from the outset, the 300d was the final evolution of the series. Released in 1957, this car had a lengthened wheelbase and fuel injection added to the 3.0 liter inline-6. Configured as a pillarless hardtop, the 300d had removable rear quarter windows, offering an unobstructed view from front to back. A three speed automatic transmission was now standard and options such as power steering and air conditioning were on offer.
Just over 3,000 of the 300d models were produced. These grand sedans were a favorite of German Chancellor Konrad Adenauer and subsequently, these models were nicknamed after him. Later they would be replaced by the 600, or Grösser Mercedes, which would become one of the most revered Mercedes-Benzes of all time. I've only ever seen a handful of these cars, mostly at shows or Mercedes-Benz Club functions. This 300d for sale in Illinois is rather remarkable in that it is in preserved, original condition.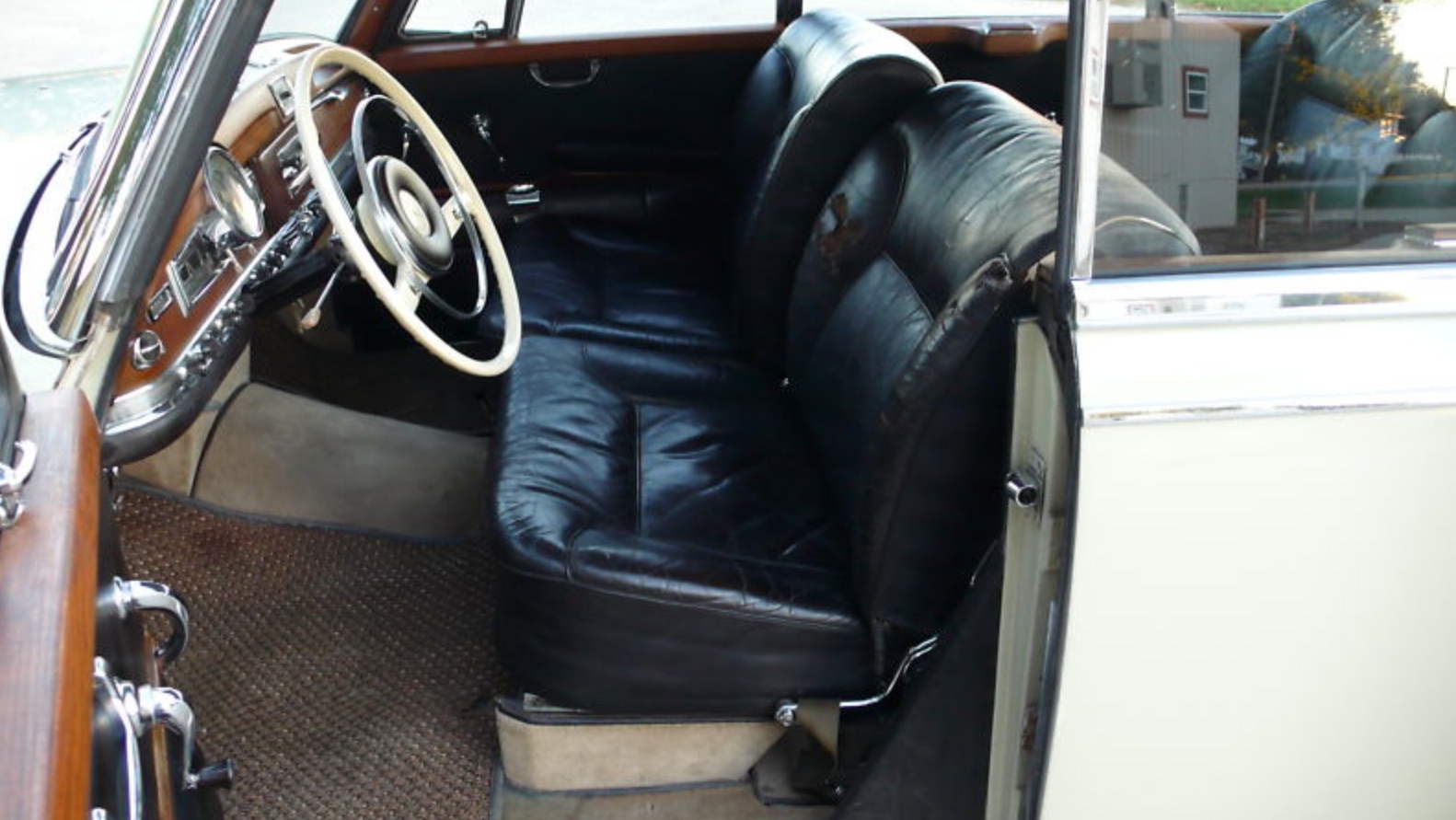 Year: 1960
Model: 300d
Engine: 3.0 liter inline-6
Transmission: 3-speed automatic
Mileage: 52,928 mi
Price: No Reserve Auction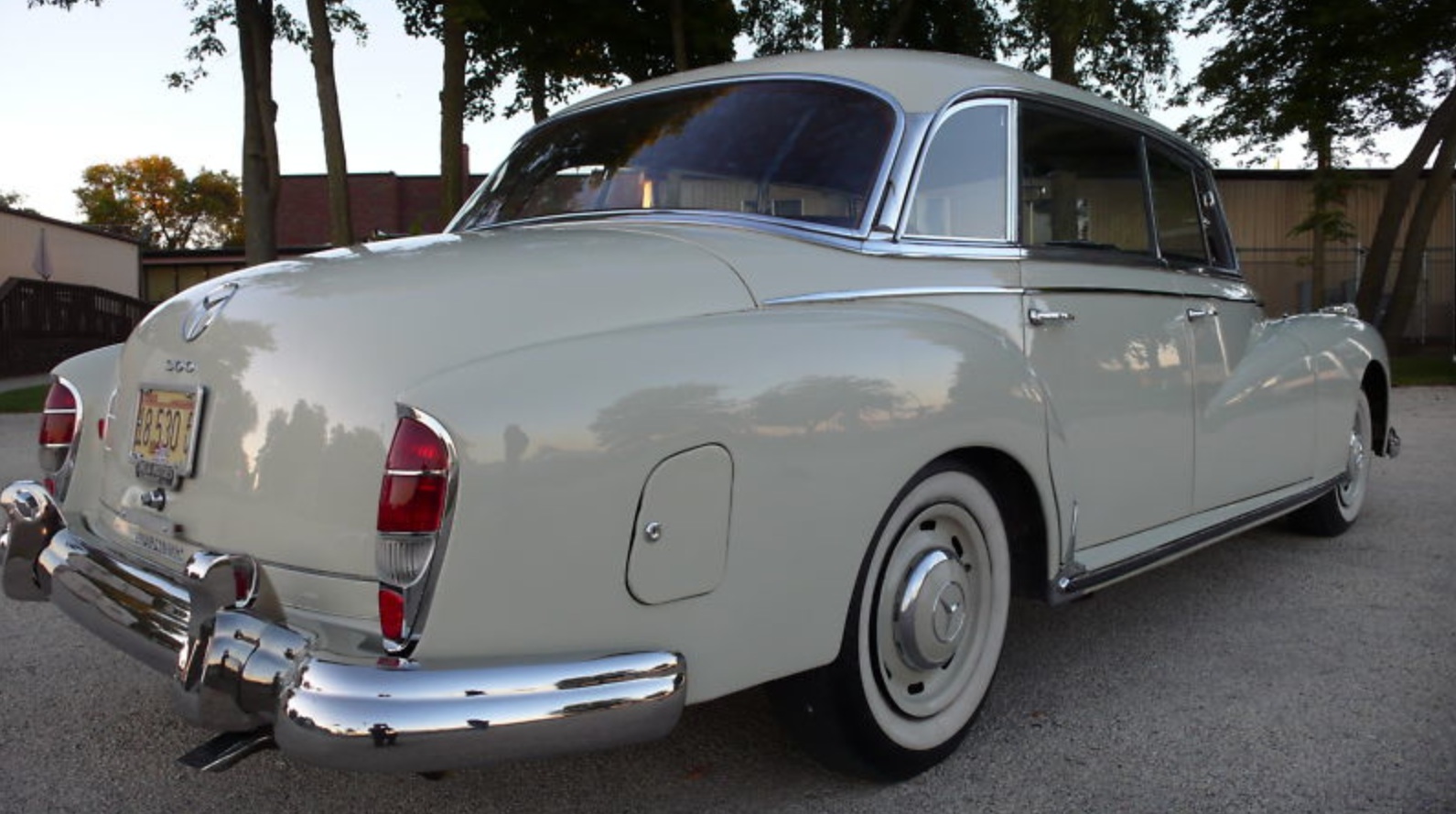 Reluctantly, up for auction is one of my pride and joys. Being a huge vintage German automobile enthusiast (mostly VWs) I always hate letting one of them go, but in order to finish up a few of my others, I have chose to say goodbye to My 1960 Mercedes 300d. I will not get into how rare these 300D's are or the whole history around the name etc. However, finding one that is in running and driving condition is the rarest part about this particular car. I have seen many in the past few years show up on various sites for sale but very few of them actually started and drove or were complete cars.

The quick history behind this car is… I purchased it from a good friend several years back. I have wanted to own it for as long as I knew he had it. It was sitting in the back of his shop under a car cover for years. 20+ years at that. We finally beat out a price and I brought it back to our shop to begin the light restoration process so I could get it back on the road again.

The entire brake system was shot from sitting and I didn't even try to make them work as it sat. Instead I removed the master cylinder and all 6 wheel cylinders and sent them off to Whitepost Restoration to have them bored and resleaved with brass inserts. As usual they did a spot on job! The brake shoes had just been replaced when the previous owner parked the car so they were in near perfect shape. The reason the car was parked in the first place was because of the brakes. The power booster had developed a leak from what he could remember and so he had it fixed. Instead of rebuilding the brake booster, the shop that did the work just rerouted the main line from the master cylinder to the 3 way block to get the brakes up and working. Robert, did not like the feel of the peddle as it is like many older cars where you have to press hard to get it stopped (stand on hard brakes) as we call them. I did not go back and fix the brake booster as I am ok with how it stops. Not on a dime but it stops none the less. I did however look at how they did the bypass and it was done very well with no original parts removed or damaged. They just tapped the extra port on the brake block and ran a line directly to it. The booster is still in tact and in great shape. One could simply run through it with a quick rebuild, as I am sure the internal seals are shot, and reconnect the brake line to that part of the system. The previous shop to work on it also installed braided stainless steel brake hoses front and rear which are in perfect shape and passed fluid well. I see new rubber brake hoses listed on ebay if the new owner wishes to go back to original.

Fuel system… I removed the fuel tank, lines and filters. The tank was sent to a local shop that deals with cutting them apart, blasting brazing any holes shut and re-welding them back together. I am not a firm believer in tank lining as I have personally dealt with too many vehicles that have major issues steming back to poor lining. Before reinstalling the tank, I had to replace both rubber-steel end fuel lines in the rear. I also suspected the fuel pump to be faulty so I had it rebuilt top to bottom as well. The cleanable filter in the engine compartment was washed up and reinstalled.

With fresh gas and a good charge on the battery, we cranked for a minute to get oil pressure, hooked the wires back up to the coil and it fired off in a few seconds. It idled rough at first and started to clean itself out. I shut it down after 10 minutes of running, changed the oil and put about 30 minutes of run time on it. To date, I have 3-4 hours of run time on it and 22 miles. I can not say it runs like a swiss watch, as it should, but then again, I have done nothing more to it. I am sure it could use the standard plugs, wires, points, cap rotor and probably the timing set. I can tell it has a little stumble to it. Almost a slight miss at times and it is running quite rich. There are some good guys still around that know how to tune the early mechanical injection well. I, on the other hand, do not have that knowledge. All I can say is that the motor is very sound with no knocks or rumbles. In the months that it has sat in the shop, it has leaked a puddle of oil less than 5 inches in diameter. The front seal on the water pump does have a small leak and drips when the car is running.

Paint body and interior… The car was repainted over 25 years age. It does show signs of wear but is in amazing shape for how long ago it was done. The left front fender does have some cracking in the top coat as you can see in the pictures. I know these early Benz were very prone to rusting but this car shows few signs of rust or repair. I am able to see that the lower body frame rails have been patched in a few places and there is some light blisters in the lower sections of the doors. The floor boards are rock solid as is the rest of the body. I see some light rust in the lower corners of the door channels but again, no gaping holes and not rotted out. The chrome shines up well but on close inspection there is some pitting. Some places worse than others, but overall respectable. From the exterior of the car, it is a very good looking vehicle that you would not be ashamed to show off. The interior is all original as you can see in the pictures and could be addressed. The carpeting is a little stained and tattered. The upholstery does have some rips in it but again, for the year is semi respectable. The drivers seat and the left side or the rear seat are the worst as you can see in the pictures. The rear speaker tray also needs to be re-upholstered. I did have the carpet and the seats bid to be replaced and the bid came in at $2,600 – $3,000 depending on the grain thickness of the leather one choses to have installed.

This car is 100% complete as far as the impossible to find parts. The only thing that will need to be purchased to make the car 100% correct and complete is a windshield washer bag and a small part that goes to the e-brake assembly. The e-brake pulls and functions but does not stay engaged. I see a small threaded hole that appears to hold a thumb screw or some sort of a stopping device to keep it locked once pulled. I have not played with everything enough to try to get all of the original components working again. I know for a fact that the radio is complete and in perfect shape but not functioning. The left front head light does not come on high or low which could be a bulb issue as I had both headlights working earlier. The self leveling or ride control which stiffens the rear suspension or lowers it down I believe does not work. I also know that the blower fan for the heat does not come on when activated. As you may see in the pictures as well, there is a small chrome piece on the grill not installed and also the fuse box cover. I have both sitting here at the shop and just forgot to put them on before I took the pictures.

In a nutshell, this vehicle is a great starting block for a restoration or a good candidate for a fix up as you drive and enjoy it. I can not say with 100% certainty that the car is road worthy. As I stated earlier, I have drove it 22 miles with no issues and run it many times here in the shop. The tires are old but hold pressure fine, and the transmission shifts fine. I did replace the tranny oil when I did the first oil change as well. It shifted sluggish at first but the seals seem to be coming back to life and it shifts well when warmed up and driving now.

If you have any questions or need any more pictures (I have many more pictures) please feel free to ask. I am Adam Kottke and you can reach via email or call me at 815-222-0644. You are more than welcome to come view the car at anytime during the auction as well. I would be more than happy to assist in shipping this vehicle to the new owner, however I will NOT set up the shipping for you. International bidders are welcome to bid away as well.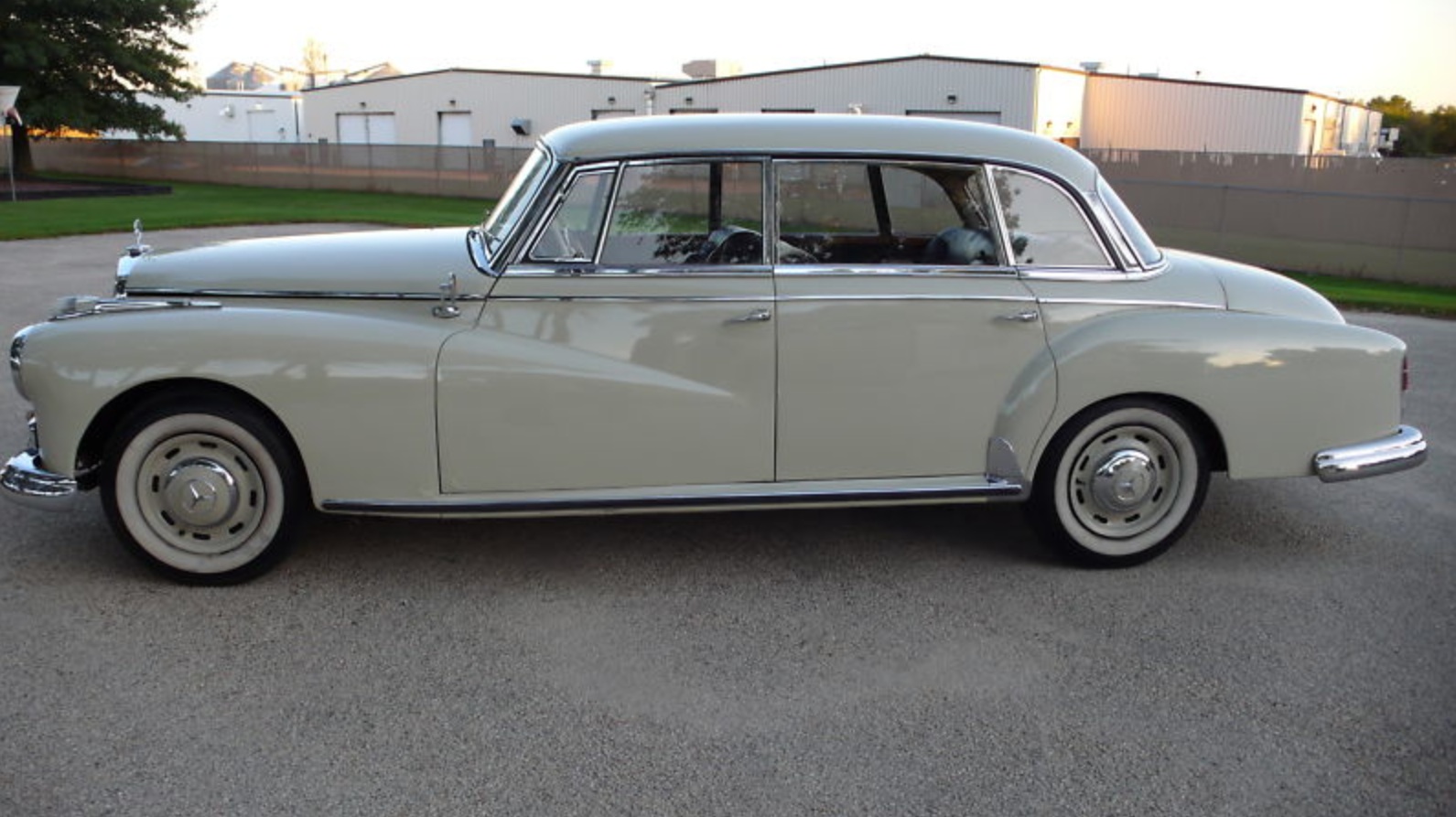 When I first saw this 300d, it crossed my mind that it might be a potential for Heap of the Week, but honestly, it's too nice to classify it as such. This is a really neat car. If I were buying it, I'd work my way through the mechanical bits and make sure it was 100% road worthy but leave it alone cosmetically. So many of these cars are either basket cases or museum queens that it's nice to find one in good enough shape to enjoy regularly without the guilt of ruining its value. With no reserve set, I'll be quite interested to see where this winds up. The 300d Convertibles are the ones that bring the big dollars, but the sedans are more within reach. Somewhere around $20,000 to $25,000 is where I'd suspect bidding will wind up.
-Paul