Carrera. The name has graced thousands of Porsche models throughout history, derived from the name of the famous Mexican race, La Carrera Panamericana. The Carrera name appeared on some 356 models with the four cam motor, referred to as the Fuhrmann engine, after the engineer who designed it, Dr. Ernst Fuhrmann. The engine could be thought of as the 911 Turbo of its day, since it cost nearly double that of a Super 90 with the pushrod engine. Originally designed for competition, the four cam didn't sell in large numbers and as a result, it has become amongst the most valuable of the 356 range. This 356B Carrera is for sale at Canepa out in California. Originally sold to a dealer in Italy, it spent a fair amount of years in The Porsche Museum of Japan collection before coming to the US for a restoration.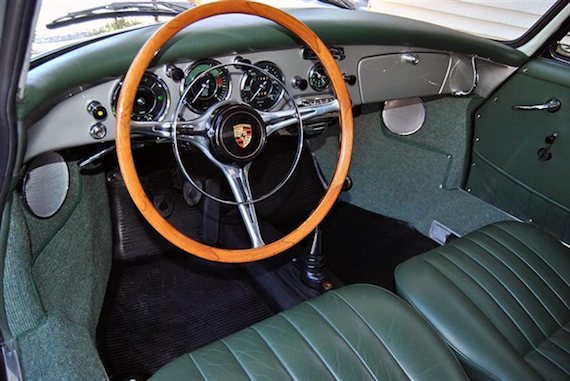 Year: 1962
Model: 356B Carrera 2
Engine: 2.0 liter four cam flat-4
Transmission: 4-speed manual
Mileage: 51,853 mi
Price: POA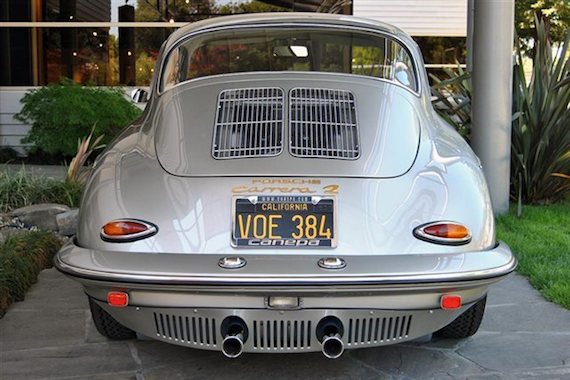 1962 Porsche Carrera 2 / 2000 GS Reutter Coupe
VIN: 120564

Engine: 97 055
Transmission: 56531

* One of 436
* Matching numbers Type 587/1 Carrera engine and 741 transmission
* Former member of the Matsuda Collection in Japan
* Impeccably restored
* Complete tool kit, books, Kardex and Porsche COA

The car is chassis 120564 by Reutter, with engine No. 97055 and transmission no. 56531, all matching per both Kardex, and in sequence according to Porsche production data. 120564 has a build date of July 11, 1962 and a delivery date of August 5, 1962 to Autogerma, the Porsche dealer in Bologna Italy.

The trip from Germany to Italy was just the beginning of the car's international history. After two Milanese owners, 120564 arrived in California, where it resided until the famous Matsuda Collection (The Porsche Museum of Japan) purchased it in the 1980s. When the collection broke up in 1999 the Carrera 2 returned to the west coast of the United States to be put into a private collection.

In January of 2001 the car was stripped down and received a cosmetic restoration by Rudi & Company. During the restoration the car was found to be rust free, and still had its original floors and body panels. 120564 was painted in its correct silver, and a new, green leather interior from Autos International was installed. Being a Rudi & Company restoration the work was impeccable, and the car was completed in June of 2002. After its restoration the owner drove the car to Monterey for Speedsterfest in the 2004, where it performed flawlessly. The Carrera 2 has been maintained regularly and has only covered 6300 miles since 2000.

The two-liter, four-cam Carrera 2 was the most advanced 356 ever built. Here is an excellent opportunity to own a sorted and correct example still with its original four-cam engine.

About the Carrera 2

Introduced in the autumn of 1961 at the Frankfurt Auto Show, the 2-liter Carrera II became the first Porsche production car to have disc brakes. Numerous additional cooling vents were among the recently introduced improvements, but most attention was focused on the new 1,966cc four-cam engine. This produced 130bhp (DIN) at 6,200rpm, and while the Carrera's top speed increased only slightly to around 125mph, there was a marked improvement in acceleration despite the newcomer's greater weight, the 0-100mph time being cut from 33.5 seconds to 27.2. The Carrera II had been introduced part way through 356B production, and continued virtually unchanged after the 356C's arrival in 1963.

The Fuhrmann-designed Carrera 4-cam engine, Type 587/1, with 130 hp, was very complex, and it took an experienced factory mechanic using brand new parts nearly 100 hours to assemble. This was an expensive venture for any car company, let alone one as small as Porsche. The 356B Carrera 2 Cabriolet cost around $8,000, almost twice the cost of a similar pushrod-engined Cabriolet, by far the most expensive road car Porsche had ever produced, and probably the most costly to build. As a comparison, a new Cadillac Eldorado convertible cost just over $6,000. Obviously, this was a hard car to sell at those numbers, which accounts for its scarcity and exclusivity today.

"The car's acceleration is truly exhilarating," enthused Road & Track magazine. "The clutch takes quite a bit of throttle without protest, and when one finds that it is time for 2nd gear, down comes the stick in a flick, more acceleration, and other cars pass as in reverse. High up in the speed range this is it-the effortless superiority of the true high-performance machine."

1,966 CC DOHC Flat 4-Cylinder Engine
Dual Solex 40PII-4 Downdraft Carburetors
130 BHP at 6,200 RPM
4-Speed Manual Gearbox
4-Wheel Annular Disc Brakes
Independent Front and Rear Suspension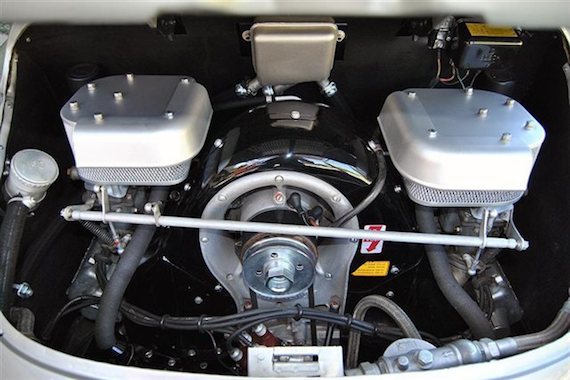 A 356 with a four cam engine is a thing of desire for collectors, but when it was new, these were pricey machines that appealed to a very select group of enthusiasts. A 356 Carrera 2 sold at Gooding & Company's Amelia Island auction last year for $341,000. The high end for these Carreras seems to be in the $500,000 to $600,000 territory. Similar to a lot of Canepa's stock, this is a no excuses example with an interesting history, so I'd estimate an asking price of around or slightly north of $400,000.
-Paul