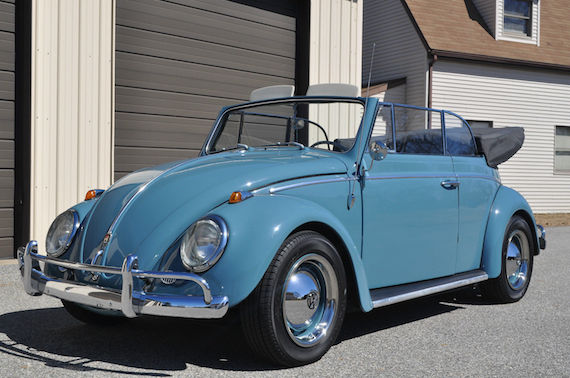 The original Volkswagen Beetle is one of those curious cars that leads two lives. Devised as bare bones transportation and used by some as such, the car has also been the base for some impressive restorations. Some people like to take the route and modify with various Porsche bits while others prefer the dune buggy approach. And some like to go for the Cal look, popular ever since Beetle production was in full swing. This restored 1962 Cabriolet for sale in Pennsylvania in Gulf Blue looks sharp sitting on wider tires with deep dish wheels and is on offer just in time for the warmer weather about to hit on the East Coast.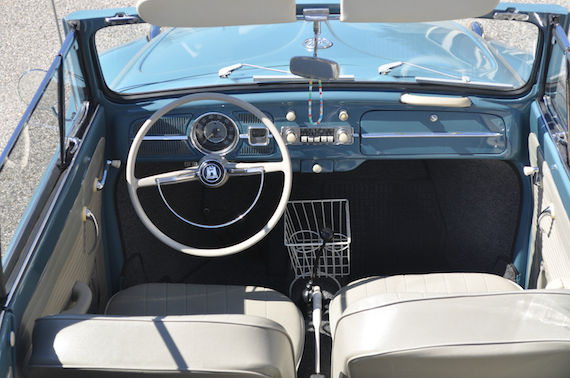 Year: 1962
Model: Beetle Cabriolet
Engine: 1.1 liter flat-4
Transmission: 4-speed manual
Mileage: 101,358 mi
Price: $27,500 Buy It Now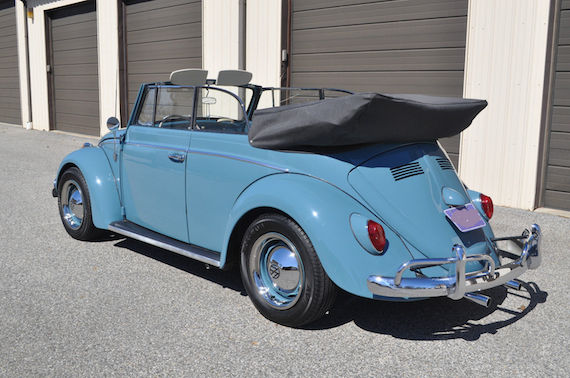 This 1962 VW Beetle Cabriolet is in near perfect condition. I've had this since 2012 and my family and I have thoroughly enjoyed driving and riding in it. It received a frame off restoration by the previous owner about a year and a half before I purchased it. Engine is not original (Oct. 1961 vintage – #6308390) but chassis and body are believed to be original (May 1962 – #4695280). New suspension adjusters were installed in 2014 to lower the front end 3″ which, in my opinion, greatly improves the stance, look, and performance. This is an adjustable set up and the front end can be raised back to its original height if so desired. The wheels are 15″X 5.5″ rims with Yokohama Touring Tires (195/65/15). I have the original rims and tires that mirror the spare in the photos and they come with the car. Also, the original oil bath air filter comes with the car as well. The engine starts right up and will roll down the highway at 60 mph without issue. The transmission shifts smoothly and it tracks dead straight down the road. This car is a lot of fun to drive and I would take it anywhere without worry.

The convertible top is in perfect condition and it opens and closes easily. All the instruments (there's only two not including the radio) function properly and the Sapphire II radio works! The interior is a 9 out of 10 with the headliner being the only issue. It's complete and not damaged in any way but it is lightly soiled and I can't seem to get it any cleaner. The seats, door panels, and carpet are all in great shape. There is a broken rear window crank on the passenger side and I have two new window cranks that come with the car. The paint is an 8 out of 10 for two reasons; there is a cluster of scratches on the left front fender (see pic) and there is a very small bubble on the hood. You can't see the bubble in a picture and it's difficult to see live but it's there. I'm told it's likely a result of the paint coming away from the primer due to the cold weather (I'm in PA and we had an especially cold winter). The hood was taken down to bare metal for the restoration along with the rest of the car so it's unlikely from rust. I was quoted anywhere from $400 to $850 to fix both. I've had several classic vehicles and I've never shown any of them. I like to drive them. I've driven this car more than any of the others. It's just a great little car. Everyone should own one of these at some time in their life. It makes me appreciate the simpler things in life of which this is a prime example. I've invested almost $8K in a car that didn't need anything when I purchased it so it would be the way I wanted it. I will provide receipts for all the work so the new owner knows what and when things were repaired or replaced.

More pictures are available here: http://s1318.photobucket.com/user/smahrlig/slideshow/62VWBUG

I have clear title to the car and will assist with shipping if necessary although the buyer is responsible for picking up the vehicle. This car is being sold "As Is" and no warranty is provided or implied. A $500.00 deposit is due by the buyer within 24 hours of purchase. The car is for sale elsewhere and so I reserve the right to end the auction upon a completed sale outside of this site. As is my practice, and because it's what I would want, if you are not happy with the car after purchase and upon inspection, I will refund your money so long as I get the car back in the condition it was in when it leaves my garage. The car is available for inspection and I encourage anyone interested to do so prior to bidding. I'm available for questions during the day. Send me an e-mail with a contact number and I will return calls promptly.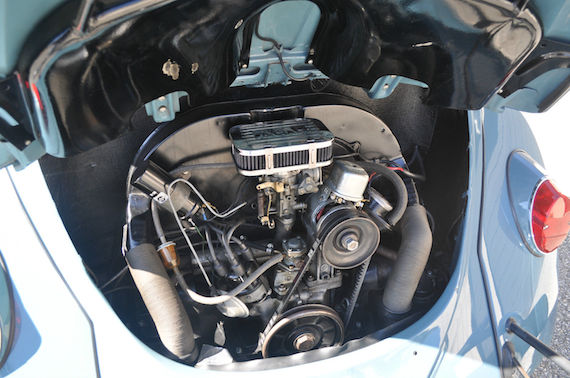 Like a lot of vehicles, the Volkswagen Beetle Cabriolet fetches a bit more in the market that its hardtop sibling. I tend to sit here and think the air-cooled frenzy with 911s must spill over just a bit into Beetle territory, as prices were stagnant on these cars for a while but have risen slightly in the last few years. This one is priced not quite but close to the top of the market, and apart from a few flaws, it appears to be a solid example. As is, it is set up exactly how I'd like my Beetle, and I'm not even that much of a convertible fan to begin with. Hats off to the restorer for not going overboard with the accessories and keeping things to a tasteful level.
-Paul