In the aftermath of World War II, Mercedes-Benz was a shining example of the German Economic Miracle. In such a short period of time, Germany mobilized its people and began rebuilding their country from the ground up. From buildings to factories, almost everything had to be rebuilt in the wake of mass destruction. Within ten years of restarting production, Mercedes-Benz had a mixed bag product lineup, consisting of models like the unibody Ponton sedan, 190SL roadster, 300SL sports car and the large 300 sedans, coupes and cabriolets.
The new Heckflosse, or Fintail models, bowed in 1959 and were the beginning of Mercedes-Benz's push into the modern era. At the top of this range was the 300SE sedan and coupe. These models included more chrome, power steering, pneumatic suspension and automatic transmissions were standard. A little over 5,000 examples of the 300SE emerged from the factory between 1961 and 1965, making these über fintails quite rare, but overshadowed by successors such as the 300SEL 6.3 and later 4.5 models with the new generation V8 engines.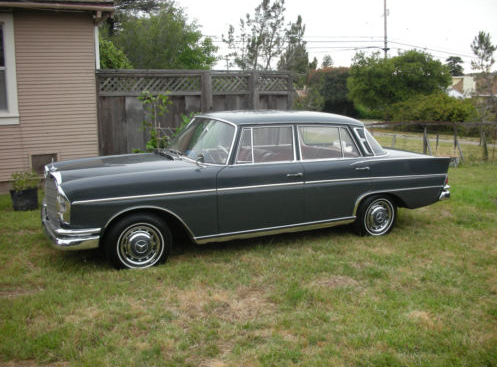 If you are looking at this auction you probably already know what this is. The top of the line Mercedes sedan from 1963, the 300SE W112 has a similar body style but a completely different drive train from the W110 and W111 cars. If you are a lover of this body style, this is just about the the best model that you could aspire to own. All aluminum fuel injected 3 liter engine, four wheel disc brakes, four wheel independent air suspension and a multitude of other refinements that distinguish it from the 220S, 220SE and other lower model cars. This particular car is a solid example of the W112 sedan. It is far from perfect, but it has been operated continuously, though sparingly, throughout its life. It has 137,500 miles on it and I have enough history to say that I am confident that this is accurate original mileage.

Though there were many options available for these cars, this one only has a few. Most importantly (a requirement for any serious enthusiast) it has a sunroof. Also, it has the white trim package for the inside, the steering wheel, shifter knob and blinker knob. Also, and very oddly, it has a hydraulic fan clutch. This is an option that one would expect on a car that was not to be sold in America. However, there it is. I had a leak in the unit and put a standard drive fan on. I have since sourced a rebuild fan clutch but have not installed it. The exterior color is DB190g also known as graphite grey. The interior is read leather, with option code 204.

Condition:

The paint work on this car is partly original (I think) and partly respray. It has been fixed here and there over its life so that it continued to be presentable. For a perfectionist, it needs to be repainted. For a driver it is acceptable. It has dings, dents and scratches throughout though no major blemishes. There are two spots where there is rust. One spot on the rear rocker and another spot is just behind the rear passenger door in the inner fender. I will have to send pictures of these as they are pretty impossible to describe. Also, anyone who actually is serious about buying this car had better some see it first!

The interior of the car has what I believe to be the original wool carpet. The doors and seats are original though the back of the drivers seat has been replaced. It was replaced when you could still get the correct stuff from mercedes, so it is perfect factory replacement, but in much better shape. The interior is worn, there are stains, tears and many split seams. However, having owned this car and seen many others like it, it is one of the best preserved original interiors I have seen. Most of these cars end up sitting and as a result the interiors are destroyed. I would NEVER even consider replacing it. That is partly because its still ok and also because the original leather has a smell that could never be duplicated. For someone much more motivated that me, you could probably work wonders on it with the leatherique restoration products. The headliner has bee replaced with something other than original I think. I believe that this would have had a wool headliner. It now has the white with the small perforations. The wood is all in good condition. Some of the wood has been refinished in a color very different from factory, but it goes nice with the red. You can see both the original color and the new color on the picture where the back door is open.

Note on the pictures:

In one photograph the front passenger side blinker lens is broken, this has been replaced. The mechanical parts of this car have had extensive work done by me and my other 300SE loving friends. All the air bags have been replaced, the water pump, replaced the injection pump was rebuilt, the rear axle was removed and all the rubber parts replaced, the drive shaft rebuilt, the radiator boiled, the engine has been out, and in and out (and thankfully in again). I have very extensive documents and notes for the past 14 years, though I have only owned it for ten. The air valves all hold air. This car can sit for EVER and not leak down. All the gauges work, the original radio works. The clock doesnt work anymore, but it used too. It has been converted to pertronix electronic ignition. The transmission has been replaced though I dont have any documents for that. If anyone has any questions about what I have done, please ask. I cant remember everything right now. I have probably spent about $6,000 in parts that I have put on it, not to mention the time that was spent. I took as good of care of this car as I knew how for many years.

Sadly I have lost interest and I have had it parked in the garage for a few years. It needs the touch of a new enthusiast. I have a few parts that I never put on that it needs and it needs a good fine tuning. It runs and drives and can drive anywhere you want it to go. I am VERY reluctant to sell this car. It has been a constant part of my life for ten years and I hope that it goes to a good home. If you are interested, I also have a1964 Long Wheel base 300SE that I am interested in selling.
These 300SE sedans have a cult following amongst Mercedes-Benz enthusiasts, and from the looks of it, it appears the current owner is one of those people, given that he also owns a rare long wheelbase version. The suspension in these cars is complex, so it's heartening to hear that both that system and the rest of the mechanicals are in good working order. Cosmetically, it leaves a bit to be desired, but as they say, it's only original once and it appears that most of what we see is how it was when it left the factory. With a little bit of cosmetic refurbishment and elbow grease, this would be a nice, practical classic and would certainly garner interest at the next Mercedes-Benz club meeting.
-Paul