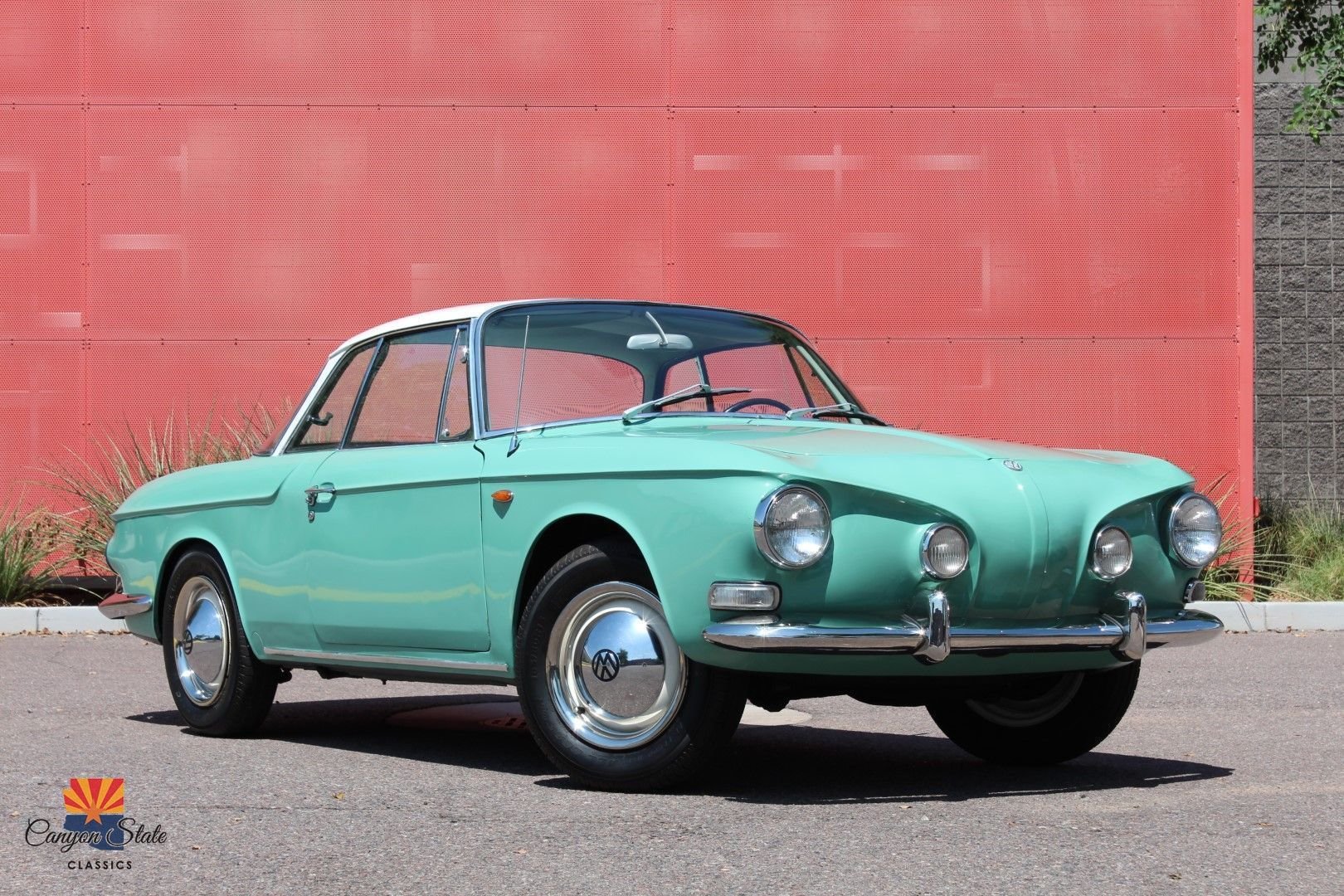 The Type 34 Karmann Ghia was a sales failure – it was too expensive – costing about 50% more than a normal Type 14 Ghia. But that didn't mean it wasn't a very good looking failure. While the underpinnings were shared with its less exotic 1500 cousins, the upscale Karmann Ghia was aimed squarely at making peasants feel like landed gentry and certainly looked the part. Sweeping character lines ran the length of the car, giving it its signature 'razor' nickname. Added to the upscale look in terms of desirability today is rarity. Never imported to the United States, Type 34 production only achieved about 42,500 units – less than 10% of the total number of the more popular and familiar Type 14 Karmann Ghia. Today's light green example is great to see: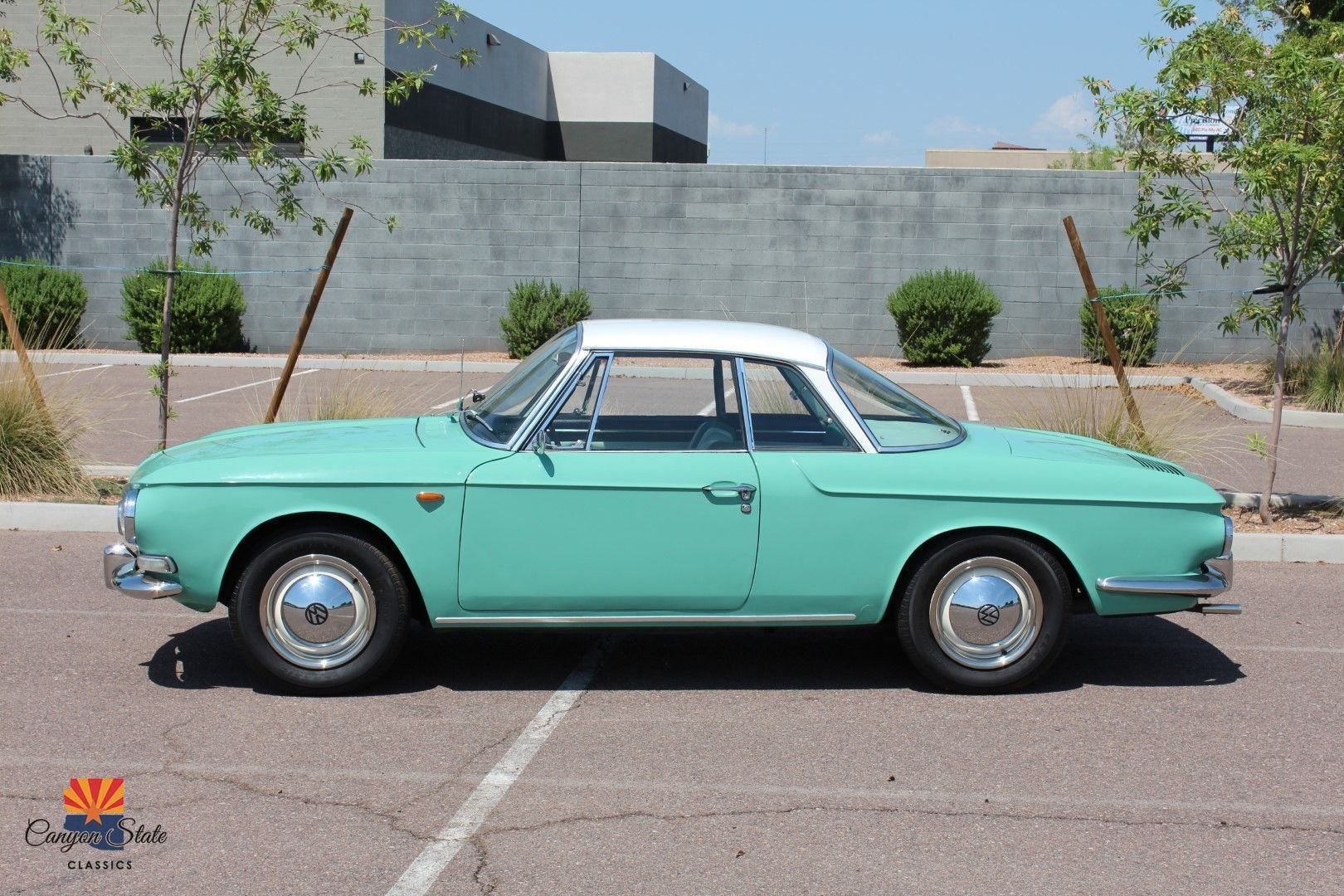 Year: 1963
Model: Karmann Ghia Type 34
VIN: 0190729
Engine: 1.5 liter flat-4
Transmission: 4-speed manual
Mileage: 81,000 mi
Location: Tempe, Arizona
Price: $33,900 Buy It Now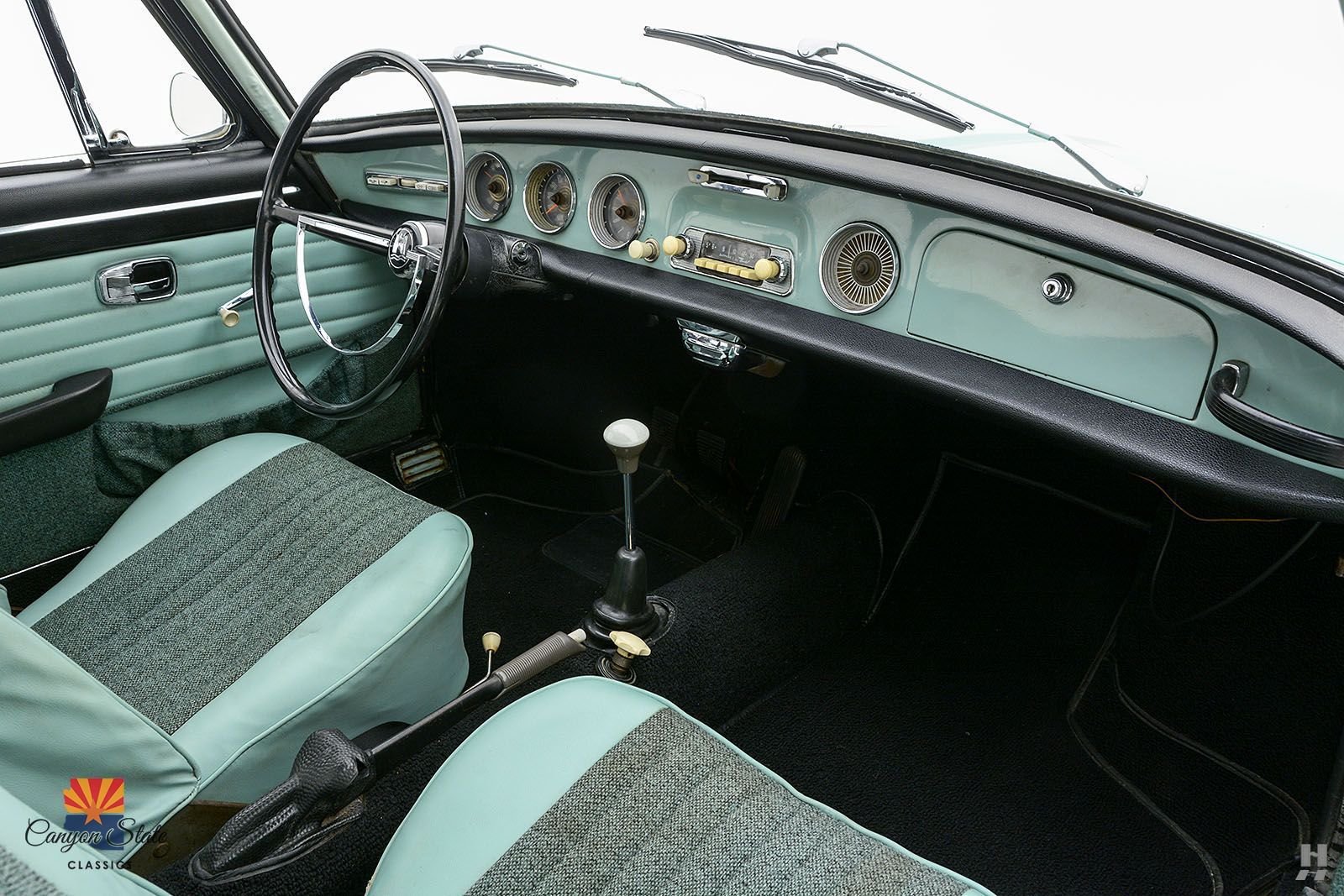 1963 Volkswagen Type 34 Karmann Ghia, 1500cc Pancake 4cyl, Euro Delivered, RARE!

This is an incredibly rare opportunity to own a unique VW collectible. This Type 34 came over to the US many years ago when a US serviceman stationed in Germany fell in love with its unique design. VW never sold anything quite like this here. This example has 81k original miles and powered by its original engine. Total numbers in US are thought to be less than 100 examples. Please call Jon @ 480-703-2337 with questions and please read more info on the type 34 on the following link:

https://type34.com/library/15-history/32-history-of-the-type-34

The three-way partnership of Volkswagen, Karmann, and Carrozzeria Ghia was born of the post-war economic boom, which saw middle-class buying power grow exponentially. As buyers demanded more from their automobiles, style and performance became top selling points. Volkswagen built its name on the "cheap and cheerful" Beetle, so the thought was that a stylish sporty coupe could boost their image, particularly in the critical USA market. But the boffins in Wolfsburg were reluctant to give the green light, as production was already at maximum capacity with the Beetle and Type 2 bus. The project's savior came via Wilhelm Karmann, who was eager to secure more of VW's business beyond the limited coachbuilt convertible Beetles he was already building. He offered VW the use of his production line and skilled workers for the new sporty car and brought Gigi Segre of Ghia on board to provide the styling. The beautiful new Volkswagen shared its underpinnings with the Type 1 Beetle, meaning it was simple, robust, and dependable. The beautiful Italian styling made the Type 14 Karmann-Ghia an overnight classic, remaining essentially unchanged and widely adored for its entire 19-year production run.

Volkswagen figured it couldn't survive on Type 1 Beetles alone and diversified with a new family car platform. The new Type 3 of 1961 was envisioned as a more mature car with superior power, space, and refinement compared to the Beetle. Three standard body styles were offered on a common shared platform and were functional and respectably styled with a strong VW family resemblance. Volkswagen wanted a flagship model to promote the Type 3, and again turned to Karmann and Ghia to create it. Known commonly as the "Type 34," the new Karmann-Ghia 1500 was a completely different car from the Type 14 Karmann-Ghia, and it featured crisp and sophisticated styling penned by Sergio Sartorelli for Ghia. Thanks to that lovely but labor-intensive body, the Type 34 debuted the most expensive VW of its day, costing the equivalent of two well-equipped Beetles. Despite its offering many luxury features, the price was difficult for customers to overcome, and it sold in relatively small numbers between 1961 and 1969. Because of VW's reputation for value in the US, the Type 34 was never officially imported, which further reduced the overall sales. It is estimated that just a couple hundred examples have come stateside in the hands of enthusiasts through the years, and they are among the most sought-after and distinctive air-cooled VWs.

The 1963 Volkswagen Type 34 offered here is an exceptionally well-preserved example of this rarely-seen Karmann-Ghia variant. This highly original car is refreshingly honest and authentic, discovered locally after years tucked away in a garage. Finished in a lovely two-tone color scheme of Pacific Green with a white roof, the livery is a fine complement for the Ghia-designed shape, highlighting its crisp lines and fascinating detail. The body and structure are remarkably solid, and the older respray is attractive, with just a few touchups and imperfections that fit well with the car's authentic character. Nearly all of the brightwork is original, displaying a moderate patina on the bumpers, in particular. It rides on original-style cream-colored steel wheels, fitted with correct dog-dish hubcaps and new radial tires.

Like the exterior, the interior is incredibly well-preserved and appears to be mostly original to the car. The seats and door cards are upholstered in turquoise leatherette with tweed fabric inserts. Aside from a minor flaw on the rear bench, the upholstery is in excellent condition and reflects this car's remarkably well-preserved nature. The Type 34 was the most expensive and best-equipped VW of its time, and the cabin has a decidedly upmarket feel with unique pushbutton controls for the wipers and lights, a Bendix Sapphire radio, and distinctive VDO instruments. Both front and rear trunks retain the original gray vinyl lining, in excellent order.

The car is mechanically in good sound condition, and the 1500 "pancake" engine looks tidy and runs well. The engine bay displays an appropriate level of patina, with period-correct fittings and accessories. Underneath, the floor pans and structure appear excellent, with only some minor surface corrosion noted

Type 34 Ghias are an incredibly rare sight on our shores, particularly in this car's remarkably original condition. Brimming with character, it is a superb choice for Cars & Coffee gatherings, casual club events, and regular driving enjoyment with the family. Most air-cooled VW experts theorize that there are less than 100 of these running around all of the United States. Join the club and add something unique to your collection!

Call Jon @ 480-703-2337

Year after year, Canyon State Classics has been your source for excellent Western States vehicles. We have had a presence on eBay since 2001 and obtained the distinction of an Ebay Top Rated Platinum Seller by keeping 100% POSITIVE feedback with our buyers. We are experts in International transactions and have sent cars to nearly every continent! Please check our ratings and BUY WITH CONFIDENCE!!

Please make time to visit our interactive website to view all of our other extraordinary inventory. Check us out 24/7 365. Fresh inventory arriving daily! Click here to view our inventory!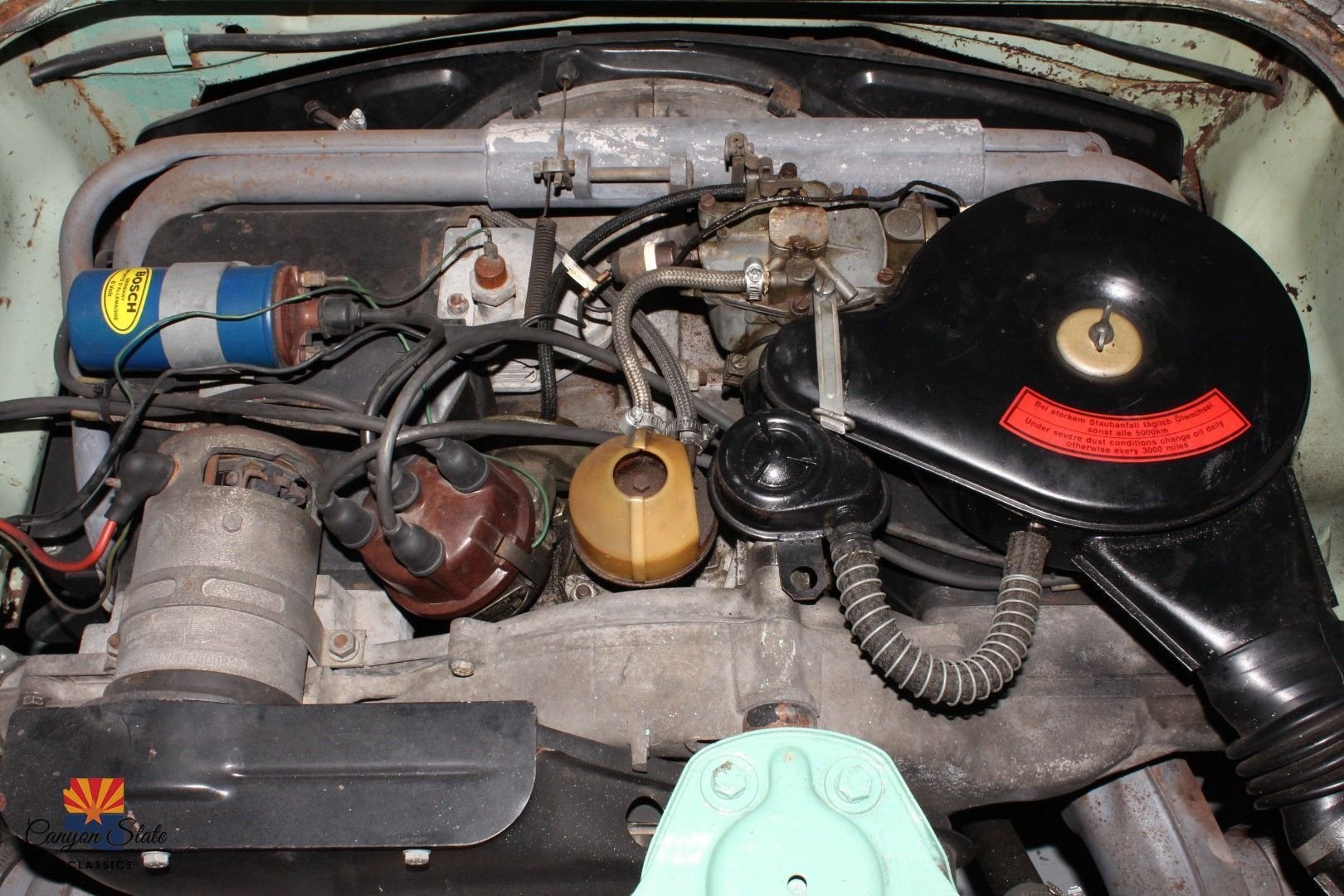 What a pretty car! Eyes wide open, this one appears to be a driver/cars and coffee type example, and it's showing plenty of 'patina' as claimed by the seller. There also appears to be quite a lot of rust around the engine cover, though at least it's shown. $35,000 isn't a hugely outrageous asking price for one of these, in all honestly; they can sell for much more. If you like the looks and have the budget, this one looks pretty reasonable.
-Carter