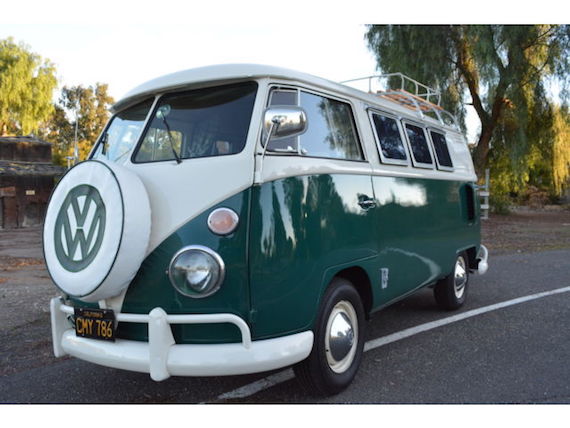 Our last visit into VW Bus-land was with a couple of extreme restomods much more focused on looks than function. Today's is just as gorgeous but a bit more original. Inside and out it appears like-new, but the dark green and white combo keeps it from looking too much like an overdone toy. It also comes with the EZ Camper package, making it the perfect machine for roadtrips or, as the seller aptly cites, concerts. It may not have quite the usability of the T3 Westies I so often feature here, but that doesn't mean it wouldn't be a huge amount of fun. 60s Buses are going for crazy money these days so you'll have to decide if the classic VW Van is worth that much to you. If it is, this is the one I'd go for.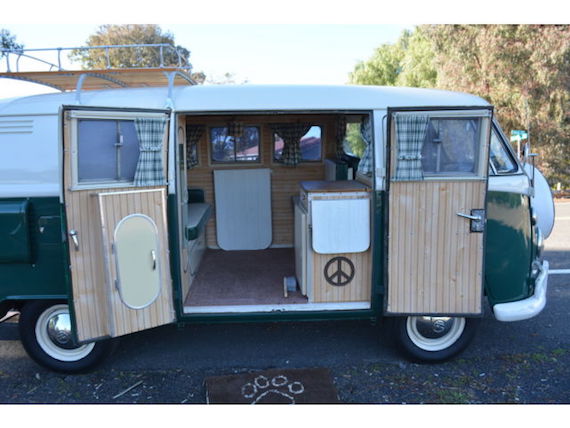 Year: 1965
Model: Kombi EZ Camper
Engine: 1.5 liter flat-4
Transmission: 4-speed manual
Mileage: 86,580 mi
Price: Reserve auction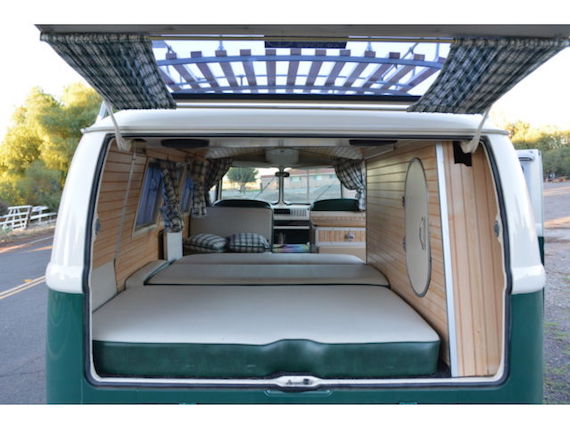 1965 VOLKSWAGEN KOMBI – EZ CAMPER CAMPMOBILE BUS

BEAUTIFUL VELVET GREEN AND WHITE EXTERIOR PAINT

BEAUTIFUL – CAMPMOBILE INTERIOR

THIS BUS IS LOCATED IN TRACY CALIFORNIA

100 ADDITIONAL PICTURES BELOW THIS DESCRIPTION

This is a BEAUTIFUL 1965 VW – EZ Camper tin top – Campmobile Bus and as you can see in the pictures it is in Incredible shape! Careful not to let this 1965, well cared for, bus get away. They are hard to find in this Beautiful condition! This bus is concert and camp ready and cruises nice. The EZ Camper conversion is one of the most desirable in the Campmobile line and the 1965 is the one to have. It also still retains its various correctly mounted EZ Camper and VW factory data plates shown in several pictures below. What a value it is at the reserve price which is set very low! Take a look at the lines on this beauty, what an amazing looking Classic Split Window Bus. This BEAUTY is one nice driving rig and in AWESOME shape. I drove this Bus for couple of days (Over 200 Miles)running errands around town and on the freeway and it ran and drove VERY WELL indeed. I was only 10 years old when this bus was new, but this is what it must have driven like. If you can make it to Tracy CA in the next ten days please come look at and drive this Beauty for yourself. You won't be disappointed!!

This 1965 VW – EZ Camper tin top – Campmobile Bus has original Completely rebuilt 1.5 Liter type 2 air-cooled – four cylinder motor in it and it is running well! The engine is backed by the Original, completely rebuilt four speed transmission / transaxle. The interior is in NICE condition including NICE Green and Ivory front bucket seats, NICE ORIGINAL Painted dash, NICE floor mat up front, NICE wood headliner, NICE Green door panels with cup holders, NICE ORIGINAL gauge cluster, Nice Aftermarket Oil Temp, Oil Pressure and Volt Gauges, NICE ORIGINAL steering wheel. The rear / Camper part of the interior is also in GREAT condition including the NICE ORIGINAL table with fold down leg, VERY NICE Original re-upholstered rear seat / bed, lots of factory storage areas and closets, Original 5 crank Out side windows with bug screens for ventilation, NICE Ice Box, NICE ORIGINAL style wall and roof paneling and Nice sliding cloth curtains throughout. Check out the Hardwood floor area shown in several pictures below, TO COOL!! This Classic VW is nicely equipped including working turn signals so it is legal in all the states, good heater and defroster, Original Front and Rear Bumpers, Original style Roof Rack, Original rear view mirror, dual chrome exterior mirrors and AWESOME Clarion NZ503 Digital AM/FM/Sirius XM, receiver CD /DVD ,Pandora, GPS, Back-up Camera, Bluetooth Stereo with 7 Inch Screen with Front and Rear JL Audio Speakers. ($4,100) Front mounted full sized spare tire with custom colormatched VW Wheelcover. This VW Campmobile is a great running and good looking Bus for sure. I have driven this Bus over 200 miles. It drives smooth and straight and does not wonder. I took it out on the freeway several times and it also did very well at normal freeway speeds. All of the light lenses and reflectors are still bright, clear and in good condition even the factory rubber weather-stripping is still in good condition. These vehicles have an appreciative group of owners any of which would be pleased to own this one. The suspension, drive train and brakes are all new and are in good working order as well as the electrical system.

This Classic 1965 Volkswagen EZ Camper tin top – Campmobile Bus is a great investment opportunity and it is priced right! It is in good condition from top to bottom and from front to back. It will not disappoint someone looking for a clean example of a sought after and hard to find VW collector Bus. If you have been looking but cannot find a sharp Classic VW Camper worthy of your hard earned money look NO further because this is the one! The Velvet Green and White exterior finish on this Bus is BEAUTIFUL with really little to no wear showing and is still bright, shiny and looks GREAT as you can clearly see in the picture above and THE 100 ADDITIONAL PICTURES BELOW!! WOW, the Green and White exterior and Green and Ivory upholstery and blond hardwood interior, could it get any better !! Check out the ORIGINAL Chrome hubcaps and stock white steel wheels with nice new radial tires boy does this combination look OUTSTANDING on this Bus and really retains that CLEAN ORIGINAL look! This vehicle is in nice mechanical condition and it runs and drives very well. It is solid with respect to the overall mechanical condition as well as the overall cosmetic impression. I looked underneath and also included photos below, no touch-up was done underneath the bus it is all original just as we got it. Again this is a NICE well cared for Bus!
Please pay close attention to the 100 ADDITIONAL PICTURES BELOW and this description as they will answer most if not all of your questions. If you need to speak to me my name is Rob and my phone number is (208) 860-1711 or you can email if you prefer rob@Robztagz.com. As always I tried to get as thorough and in depth with the photographs as possible. This vehicle can be had for quite a bit less than what it is worth all for the need of a quick sale.
We prefer a bank to bank wire transfer of funds as payment for the Bus but we will also accept a bank cashier's check (US only) or a third party check but we will validate the checks authenticity and the funds must clear our account before the vehicle or the title to the vehicle is released to the buyer or the buyer's agent. We do not accept paypal. This is one Nice 1965 VW – EZ Camper tin top – Campmobile Bus which needs a new owner…is it YOU?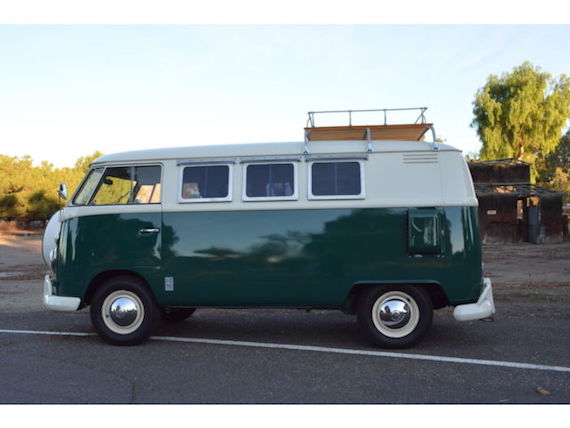 If it were my $40-50k, I'd probably move on to the more modern T3 Westy, perhaps even with Syncro, but there is something about these T1s that attracts crowds, thumbs up, and smiles anywhere you go. From the color to the overall package it's just about perfect – just don't spend too much time worrying about the massively anachronistic, large-screened stereo/DVD/nav system or cliché peace sign. At least they can be hidden? Whatever rich old Deadhead buys this is going to get one heck of a Bus and be living an old but nice dream.
-NR