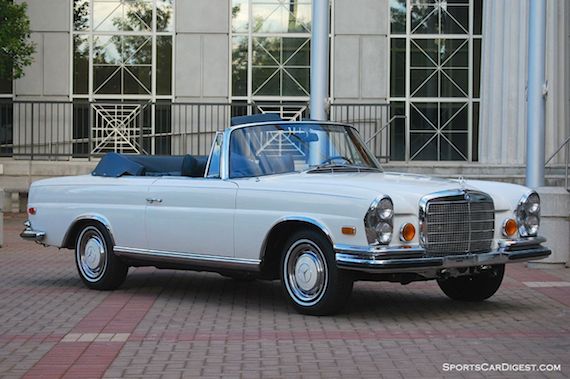 Even though it is over 40 years old now, the 1971 Mercedes-Benz 280SE 3.5 Cabriolet was a throwback to the past, even in the early 1970s. This is a chassis that had it's roots in the late 1950s and was assembled largely by hand in small numbers. By 1970s, the W111 coupe and cabriolet would get a shot of adrenaline by way of Mercedes' new 3.5 liter V8 engine. While a few coupes were offered with a 4-speed manual, all cabriolets would be equipped with a 4-speed automatic. Want to look posh? Fewer cars embody that word better than this white over blue leather 280SE 3.5 Cabriolet for sale in Mississippi.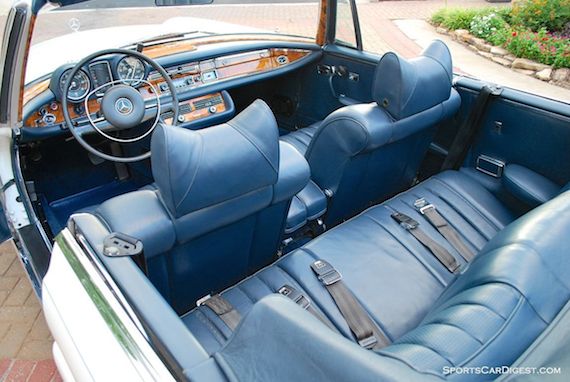 Year: 1971
Model: 280SE 3.5 Cabriolet
Engine: 3.5 liter V8
Transmission: 4-speed automatic
Mileage: 130,155 mi
Price: Reserve auction
Conceived to appeal to prestige buyers, the 3.5 Coupe and Cabriolet were special cars that came admirably equipped, with everything from the desirable, Behr air conditioning to a Becker Europa radio. Like the heroic 300 SL and 540 K models that came before, the 3.5 Coupe and Convertibles were the last Mercedes-Benz products to emerge almost completely hand-assembled from the Sindelfingen coach builder. These W111s shared more than this with these icons, though, as they were also penned by the same styling genius, Friedrich Geiger. Geiger ensured that the W111, particularly in elegant Cabriolet form, made quite a statement in period, and continues to do the same today as a symbol of what Mercedes-Benz used to build.

The example on offer here is a 1971 Mercedes-Benz 280SE 3.5 Cabriolet that has enjoyed a charmed life. Dressed in the (050) white paint that it is believed to have left Stuttgart with, this Cabriolet contrasts starkly with its classic, bright blue interior and soft top. All chrome trim and bright work is described to shine nicely, yet corresponds with the age of the car and doesn't appear over the top, as some restorations reflect. Panel fitment and shut lines are as they should be, and the car presents very well as its recent 2nd place finish at a Mercedes-Benz Club of America (MBCA) Concours event clearly indicates. It should be noted that MBCA judges incorrectly deducted for windshield and horns not being original, Mercedes-Benz parts.

The interior of this Cabriolet is a sight to behold, with beautifully refinished wood and chrome trim gleaming against the handsome dashboard. The inside of this Cabriolet is a special place to be. Seating upholstery is believed to have been replaced during the course of its life, and is difficult to discern from original material, showing a light patina that suits the car perfectly. This column-shift example, presents beautifully inside and its striking bright blue interior offers the perfect amount of color against the white exterior.

The undercarriage of this 280SE 3.5 shows accurately and honestly, with appropriate finishes everywhere you look. The engine bay is a feast for the eyes, as a recent candidate of significant work from marque specialist Bud's Benzes in Georgia, the beautifully detailed engine bay of this Cabriolet was given the full treatment, and now shows like it would have in period.

This W111 drives just as the car was intended. With effortless power from the matching numbers, 3.5-Liter 'M116' V8 and an automatic transmission that operates fluidly and without drama, this Cabriolet will not disappoint.

1971 Mercedes-Benz 280 SE 3.5 Cabriolet (Click Here For Many More And Larger Images)

Chassis# 111.027.12.004268; Engine# 116.980.12.005450

Included with the sale:
Owner's manuals
First-aid kit
Leather boot bag
Convertible top screw-down handles
Hard to find, front seat center console pad
Documentation and maintenance records (Over $30,000 spent in 2014)
Clean South Carolina title
With 200 horsepower and capable of 130 MPH, these cars offer collectors a highly usable automobile just as comfortable handling long distance tours as it is managing the task of driving in modern traffic, thanks to its four-wheel-disc brakes and sure-footed handling. With only 1,232 examples built for the world, the 280 SE 3.5 Cabriolet has cemented itself as a prominent collector car, yet, importantly, it offers enthusiasts a glimpse from a time when Mercedes-Benz had a greater human element in the production of their automobiles, and was less cost-driven.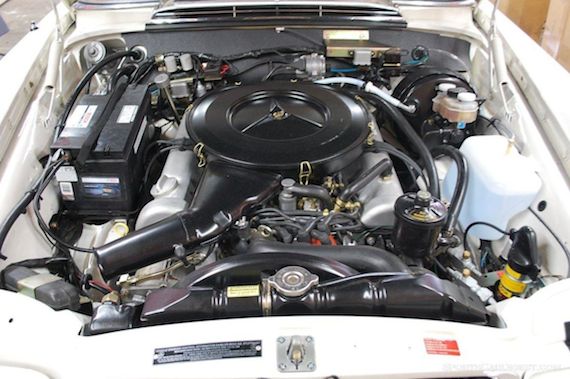 It's no secret that these W111 3.5s are quite valuable. Just a year or two ago, you could snag one for under $100,000, but unless you are going for a rough driver or basket case, this is no longer the case. About $150,000 is the entry for good quality cars, with show quality vehicles like this bringing around $200,000 and upwards. These were fairly rare machines and a touchstone of old world craftsmanship that, by that time, was fading away. In their day, these cars were every bit a match for their Rolls-Royce and Bentley counterparts, and then some considering the technology that went into them. Considering their value today, it's clear collectors are on the same page as were the folks who went into the showroom and ordered these in the first place.
-Paul