Warning!
This post is in our archives. Links in this post may have been updated to point to similar cars available to bid on eBay.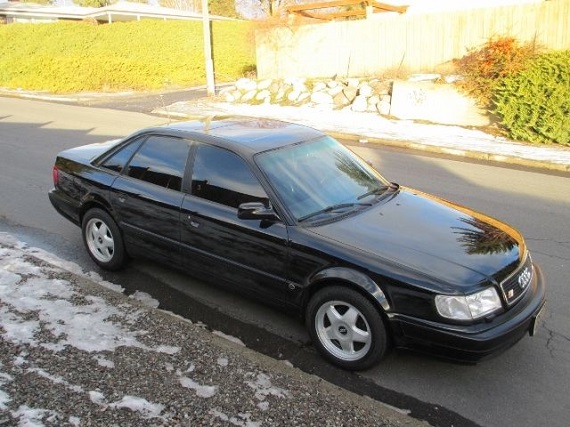 It goes without saying that we're one of many sites that looks towards online auctions for what's for sale daily. Indeed, prior to coming on board at GCFSB I pursued many of them every day and night to see what was out there. However, one of the things that drew me in to being a follower of this particular site was that the cars were cars that I could afford. Sure, from time to time the other sites run a bargain car or an affordable project, but largely it seems that the featured cars are firmly out of the grasp of someone with modest means. That's not to take anything away from their concentration; I'm sure that amongst the devoted fans of other sites are plenty of well-heeled individuals, and similarly I'm sure that we've got some followers with much, much deeper pockets than I'll ever have. Nevertheless, there is something that's appealing about a quality car that can be had at a bargain, and looking at 1980s and early 1990s German cars affords us that opportunity, both literally and figuratively. The other aspect that I love is that coming of age, these cars were the cutting edge of technology – the cars that I read about in magazines but never dreamed I could possibly buy. One of my favorites then was the seeming underdog; the Audi S4. True, out of the box it was down on power to the M5 and 500E, but it was the most modern of the trio, and being the only turbocharged option there was a world of potential in the motor. It was, after all, the monster motor that had powered the legendary Group B cars in the 1980s and the IMSA cars into the 1990s. Couple that potential with a stout all-wheel drive system and a refined interior along with a sedate but handsome exterior, and you have one of the truly great sleepers:
Year: 1992
Model: S4
Engine: 2.2 liter turbocharged inline-5
Transmission: 5-speed manual
Mileage: 167,000 mi
Price: $5,800 Buy It Now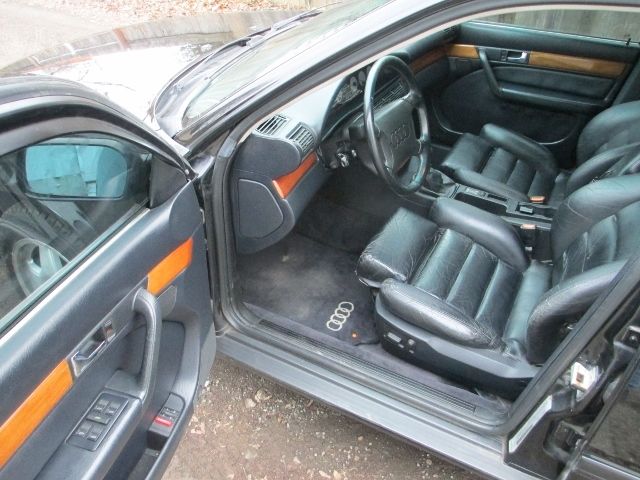 Here we have a fairly clean, amazing car to drive. 5 cylinder 20v turbo engine runs well, 5 speed gearbox shifts smooth, clutch functions flawlessly. Quattro 4 wheel drive works perfectly allowing you to drive a lot of places. Running around 280 hp thanks to a chip. Helps get about 30 mpg. Recent ngk irridium spark plugs, mobil 1 synthetic. Timing belt, thermostat, water pump, idler roller, steering rack at 148k. 167k on the clock now. Michelin tires at 90%, grip well. Suspension and brakes good.

Exterior is straight. Shines up well. Very well for 23 years of use. Appears to be all original. Interior is in tip top shape. All leather comfy, no rips or stains, or oddities. Headliner intact. Electrics work as they should. All windows, door/trunk locks, factory alarm, gauges, climate control, sunroof, factory stereo with 10 disc in the trunk.

Besides a little turbo sound under throttle, the car is abnormally quiet, rolls very smooth down the road. Yes the car is pretty quick, no problems passing people if needed. This car can be driven anywhere there is a hint of road, right now. I think some of these earlier s cars will far outlive their owners.

Northwest car for long time. Rumored to be only 50 black on black S4's to cross the pond in 1992. Clean title. Turn key.
There's a lot to like with this particular example of the S4; it's the first model year in the U.S., which means it's got the slightly lower and stiffer suspension out of the box. Unlike many of the typical colors they seemed to come in, the black over black may not be the most adventurous but it certainly looks classically nice and this one is in good condition. Miles are not outlandish and the car appears to be in mostly original shape save the chipped motor that will help any perceived lack of motivation. In addition to everything claimed working as it should, the car has recent mechanical work done – the timing belt isn't as problematic or expensive as other Audi models but it's nice that it's complete, but the steering rack is a tougher job – if you're in the market for this car, be thankful it's done! Even the original Fuchs wheels appear to be in great shape with newer brand-name rubber.
Quite simply, there don't seem to be any drawbacks to this particular model and I'm not sure you can get more car for the money. Will it break at some point in the future? Certainly, but you're buying a 23 year old car and frankly that comes with the territory. However, for a fairly measly $5,800 asking price, you can have a car that's easily capable of keeping up with the more expensive M5 and 500E previously mentioned while setting you apart from the crowd. Classic Audis aren't for everyone, it's true. If you want to do smokey burnouts or impress your neighbors they don't tend to excel. But if you want a great driving car, a well-engineered piece of mechanical bliss, a car that will pin you back in the seat when the boost comes on and yet is capable of getting you home through ice and snow, few can match the capability of the Audi S4 – certainly none at this price.
-Carter