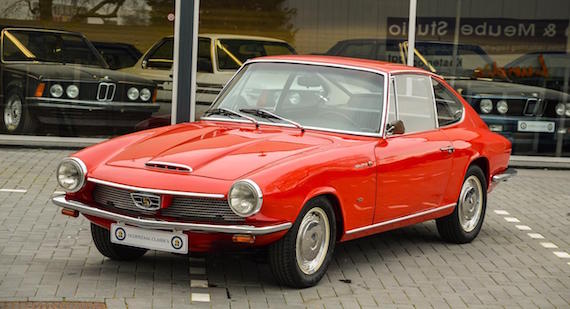 Glas was one of those German automotive brands with limited reach that eventually got bought up by a larger company (BMW). But in the process, they were not only an innovator but created some attractive sports cars towards the end of their existence. The 1700GT was a larger engine derivative of the earlier 1300GT that debuted at the Frankfurt Motor Show in 1963, packing the same four cylinder that appeared in the BMW 1600. These coupes bodies were designed by Frua, perfectly proportioned and appearing much larger than they actually were in person. Nowadays, these are a rather obscure classic but they have a bit of a cult following in Europe. This 1966 1700GT for sale in The Netherlands would be the final year this car would be badged as a Glas, as it would become the BMW 1600GT until its demise in 1968.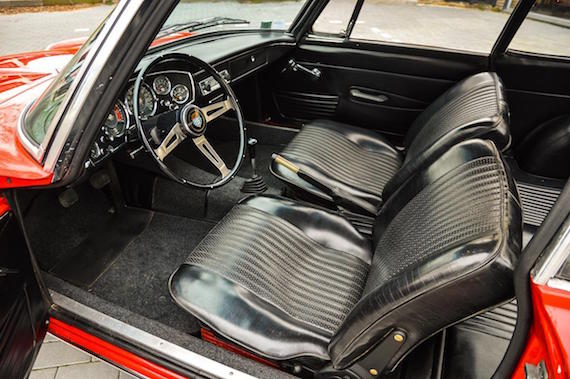 Year: 1966
Model: 1700GT
Engine: 1.7 liter inline-4
Transmission: 4-speed manual
Mileage: 60,759 mi
Price: Reserve auction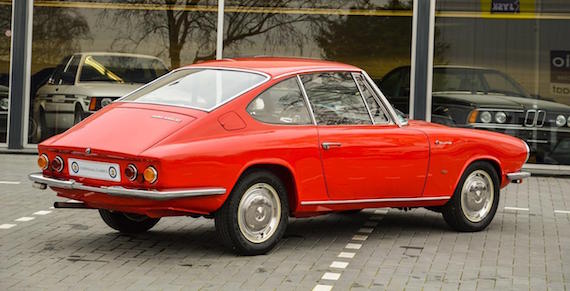 Completely restored Glas 1700 GT!

We have found this 1700 GT in France, near Monaco: a perfect and restored Glas 1700 GT. We bought the car from the 2nd owner, Michel Bianchi, a surgeon. He has had the Glas in ownership for 21 years and has been a longtime memeber of the French Glas Club. He has more vehicles of the brand and wanted to reduce his collection a bit. Thanks to him this opportunity to buy a very, very good Glas 1700 GT.

Mr. Bianchi had his 1700 GT restored a few years back. The complete body, also the underside has been painted perfectly. This was done very good, to european standards. Even the shutlines on this classic Glas match up. The axles have been rebuilt with all new rubbers. Brakes, suspension and the engine have been rebuilt. It drives perfectly, the underside of this car is just as shiny as the upper part! All new brakes, brake hoses, brakelines. New shocks, new Exhaust.

A complete restoration also means: like new chrome bumpers. A redone interior that matches the original and those beautiful Glas instruments in a perfect dashboard.

We recently had this car valuated by Classic car valuator Salco Hoogeweij. He is connected Classic Data. The condition is marked as a 2+ (near perfect) and the worth lies at €50.000 ($55.000).

The car has a French registration and comes with keys, tool set, spare Wheel etc.

History

The Glas GT is a sports coupé produced by Hans Glas GmbH at Dingolfing. The car was first presented as the Glas 1300 GT in September 1963 at the Frankfurt Motor Show, with volume production starting in March 1964. The much rarer cabriolet version appeared in May 1965 and a larger engined 1700 GT in May 1965.

1300 GT

Deliveries of the Glas 1300GT began in March 1964. The body had been designed by the Piedmontese firm Frua of Moncalieri, and the body shells were built in Moncalierei by the coach-builders Maggiora before being transferred to the Glas factory at Dingolfing for final assembly. The 1,290 cc engine was a bored out version of the modern unit that had powered the manufacturer's 1004 model since 1962, with an overhead camshaft . Claimed power output at this point was 55 kW (75 PS) which provided a top speed of 170 km/h (106 mph).

In September 1965 maximum power was increased to 62.5 kW (85 PS). The car was fitted with larger wheels and the top speed rose to 175 km/h (109 mph).

1700 GT

From September 1965 the cars could be ordered with the 1,682 cc engine from the newly introduced Glas 1700 TS sedan, which came with a maximum power output of 74 kW (100 PS) and a top speed of 185 km/h (115 mph).

The longer stroke of the 1,682 cc engine made the unit slightly taller than the smaller engine fitted in the 1300 GT which gave rise to the need for a ridge along the central portion of the bonnet/hood. Matters were therefore simplified by specifying the same bonnet/hood ridge for all GT models regardless of engine size from the September 1965. The 1700 GT was also homologated for sale in the USA, which was a lucrative market for European sports cars at this time.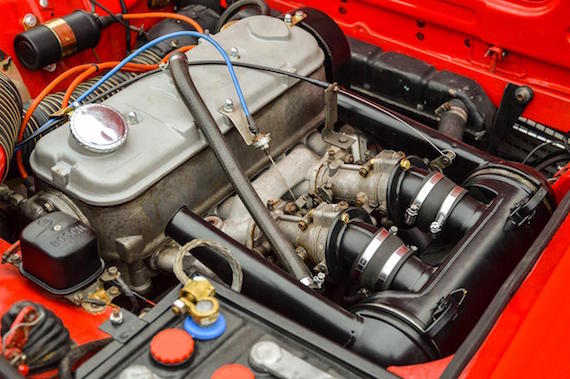 I've come across a few 1300GTs and 1700GTs in varying states of condition, from basket case to a fully restored example like the one we saw in 2013. That restored example was offered at around $60,000, which was quite a strong ask. Prices seem to vary widely for these cars. It seems like most of these coupes tend to hover around the $20,000 to $30,000 mark in good condition, if you can find one in the US. But their obscurity in this land will no doubt make this a more attainable classic than some of its contemporaries.
-Paul