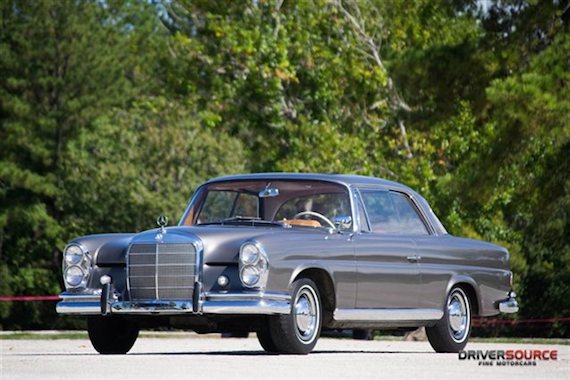 If you look at the current US automotive landscape, there's an obvious trend towards SUVs and compact, efficient cars. Throw in your usual full-sized pickups, minivans and a handful of mid-sized sedans and that's just about the market for you. One of my favorite segments, however, is the full-sized coupe. Maybe it's because I'm single and don't have much else to worry about but myself, but nothing screams "me" more than one of these cars. Dial back through the decades and one stalwart of the segment has been Mercedes-Benz.
Almost immediately post World War II, the factory began churning out large two-door models in small numbers for the discerning motorist. Fast forward to the late 1950s and a new design came along that would last into the early 1970s and represent one of the last true hand built Mercedes-Benzes. This 1963 220SE for sale in Texas is a numbers matching sunroof coupe wearing its original California black plates.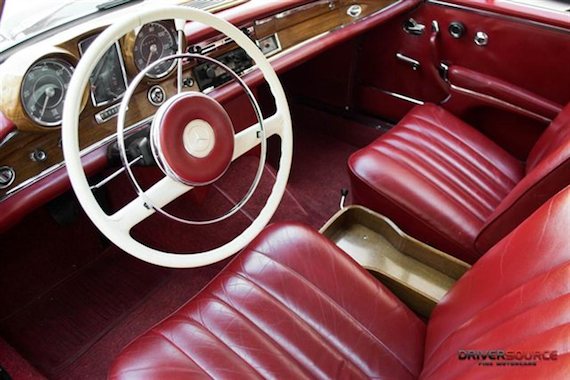 Year: 1963
Model: 220SE Coupe
Engine: 2.2 liter inline-6
Transmission: 4-speed automatic
Mileage: 52,370 mi
Price: $36,500 Buy It Now
1963 Mercedes-Benz 220SE W111 Coupe

Chassis No. 11102112030355
Engine No. 12798412000666
Transmission No. 03387

* Complete Numbers-Matching as per Mercedes-Benz DataCard
* Desirable Colors – Sunroof Coupe
* California "Black Plate" Car

The Mercedes Benz 220 SE raised the bar for middle-class luxury when it was introduced in 1959, noted for their fine finish and attention to detail. Considered to be an immediate success, the 220SE pillarless coupe was first introduced in 1961 and would come to be the last of the hand-built Mercedes models. Road & Track magazine said "one of the best-looking body designs to come from any German concern." Exquisitely proportioned and beautifully designed. With only 13 cars produced per week, they were instantly considered classics the day they rolled off the production line, and have remained so ever since.

After years of careful stewardship, today this W11 coupe remains a very honest and original example of a Sunroof Coupe. This California "Black Plate" car wears a striking combination of medium Gray finish over original woodwork, Red leather trim and carpeting. According to the Mercedes-Benz DataCard, all numbers are matching as it left the factory some 50 years ago.

The car received its current cosmetic freshening in years past, which has mellowed nicely into plush seating and driver's quality paint. Crazing and blemishes are apparent upon inspection, but not detract from the 220's presentation. Likewise, the vehicle's trim and brightwork show well, including all original factory fitted glass and M-B laminated windscreen. A sliding sunroof brightens the open air feel from the pillerless greenhouse.

The W111's clean undercarriage reflects the same originality as the luggage compartment fitted with spare, rubber mat and jack. Both appear very solid, correct and free of structural corrosion issues. Similarly, the engine bay displays original firewall padding and correct mechanical configuration. Apart from the charming presentation and mechanical prowess of this 220SE Coupe, a number of period maps, dealer directory, manuals pouch and factory brochure accompany the vehicle.

An authentic level of presentation assured by a long California residency, invites future participation in club events or simply add a very drivable and honest Mercedes-Benz grand tourer to your collection.

Mercedes-Benz DataCard translation:

190- Paint, Graphite Grey
203- Interior Trim, Red Leather
403- Single seats and MB-Tex internal roof upholstery
421- Mechanical and hydraulic sliding roof
423- Mercedes-Benz power steering and automatic transmission with steering column shift
491- U.S. Version
503- Outsider rearview mirror, on the left
515- Becker radio
641- White-wall tires
288- Heater housing with heat exchanger with increased heating capacity
317-50 liters of fuel
Wheel- 5JK.13B
Tire- 7,25 c 13 Dunlop

Priced at: $36,500.00
Offers welcomed

For more information, please contact: sales@driversorce.com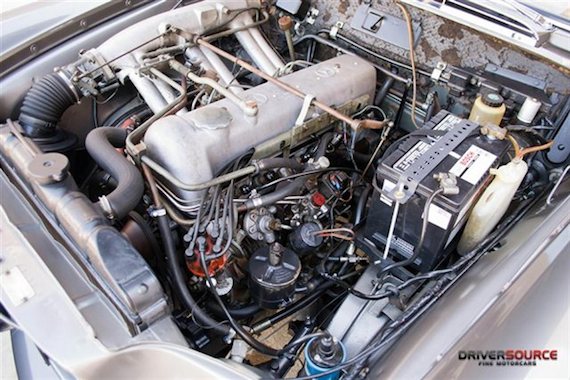 This coupe just exudes class. If you aren't in a hurry, it's worth tracking down a good six-cylinder W111 Coupe, as the later 3.5 Coupes are entering the stratosphere when it comes to price. The gray over red leather is a perfect, sublime compliment to the classic lines on this coupe.
-Paul