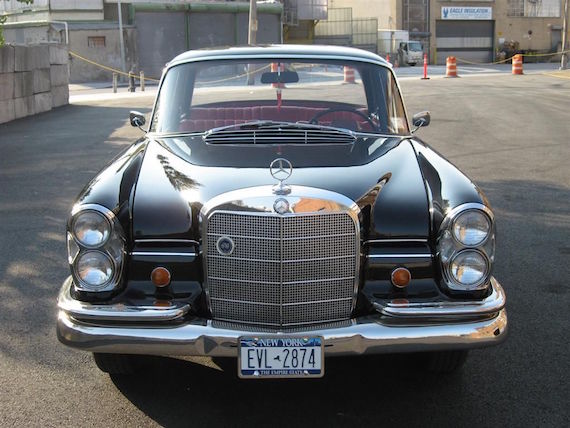 The Mercedes-Benz Fintails of the 1950s and 1960s was a rather daring design for a company noted for its adherence to traditional design. This styling hallmark would live on through the late 1960s and could be considered the grandfather to the modern day E-class sedan. The 230S we see here was one of the later expressions of the W111 design and one that found its way into my father's garage in the 1970s. This black example for sale in New York is almost identical to my father's car, save for the fact that his was a '67 with a 4-speed manual on the floor and was equipped with a saddle tan MB-Tex interior.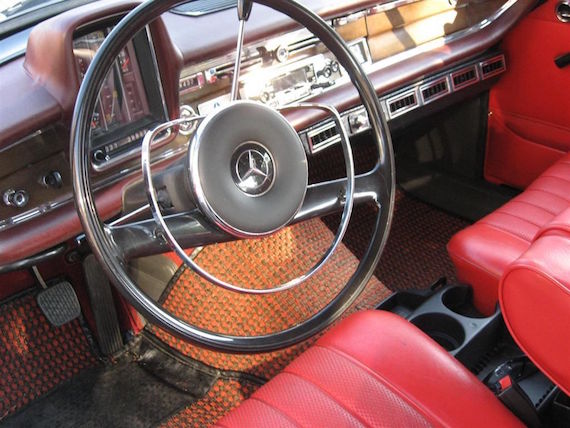 Year: 1966
Model: 230S
Engine: 2.3 liter inline-6
Transmission: 4-speed automatic
Mileage: 39,900 mi
Price: $24,000 Buy It Now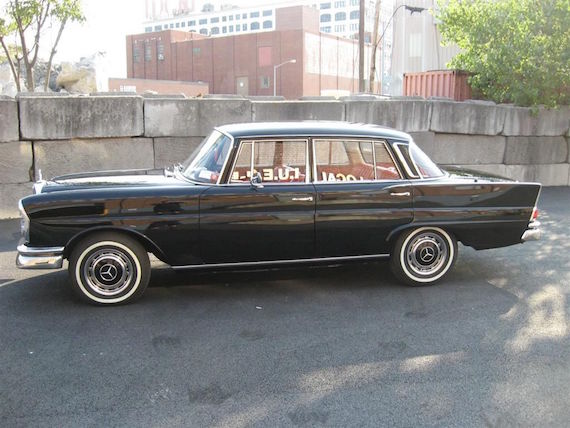 This car has been my baby for the last 6 years. The vehicle is in excellent condition, it has been fully restored. I am an MBCA member and I have brought this car to two club shows and it has won awards both times. The vehicle has 39,900 original documented miles. I have binders of documents, including the purchase and delivery from new, I have every receipt and complete parts books during its complete restoration. I have all manuals and original keys. I even have all the shop manuals and repair manuals. No expense has been spared, I have invested about 50k in this vehicle. I have added air conditioning.

The vehicle is like a time capsule. I have added a sound system because the car was ordered radio delete. An amplifier and subwoofer are mounted in the trunk, and sound deadening has been added through out.The front end has been completely renewed with all Mercedes OEM parts, and so has the rear end. I have even removed the rear compensating spring on the rear end and added the pneumatic compensator like in the 300SE. Needless to say I am a Mercedes-Benz fanatic. The car came stock with 13 inch wheels which I upgraded to OEM 14in wheels to improve handeling. Every component of this car has been gone over, you name it it has been done. The vehicle was originally ordered in Rochester NY, picked up in Germany as part of the European delivery program. It spent its first month of driving in Austria and Germany on a family vacation. After the vacation it was shipped to Newark NJ, picked up by the owner, and spent its life in Rochester NY. The original owner garaged kept the car, and kept detailed records. Including every gas fill up. The vehicle was used locally for many years, then parked in the garage, the house was sold about ten years ago with the car still in the garage, I purchased it from the home buyer because of its low mileage and originality plus all the record keeping.

I am on to new projects now and its time for someone else to enjoy this car. Both the rear and front ends where removed from the car disassembled and rebuilt with all new Mercedes parts, as well as the entire fuel delivery system, lines and fuel tank, all stainless steel exhaust system and all stainless steel front and rear bumpers, all new lighting, new hood star, underhood pad, brake booster, brake resevoir the period correct wipers and arms and washer resevoir, complete tool kit, front armrests installed,both carbs rebuilt, automatic transmission serviced, all new subframe and engine mounts, shocks ,springs, all bushings, kingpins, etc. also after almost three years of searching I found NOS rear tailights, they are installed also. The 4 doors have all new seals and all new window regulators and window run channels installed. The 2 sparetire wells were and jacking points were installed before the repaint. No Rust anywhere. So Many items to mention. I would not hesitate to sell this vehicle to a family member or to drive it across country. Thanks for looking.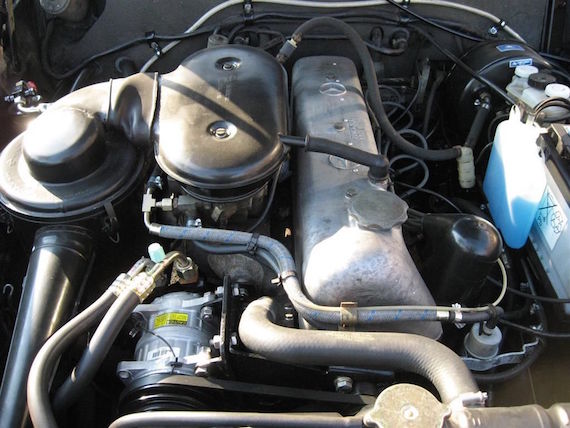 This car has a rather remarkable story attached to it, from European delivery to long-term ownership and now up for sale by a member of the Mercedes-Benz Club of America. These are the kind of classics you want to hone in on when you're on the hunt. Like many collectables these days, the 230S was never the most desirable of W111s and could thus be had for reasonable sums. Like most things, values have increased on these classic sedans but they are still well within reach considering what you see other Mercedes-Benzes of similar vintage fetch. The price on this is strong for a 230S. Prior to this, around $20,000 seemed to be all she wrote when it came to a restored or well-kept original example. That said, this is one of the nicest examples I've seen as of late.
-Paul