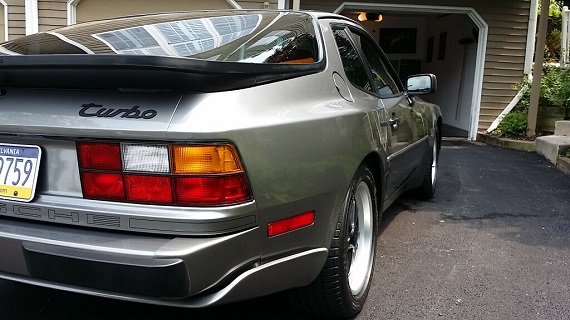 Back in April, I wrote up a quite low mileage 1986 Porsche 944 Turbo. While we write up quite a few cars on a weekly basis, it's not often that we hear that one of them was bought; even more rare is to find one of our regular readers that has ended up with the prize. But this 944 Turbo was special; with only 30,000 miles on the clock and in near perfect condition, the listing was a bit vague and it flew under the radar just a bit. Luckily, the person who ended up with it chimed in almost immediately that he had bought it and, if anything, it was better than it first appeared. I asked the new owner to tell us a bit about his experiences and his garage, because while not all of us are lucky enough to have stumbled upon the perfect 944 Turbo and add it to our collection, we can all enjoy the story:
GCFSB: What made this Turbo "the one"? Were you considering other cars too?
Jeff: I was actually in the market for an 80s M6 – I'm still looking for the right M6. There's just something about late 80s German cars. I'm kicking myself for not buying the Bronzit M6 you featured in March. It was a mile from my house and in great shape and reasonably priced. Not sure why I waited on that one, and then it was gone. Lesson learned.
Anyway, GCFSB is one of only a couple of sites I troll daily for something to catch my eye and then in April I saw your coverage of the Stone Grey Metallic 951. I hadn't considered a 944/951. The color combo of this one got my attention. But, what REALLY made the difference for me was your coverage and link to the previous ad which was much more in depth and showed a thick binder of service history. I'm certain if that ad or at least the information regarding documentation was in the then current ad the car would have gone for much more money.
Taking the lesson learned from losing out on the M6, I clicked the link over to eBay, put in my highest but still below market bid. A few days later my Targa had a 951 stable-mate.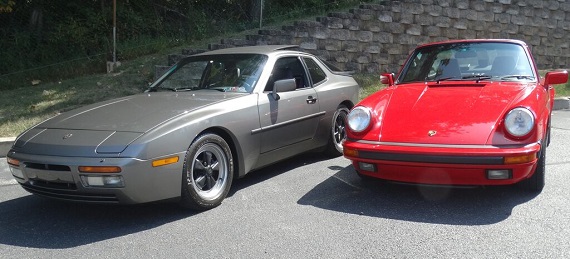 GCFSB: Were there any problems with the purchase, and what did the post purchase reveal relative to the original description?
Jeff: The purchase went very smoothly. It was a Porsche specialist called Road Scholars in North Carolina that was selling the car. I wired the funds and they overnighted me the title, bill of sale and the service history. The service history on this car was even better than I had expected. The binder contained almost every single document from the very first owner at 1150 miles. It was not chronologically organized and took me an entire day spreading it all out on my living room floor, but it turned out to be truly worth the effort. The history showed how well cared for this car was. It was even a winner at the North New Jersey Region PCA concours in 2001, 2002 and 2003.
Unfortunately the window sticker got lost between the most recent owner and Road Scholars though, so I had Stuttgart Studios reproduce a copy. I also sent away for a Porsche COA which confirmed color combo and options. The only misstep in the car's history was when the most recent owner had an extensive and costly service performed at his BMW dealer in Colorado in October of 2014. The invoice was missing the last two pages. I was able to get in touch with him and he was able to get me a copy of the invoice. Several items that were serviced by that dealer needed to be corrected by my independent Porsche specialist.
-They replaced the motor mounts with incorrect units. Porsche used hydraulic mounts on these without them there can be too much vibration felt.
-They replaced the compressor on the air conditioner, but the condenser was leaking and had to be replaced.
-The owner reported a rough idle that they supposedly "adjusted" but it turned out to be a bad vacuum line.
– The timing belt/water pump had been replaced, but the belt was improperly tensioned. Fortunately the belt was still on good shape and just need to be retensioned correctly.
I asked my indy (Performance Auto of Malvern, PA) do a full going over of the car and aside from those four items which have since been corrected they said it was the cleanest, nicest, most well cared for 944/951 they had ever seen. They even remarked how the belly pans were still in place as these tend to almost always be removed. Can't say enough good things about Paul, Pete and Ken at Performance Auto. These guys REALLY know their way around these cars and they are VERY reasonably priced.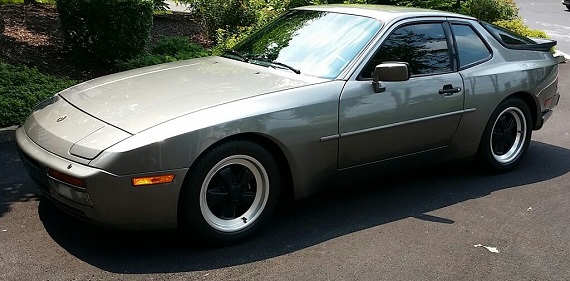 GCFSB: Now that you have this low mileage example, are you planning on keeping it as a show and occasional car to keep the mileage down, or will you drive it without worry? Does the car have any needs to address, or any modifications you're planning?
Jeff: I'm a huge fan of all original lower mileage documented cars. I've been down the restoration and customizing route in the past. The costs of those projects always seems to outweigh the enjoyment of the cars and the cars spend most of their time being worked on rather than being driven. With all original cars you just have to be a good steward for the next owner. It's a no brainer, just maintain and enjoy until you're ready to move on to the next one.
Cars need to be driven. The worse thing for a car is to let it sit. I really like to drive my cars. I'll take them on my short commute to work, to Cars and Coffee West Chester, PCA events and The Radnor Hunt Road Rally each year. I can't stand sitting at shows being judged. Each week I have a Google calendar reminder for which car should be driven that week so no one car gets more use than another. It works out quite well.
GCFSB: In your decision process for buying this type of car, were you looking for something that you thought would be an appreciating asset? Or were you looking for this particular package – and why?
Jeff: I buy what appeals to me at the time. If I can drive it and enjoy it for a little while then it's been worth it. I don't think of them as investments. Although it appears 951s have gone up in value since I bought this one. So, I think I've done alright with her.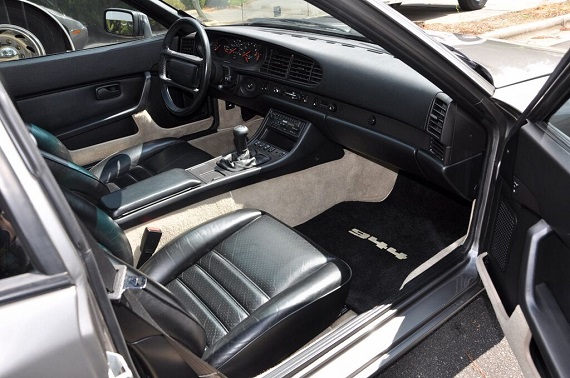 GCFSB: Besides this pristine 944 Turbo, would you share other cars that you currently own, or notable ones you owned in the past?
Jeff: I was recently up to seven which for me is a tipping point. I really only have room for six max, but four would really be best. So I recently sold one and I'm going to try to replace instead of add from here on out.
Notably the 951 currently shares garage space with a 1987 Guards Red Porsche 911 Targa and a 1987 Buick Grand National. Both are lower mileage, fully documented examples. The Targa is particularly pristine and with all original paint that just looks amazing. There is just nothing like a cool summer evening, targa top off and the sound of that air cooled lump right behind you. I never understood the "air-cooled 911 thing" until I owned one. Now I TOTALLY get it and will never be without an air-cooled in my collection. I just love that funky little car. The Buick is like driving a freight train. Just push on the gas and hold on. I graduated in 1986, so this era of cars are like reliving my youth.I've owned dozens of cars. Mostly late 60s to late 80s – a few Mercedes' (GREAT cars), a couple of Jags, a couple of Mustangs, a Volvo T-5R, a Saab 900 Turbo. I went through an old Cadillac/Lincoln phase for a while and then had nothing but Corvettes for a couple of years. I had a Fathom Green over Saddle '69 Corvette convertible, big block, factory air, 4-speed, yadda-yadda-yadda. Beautiful to look at, but it was like playing roulette to see if I'd make it home every time I took it out. I just sold my last Corvette a month ago – a pristine silver over red C3. Local car, one owner with 33,000 miles. Great car. But, I'm just completely over Corvettes and pretty much all American muscle.
The German cars of the era are just soooooo much better and more enjoyable to drive. I've never had a BMW, and would really like to try an M6 and/or an Audi Ur-Quattro. Also, I have my eye on 89/90 Nissan Skyline GT-R now that they're starting to show up here. Maybe someday a Ferrari 348GTS, but my wallet runs a hides every time a start to look at those.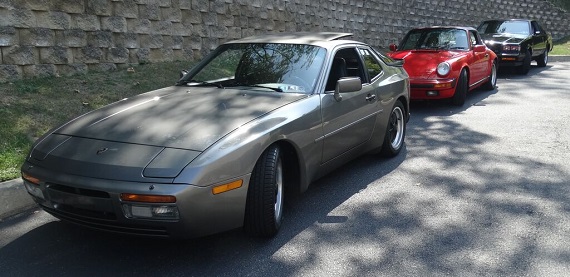 GCSFB: Jeff, thanks for taking the time to share your experience with us. It sounds like the Turbo is in great hands, excellent company and will enjoy some time both in and out of your garage! Enjoy and keep us updated on what's next!
-Carter