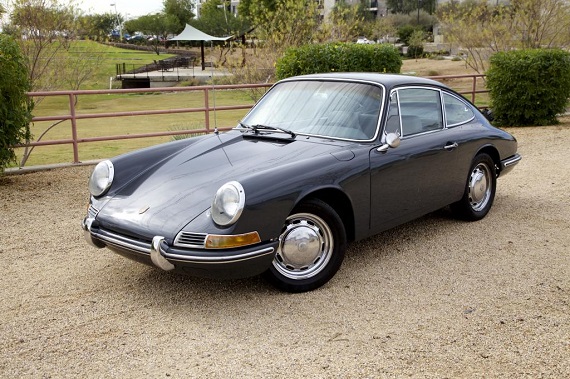 I think if I searched my posts for my favorite color combination I'd find a lot of candidates for best and quite a few I've labeled as my favorite. Here we have another: a Slate Grey 1966 Porsche 912 with Red interior. It's simply a wonderful combination of colors with both the exterior and interior each possessing their own distinct qualities, which combine to great effect. These seem the ideal complement to one another and I think those who really enjoy a bright red interior (as I do) will agree that the combination works incredibly well. The mileage is slightly uncertain, but given that the odometer appears to have rolled over I'm assuming it is above 100K miles and I have listed it as such here. Those fantastic colors surround what appears to be a lovingly cared for and restored driver-quality 912 that should provide for an excellent, cheaper, alternative to an early 911 blessed with nearly identical body lines, but with a flat-four rather than the 911's flat-six.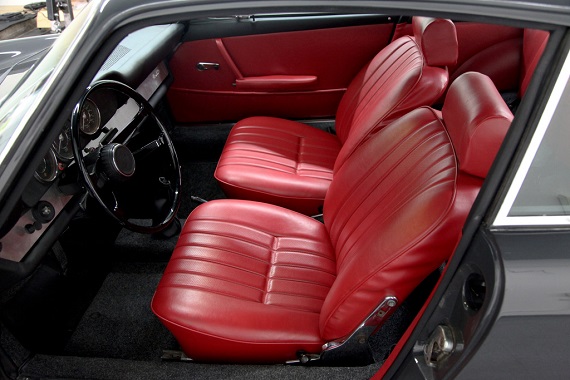 Year: 1966
Model: 912
Engine: 1.6 liter flat-4
Transmission: 5-speed manual
Mileage: 110,689 mi
Price: Reserve Auction ($40,000 Buy It Now)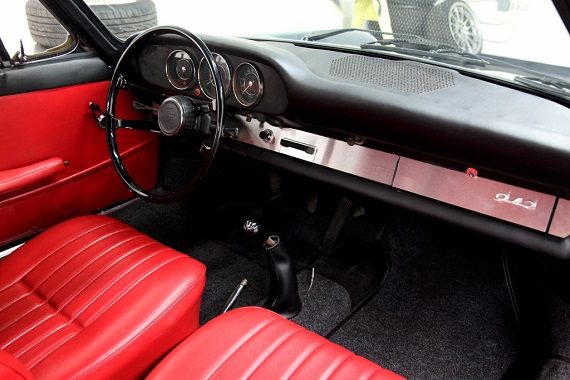 It's time to put my 1966 Porsche 912 up for sale. I bought this car several years ago and I've been slowly restoring it ever since. As with any long-term restoration project, there are things that I could have done better, things that I would have done differently, and there are always things that could still be done. Since I bought this car, I've had a lot of life changes and keeping this beautiful Porsche does not fit into my plans for the future. Titled, registered, and insured in my name, as an Arizona title. I've had A LOT of action on this car, but just haven't come to an agreement with anyone yet. Please know the current market before offering me $20k. I have have plenty of offers that are well over that price, but haven't had the right offer yet. I am ready to sell it, but not giving it away for under value. I have too much time and money invested in it over the years. When I found this Porsche, it was sitting neglected in the back yard of a house in South Phoenix. A friend and I took a trailer over and picked it up and that started my journey in attempting to bring this beautiful car back to life. I have a detailed history and timeline of my process in restoring this 912, which I can send you a link to the forum where I have it found. I knew very little about classic Porsches when I purchased this 912. I had owned several vintage Volkswagens in the past, but this was my first experience with an air-cooled Porsche. I've had an amazing time working with, playing with, and learning about this beautiful piece of automotive history. It is time to move on and let someone else love it and make it their own. I have the certificate of authenticity from Porsche verifying the original color combination to be Slate Gray with Red interior. When I got the car, the paint was very old and faded. The interior was recovered with very 80's-esque gray velour that looked like it came straight out of the GM catalogue. I've since returned the interior to its proper red, and I had a complete repaint in Slate Gray. According to the certificate of authenticity, my car was also equipped with the original 5-speed transmission and the original engine that it left the factory with. Making this a 100% numbers matching car. Unfortunately, the original engine suffered a devastating loss a few months ago and was recently replaced with a different, completely stock 912 air-cooled motor. I do still have the original damaged engine case and that will be included with the sale of the car if the buyer wishes to have it. Karmann built this Porsche, and it is the 348th 912 built for the 1966 model year. It is a very early 912, with the perfect combination of options, Slate Gray, red interior, 5-speed transmission, and 3-gauge dash cluster. The complete restoration history dating to the day I picked it up, including many, many pictures can be found in the link above. Most questions can probably be answered by reading through the posts in that thread. If you happen to have any additional questions, please don't hesitate to ask. The vehicle is stored indoors currently, not being daily driven. If desired, the vehicle can be arranged for viewing and inspection. Winning bidder is required to send $1,000 deposit to secure the deal within 48 hours of the auction ending. Full payment is required within 7 days of auction end. Vehicle will be ready for pick up or transport once the full and final payment has been cleared. The current title is in Arizona, under my name. It shows 63,075 miles on the title, with a Box A. The odometer shows 10689 (5 digit odometer).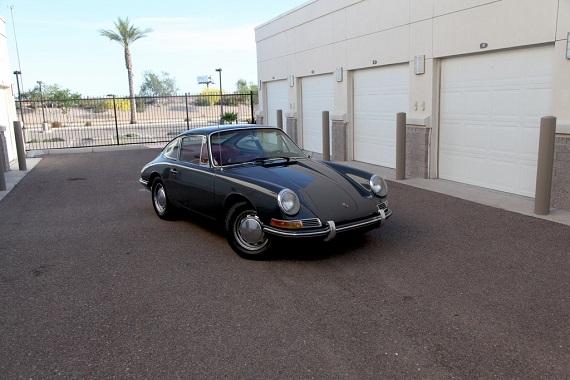 The owner has provided us with a decent bit of information to understand the current condition of this 912 and some quick googling will reveal the forum thread he refers to where documentation of the car's unrestored state can be viewed. (The pictures I have used come from a separate ad since the pictures on eBay are much too small.) It has undergone quite a transformation from an aged and dulled condition to the bright and vibrant appearance we see now. It also sounds to be sporting its original colors. Had the original engine not failed I'd imagine this would have already sold (or at the very least it would have a higher asking price). As it stands now with bidding at $36,000 and a BIN of $40K I think we'll probably see a sale, even if that comes post-auction with a little bit of negotiation. We're close enough that I imagine the two parties can come to an agreement over what is one of the best looking 912s I've come across.
-Rob