Love it or hate it, the original Volkswagen Beetle was a milestone car. Millions were sold and nearly everyone you talk to has a story about one. Granted it was not very fast and the brainchild of a dictator, but it brought simple, well engineered motoring to the masses the world over. My father owned several, including a 1967 model. This was a significant year for the Beetle, as a larger, 1500cc engine was introduced, along with 12 volt electrics. Around that time in the 1960s, the Cal Look became popular with Beetle owners, which usually included Porsche wheels, a lowered stance and various engine and exhaust modifications. This example for sale in California is an example of the Cal Look, benefitting from a recent rebuild and some tasteful modifications.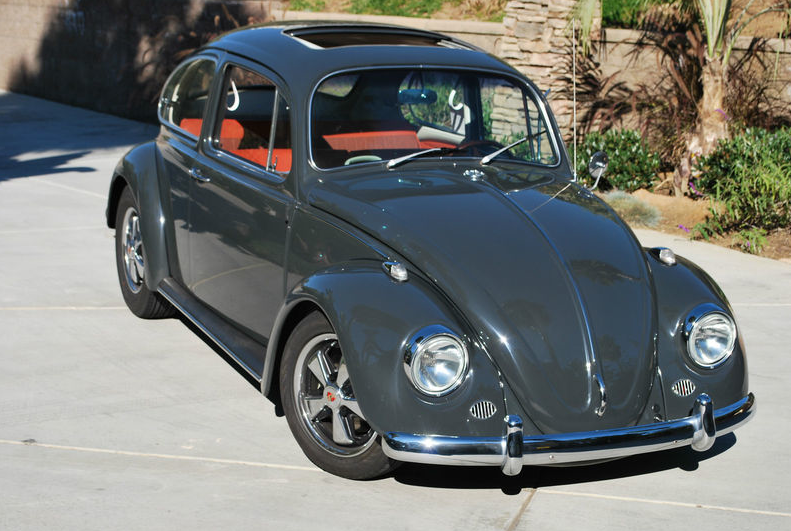 Exceptional 1967 Sunroof Bug. Original California Black Plate Car. New Bare metal paint, complete new interior, new Type 1 Raby 2165cc Engine (best of the best internals), new Rancho GBox, new brakes, new suspension.

Exterior: Fresh Paint, new chrome etc throughout. Euro Bumpers, pre 63 indicators, US spec rear lights, pop outs, new seals throughout and top tint screen. Cab decklid – Fuchs (Flat4 detailed by Al Reed), new tyres Yokohama 205/70 Rear and 165/60s up front. Interior: new headliner, new red mesh seat covers, new German squareweave, new shifter (BugPack), new steering wheel (Flat4), 150mph speedo, rebuilt Sapphire AM/FMRadio, new black and red Coco Mats.

Running Gear: New 2165cc Jake Raby motor (certified dyno sheet available 165.4 hp at 7000rpm), new Rancho ProStreet Box 3.88 and 0.89, CB Performance disks F and R, CB 2 inch narrow front beam, new KYBs all round. Intermediate tranny support, zero wheel hop.

Only just finished the build. Don't know what to say really, super cool '67, the car goes like stink, sounds and looks awesome and stops on a button, very very special car. Built, perfected and assembled to my specs in Southern California by Mike Moses. Mechanicals from Proformance and VW Paradise, the car will cruise at well above modern speeds, with ease all day. Looking at another purchase, hence reason for the considered sale, may consider a pre 67 Crew Cab or mango/mignon pre 64 old speed RAGTOP BUG. Please note everything on this car is NEW…..EVERYTHING including the engine which is a 10k item, with complete build spec sheets and dynomometer paper work 165.4hp at 7000rpm come with the car.

The car is a flying machine, not a stonechip not a blemish NEW, will take some new interior pics in the next few days, needless to say its perfect red mesh and grey squareweave, new rubber mats etc.
Vintage Beetles don't usually pique my interest, but certain ones, such as this example, catch my attention. The color combination is pleasing, the wheels are superb, the stance is just right and I can't even imagine how peppy this thing would be with 165 horsepower.
-Paul