Warning!
This post is in our archives. Links in this post may have been updated to point to similar cars available to bid on eBay.
With the Sprinter now being sold under the Mercedes-Benz badge in the US market, it has raised the profile of Mercedes-Benz and their commercial offerings in the US market. Over the years, Mercedes-Benz commercial vehicles have run the gamut from buses to tractors, but one of the longest lasting commercial vehicles to wear the Three Pointed Star is the Unimog. With a high ground clearance, flexible frame and knobby tires, these were equipped to tackle almost any environment, from the desert to mountain passes. Not surprisingly, many were ordered for militaries the world over, such as this example for sale in California. This is a 404 model, which enjoyed the largest production cycle of any Unimog variant, and was available with a modified M180 six cylinder petrol engine, which produced 80 horsepower or could be had with higher compression heads to increase output.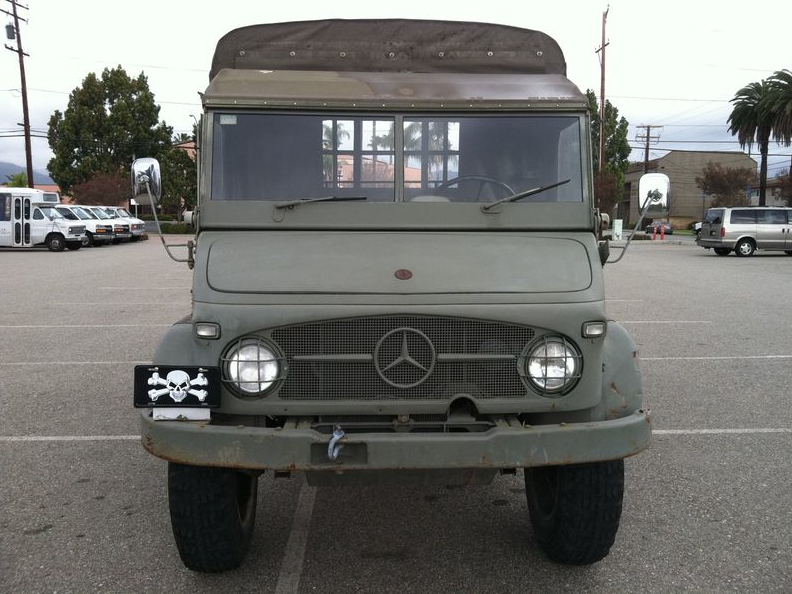 Here is an all original 1962 Mercedes-Benz Unimog 404 Troop Carrier in very good condition. No rust of any kind, everything works on this vehicle, lights, gauges, heater, wiper motors. It has all original tool kit, jack, spare, gas tank, wheel chock, shovel, ax, grease gun and owners manuals. It originally was for the German Army, then it was surplussed to the Belgian Army in the early 1980s and refurbished and then the Belgian Army surplussed it. Then it came here to the States in the late 1990s where it lived in Arizona until 2012. Then I bought it to California. They didn't get a lot of miles put on them. All the canvas is in excellent shape. This vehicle is like a billy goat, it can climb just about anything. It has two lower range gears for creeping and four higher range gears for cruising for a total of six forward gears and two reverse gears. This thing is a blast to drive and turns heads wherever it goes.
The patina on this Unimog is just right. The original tools are a nice touch, as these could have easily been lost over the years. These are the kind of cars that you don't want to obtain in meticulous cosmetic shape, as you would want to be able to use this truck for what it was built for. And according to today's social constructs, that would apparently include the school run and grocery shopping.
-Paul