While many consider the 300SL as the car that signaled to the world that Mercedes-Benz had returned from the brink in the aftermath of war, it was the W111 coupes and sedans that brought them success throughout the 1960s and carried them on to a prosperous future. After massive devastation to their factories during World War II, it was almost unthinkable that this company could rebound. However, a scant 14 years after the war had ended, the W111, with its advanced front and rear crumple zones, retractable seat belts and, on the top models, fuel injection, debuted. While the first sedans worse rather trendy tail fins, the coupe had more modest rear flanks and the stately, pillarless roof that we've come to love from Mercedes-Benz two doors. This 250SE for sale in Florida has undergone a recent renovation and is in need of a few minor touches to draw this classy coupe to completion.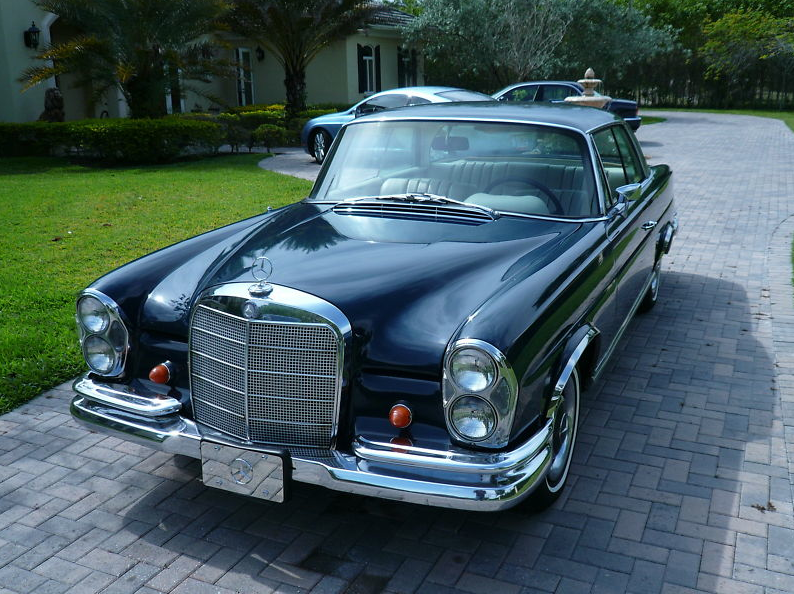 Just finished a partial restoration of this nice car. Done: New paint (Feb 2012) $6,770.00. New interior (March 2012) $7,490.00. Wood work repair and varnish $800.00. Engine Serviced (good compression), including tune up, differential, $4,446.12. Belts, hoses, etc. New tires/shocks (front and rear) $1,200.94. Transmission rebuilt $3,600.00. Total: $24,308.00

Questions you may have:

a) Why all this money?… I intended to keep the car and do it right. Still a possibility.

b) Why are you selling?.. My new business is taking me overseas every other month. No time.

c) Is there anything else to do with the car?.. Very minor, mostly details. Part of the hobby. Among them, I would rechrome a couple of pieces of the back bumper. Not an expensive job.

d) Does it run and shift OK?.. Yes, the car is smooth, the a/c works great, it has no rattles.

e) Any rust?.. None now. There was some where the spare tire is storaged, that was carved out and new metal installed, both side were done. That's a typical area for rusting.

f) Is the mileage correct?.. I don't know. Have no records from the past. The compression is good and my MB mechanic thinks it is the best of the four older Mercedes I own. NO DRIPS, NO SMOKE.
The fact that this car has little in the way of records detailing its history is disconcerting, but if a Mercedes mechanic can vouch for the car as is said in the ad, it will help to reassure potential buyers. That said, a lot of money has been spent in bringing this car up to a decent standard. These are not cheap cars to restore and the fact that a lot of work has been done already makes this an attractive buy. While this car is not a concours example, it's a very presentable runner that needs some minor details ironed out. The asking price is just about on the mark, given what has been invested in it and what these can go for fully sorted.
-Paul