Last week, I posted an E63 AMG wagon, and while it's an amazing grocery getter, it pales in comparison to this car on basically every front. Needless to say this is not your grandma's grocery getter, the owner of this mind blowing A4 has spared no expense in making this one of the fastest, if not the fastest A4 Avant in the states.
Starting with a VR6 swap from a VW, and redoing…well…just about everything, this 749whp monster is the definition of sleeper.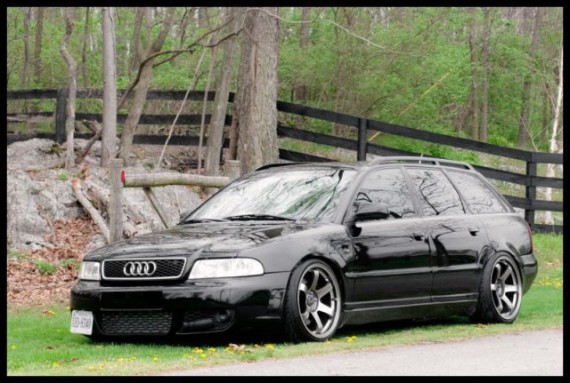 I am putting for sale my 2000 B5 Avant with a VR6 swap. I don't need to sell this car at the moment, so please don't kick tires if you're not serious. Also, if you're gonna get sassy, save it. It would not be possible to replicate this car for the price. I know what I have into it, and I know it is way way more than the asking price. Currently located in Buffalo, NY. The car is originally from Virginia (lived there until this past October) and has never seen a Buffalo winter. Let me be clear with that up front. The underside of this car is rust free.

I've been piecing this car together over the past few years, and it has been through a number of renditions/setups. This setup makes almost 300WHP more than it did last year. I recently dyno'd at Innovative Tuning in April/May and made 794WHP at only 32psi. This turbo setup can be pushed into the low-40psi range as shown by a few drag VR6 cars around the US.  As it sits I ran a 10.9@ 137-138mph in the ¼-mile with me driving. If you're a better driver, you will go faster. I am just a crappy drag racer, and also got booted from the track for not having a cage. It runs a 2.07 FATS time, which isn't in this cars powerband at all. It runs these times with full interior, as it is driven on the street and on street tires. 3700lbs of fury. The car runs and drives like a stock car would, within reason. I say within reason because it has firm mounts etc so you do feel the engine, but its not overbearing at all.  

It cold starts just fine, and you can drive away as soon as you fire it up in the morning. There is no need to wait for it to warm up etc. Thought I suggest not pinning the throttle until oil temps come up, for obvious reasons. The exterior of the car is not perfect. It's a "15-foot" car, not a show car. It still looks really good, but it does have flaws. However, a good paint restoration would go a long way in improving it. There are 2 small door dents on the passenger side, and 2 dents in the hood. Also, the drivers door has slight bubbling paint in one area that was there when I got the car. It has not spread at all, but you can pick up a new door for about $50 if it bothers you. Comes with High boost E85(32psi), Low Boost E85(22psi), and 93 octane maps. The 93 octane map isn't for making power, it's in case you find yourself unable to fill up with e85 in an emergency. Car can be re-tuned for C16/Q16 etc as you see fit, also. Has Launch Control, full electronic boost control with failsafes for overboost, IAT failsafe, Coolant temp failsafe, cold start rev-limit failsafe, boost-by-gear, no-lift shift etc. All 100% configurable. I know I'm forgetting tons of stuff, and am missing tons of little things in the parts list but I will add as I think of it. If you have any questions about the car please feel free to ask. I do not care to answer questions such as "how did you do the swap?" etc. There's more than enough documentation around to figure that out.

10.95@137 Video https://www.youtube.com/watch?v=WGwknEU5-Gs

794whp dyno pull Video https://www.youtube.com/watch?v=k6MmXpNeI_A

3rd Gear Highway Pull Video https://www.youtube.com/watch?v=QYJPhkPK4NM

Idling walk-around Video https://www.youtube.com/watch?v=8wGh_yUxYMg

AAA 12v VR6 Engine: Full Port and gasket matched Cylinder Head. Ports are very oversized the entire length of the port Ferrea 1mm Super Alloy Intake and Exhaust Valves w/opened up valve seats Schrick 268 Cams Dual HD Valve Springs Brand new lightweight lifter set Integrated Engineering Tuscan Rifle-drilled Rods w/ARP Rod Bolts JE 9:1 82mm Forged Pistons ARP Main Studs ARP Head Studs ACL Race Bearings All new Seals Billet Crack Pipe Custom Coolant lines Custom AC Lines (AC works) External Oil Cooler Turbo Setup: Precision Ball-Bearing Billet 6766 T4 turbo Kinetic Exhaust manifold Tial 44mm Wastegate 3.5" 304 Stainless Tig Welded downpipe 3" 304 Stainless Tig Welded Exhaust w/2 Magnaflow straight-through mufflers Treadstone TR-10 intercooler w/custom piping Tial Q Blow off Valve 4" Intake w/Filter Drivetrain: S4 01E 6-speed transmission S4 rear differential, axles and driveshaft ClutchMasters FX850 Twin-disc clutch w/aluminum Flywheel USP Braided stainless clutch line with ClutchMasters FCV200 Flow Control Valve Stern Engine Mounts Stern Transmission Mounts AWE DTS Bar A8 Brake Upgrade w/ slotted rotors Koni Coilovers Brand new Front control arms 034 Billet Rear Diff Carrier Rota Grid 18×9.5 ET 20 38 Falken Azenis RT-615k 225x40x18 Tires Comes with: Spare S4 differential, Spare Axles for all 4 corners Fuel: Dual Bosch 044 Fuel Pumps Injector Dynamics 1600cc Injectors 034 VR6 billet fuel rail -8 Fuel Feed and -6 fuel return line Aeromotive Fuel Pressure Regulator Swap parts: Custom Intake manifold w/75mm Mustang 5.0 Throttle Body Custom Engine Mounting Brackets (Keeps AC and Power Steering) OEM Transmission Adapter Plate OEM Longitudinal Oil Pan 034 Starter Ford Windstar OEM coilpack and Bosch 7-pin Ignition Module (Better Spark) Interior/Exterior: OEM RS4 Grill OEM RS4 Front Bumper w/Grills S4 Sideskirts RS4 interior door pulls MK5 GTI shift knob Dice iPod Converter
The most impressive thing about this car is that it didn't come out of a high end race shop, rather it was built by an enthusiast in his garage using the best of the best parts, and a whole lot of know how, and a touch of imagination.
This is another one of those car that you just can't put a price on, as a plain old 2000 Audi A4 Avant, this car is worth around $7000, add in the impressive parts list, and the $24,500 sale price is a bargain. It is practical, nope; would it make you giggle like a little girl on a regular basis, definitely.
-Brian