Here we have three of the race cars that appeared for sale over at the Watkins Glen vintage festival. Perfect for the weekend wrencher to get sorted out over the winter and go racing next season.
Up first is a 1970 914. This car has been raced for 20 years and the owner says it comes with Porsche Club of America log books. The seller also says the car has been competitive, but I'm not sure that means a whole lot when the advertisement also says that it comes without an engine. Fiberglass body works make the car light. 911 suspension setup will keep it on the road. If you have an extra Porsche engine you aren't sure what to do with here you go.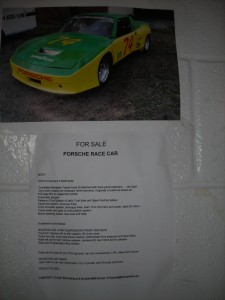 Next up I came across an interesting 944 Turbo that ran in the  Escort race series driven by Dereck Bell and Bill Adam. It is a genuine Rothmans sponsored car and claimed as one of only 12 factory built, lightweight, racers for the series. The car is still on the Porsche MSO which is kind of neat and comes with documented history. Owner says the car has been stored for 7+ years, but has new brakes and an engine rebuild. So it sounds like a little sorting and this car is ready to go. Would make quick street/track car.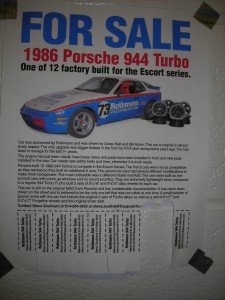 Then there is this Devin D that, while not German, does come loaded with a Porsche 356 1600 engine and a VW gearbox. Supposedly owned and raced by a Gulf Oil Racing Team mechanic in the 1960s. This one clearly looks like it needs some serious work, but it is a pretty simple proposition if the body work is all there. Devin's are cool American built racers that will give a new owner a very unique ride. In my opinion these are much nicer than a modern Cobra kit car.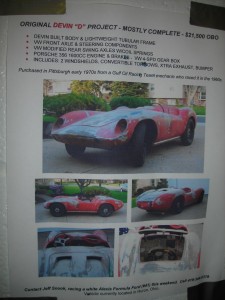 More to come from Watkins Glen in the following days.
Evan