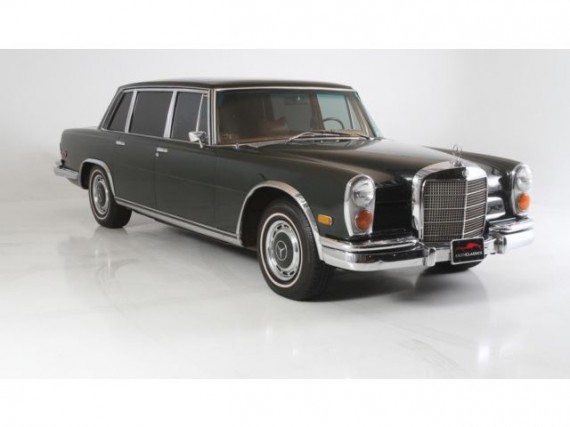 Elaine from Seinfeld once got into a discussion about grace and how you can't have a little grace and you can't acquire grace, you either have it or you don't. This car has grace and class in spades. The 600 is such a cool car. It is one of those vehicles where you'll have just as much fun driving it as you will sitting in the back.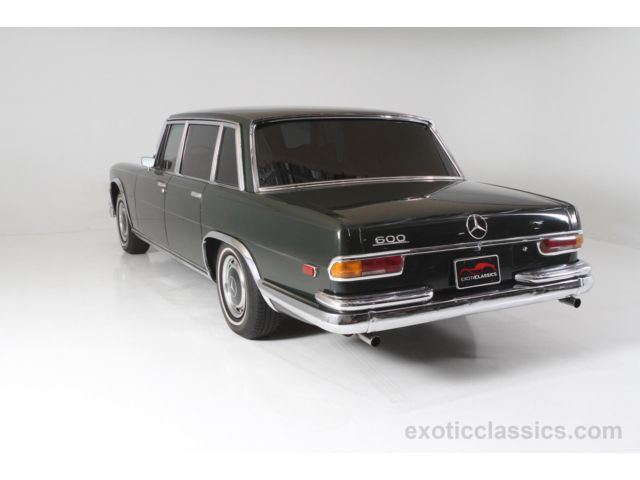 Year: 1970
Model:  600 SWB
Engine: 6.3 liter V8
Transmission: 4-speed automatic
Mileage: 46,282 mi
Price: $79,900 Buy-It-Now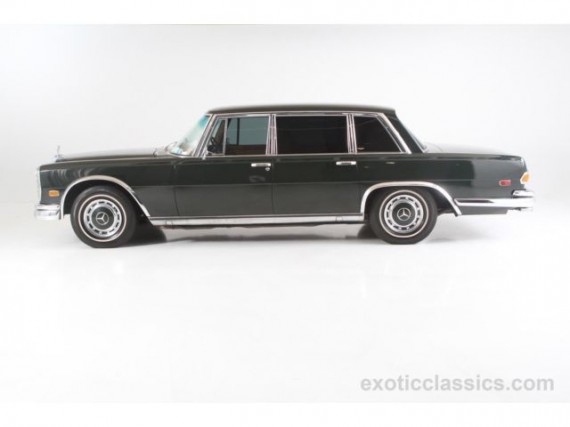 Exotic Classics is pleased to present this rare and distinctive 1970 Mercedes-Benz 600 Short Wheelbase (SWB) sedan. Featured in Dark Green with luxurious Saddle Tan leather interior, this car is largely original and has been well-maintained. The car has only 46,282 miles and its numerous power accessories all work properly. Introduced in 1963, and produced until 1972, a total of 2,677 were built including 2,190 SWB cars like this one, 428 LWB cars, and 59 Landaulet's. While the LWB cars were mostly intended to be chauffeur-driven, the SWB cars were designed to be owner-driven. Hugely expensive, they were owned and used by celebrities, executives and heads-of-state, both famous and infamous. The 600 had everything that the most demanding owner could want, including performance with 300 horsepower and 434 lb-ft torque from the 6.3 liter overhead camshaft fuel injected light alloy V-8 engine. The 4-speed automatic gearbox delivers effortless thrust. A comfortable yet competent ride over any road surface is assured with fully independent suspension on fully-adjustable load-compensating air springs.

There are disc brakes all around, central door locks, power steering and two separate climate control systems. The Becker Grand Prix radio is original. Despite its size, the 600 SWB, like ours, is a true sports limousine: a driver's road car with excellent handling, capable of cruising at over 100 mph, and fully deserving of MB's title of "The Grand Mercedes." This handsome MB 600 SWB has been recently serviced by our technicians. The elegant wood trim is in very good condition throughout, while the leather is excellent. Imagine sitting on comfortable and supportive leather seats, surrounded by the warmth of wood, and looking out over the expansive hood and radiator shell, topped by the famed Mercedes 3-pointed star! Few have been so privileged. Your inspection is invited$25,000 was invested in a complete service which was done in 2011-12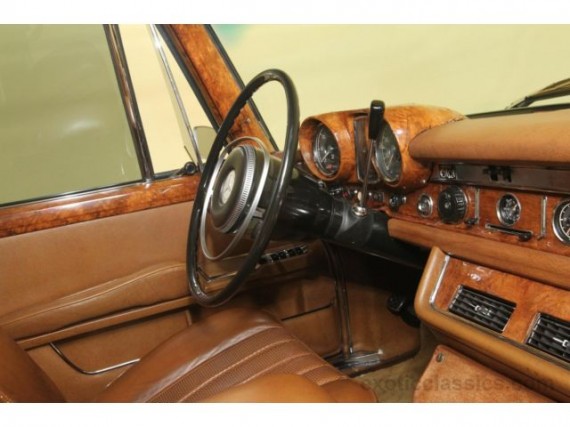 I like that the dealer says "few have been so privileged." Indeed the I'm sure your all aware of the list of the types of owner's the 600 has attracted in its long history, an impressive list of world leaders and celebrities. Even seeing one in person today gives you a sense of being near something special. Detail and craftsmanship were of the highest order on these cars and that fact still shines through clearly today. The woodwork alone sets this apart from other luxury cars. The seller posts a link to $60,000 worth of recent service history on this car. It looks like it is ready for duty be it car shows, parades, or actual limo work. The price on this one seems pretty much right in the ballpark. They sell for more and for less depending on condition or previous ownership, but as you can see from the receipts, getting one with a lot of good service done can make a higher price worthwhile. The longer wheel based or Pullman brothers might have more bells and whistles, but the SWB models make a bit more sense if you actually want to enjoy driving around.
~Evan