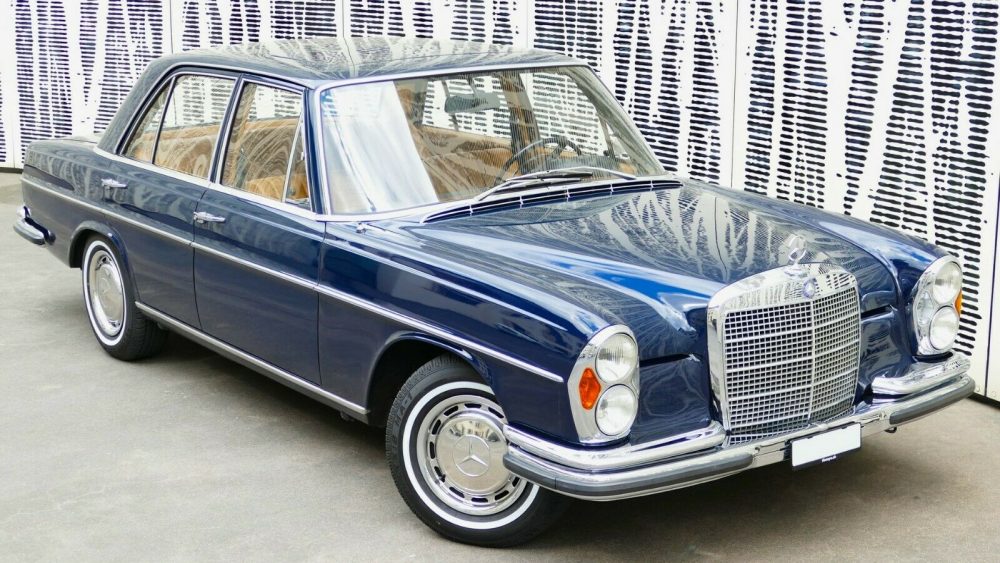 It doesn't get more quintessential classic Mercedes-Benz sedan than the W108 and W109 chassis. The vertical grille matched with the vertical headlights, that is all grafted onto a body of simple and square contours. None of the proportions are too big or too small, and all the angles are consistent. There is nothing offensive on this car to be found. Thankfully, the quality is as good as the looks. Stay on top of things, and they are built to last generations. Today's car, a 1970 280SE up for sale in Switzerland, is a perfect example of that. It has never been restored and hasn't been locked away in a bubble, just used as needed and meticulously looked after. Even better, it has a nice little ownership story of the diplomatic variety.
Year: 1970
Model: 280SE
VIN: 10801812067972
Engine: 2.8 liter inline-6
Transmission: 4-speed automatic
Mileage: 146,000 km (91,000 mi)
Price: $35,000 Buy It Now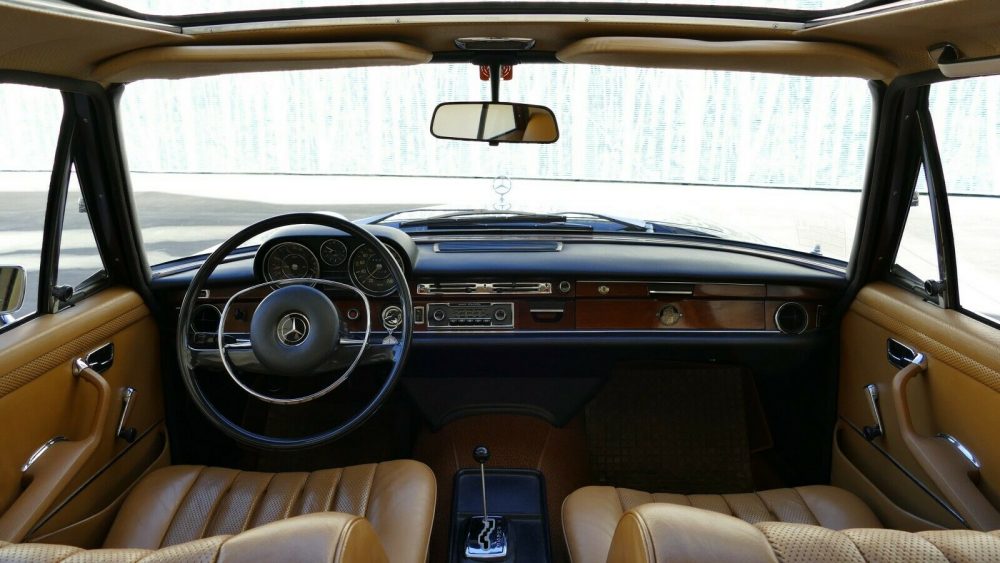 1970 Mercedes-Benz 280SE Automatic

Realistically, this probably isn't the first W108 you're viewing. It might, however, be the last. This isn't a "ran when parked" kind of listing. This is an unrestored, Swiss-delivered, two-owner, fully documented, turn-key, ready-to-drive car. Let's get into the history a bit, shall we? 🙂

It's September 1970, a Swiss Ambassador to the United Nations takes delivery of his brand new Mercedes-Benz 280SE in Switzerland. The career diplomat sees little of his home, but he opts against bringing his new car on assignments, instead entrusting its care to his long-time friend and chauffeur Mr A.

Mr A. pampers this S-Class, not missing a single service appointment as evidenced by the complete records, keeping the flagship in tip-top shape for whenever the Ambassador rings for a lift.

Somewhere around 1985, the Ambassador, born in 1920 retires. He keeps his car and his chauffeur. In 2008, Mr Ambassador passes and leaves the car to Mr A., so the caring hands which had become so familiar with the car over nearly four decades assume ownership. The level of care and maintenance remains at the same high standard for the next ten years. In early 2018, at age 94, Mr A. has to relinquish his licence for medical reasons. The Merc, for the first time in 48 years, moves to a new home – ours.

A car whose state is wedged solidly between stunning driver and concourse condition, with an entirely complete history, it's a unicorn. I've seen specimens whose soul had been restored away, whose history was limited to knowing where the car was sold last. I wanted none of that, and since you're still reading, you must feel much the same. A lost history is incredibly difficult, often impossible to recover.

The almost fifty-year-old tobacco full-leather interior has its lovely patina and wonderful smell. No rips, tears, punctures, just the irreproducible character of craftsmanship of a long-gone era. The deep blue paint, code DB904, is in a condition you'd expect on a car a few years old at most, not nearly half a century. A rich shine, mirror-like finish with extremely minimal signs of wear, limited to a few minor scratches and chips. Other than the number plate, nothing has been retouched in the photos, judge for yourself. There is no rot, bubbling, or peeling. The just over 3'000km (total 146'000km/~91'000 miles) per year on average didn't take a toll on this car.

The exceptionally preserved condition also applies to the undercarriage. This saloon lives in a garage with a light grey floor, and there isn't a stain on it; it's bone dry underneath! The build quality is sensational overall. The sound the doors make when they close, incredible!

Everything does exactly what it's meant to do. All electrics work, including the sunroof. The mechanical bits need no attention either. I've replaced the front axle mounts, tie rods, all four shock absorbers (Bilstein), tyres (except for the original spare wheel), ignition cables, and sparkplugs. The Boge Hydromat (compensator spring) has been refurbished by ZF Friedrichshafen AG and comes with a 3-year warranty starting March 2019. Some switch in a steel spring to avoid the expense of sorting the Hydromat but doing so would have been an injustice to the car. It must be as Mercedes engineered it.

The 2.8 litre straight six, with even compression, fires eagerly without hesitation, sending its 160 hp through the smooth four-speed automatic to the rear wheels. While setting a land speed record isn't likely accomplished with this Mercedes, it is undoubtedly confident and capable, still by today's standards; a far cry from a rolling obstacle. Wherever you want to go, this car will take you there, comfortably and with ease, effortlessly at speeds exceeding 120kph (75mph).

A further testament to the condition of this car is its "Veteran Vehicle Status" awarded by the DOT after extensive inspection. From the official website:

"Veteran vehicles must comply with the original design and be visually and technically in perfect condition. Veteran vehicles are usually used in traffic only on special occasions or to prevent damages incurred from long-term parking. Owners of such vehicles go to great lengths at considerable expense to preserve these artefacts of engineering history. Traces of use that have occurred despite careful handling and good care, as well as expertly executed repairs are permitted."

It is with a heavy heart that I list this gem in the first place. My tenure as its caretaker is cut short for personal reasons. I hope that someone equally keen on these cars will take my role as its custodian. This is about taking on the duty of caring for a piece of motoring history, preserving it for future generations, and to drive it, enjoy it, to let people marvel at its sight. Let this beauty decelerate a hectic day, entrance you with its charm and turn the journey into the destination.

I'm happy to answer any questions you have about this Mercedes.

All possible shipping and importation charges are the buyers responsibility. Luckily, classic cars are often subject to tax advantages and reduced import duties.

For instance, Germany reduces the VAT from 19% to 7% and waives import duties entirely. The car easily meets the 25-year rule for the U.S. and the 15-year rule for Canada. Any information you may need for your shipping agent, don't hesitate to contact me.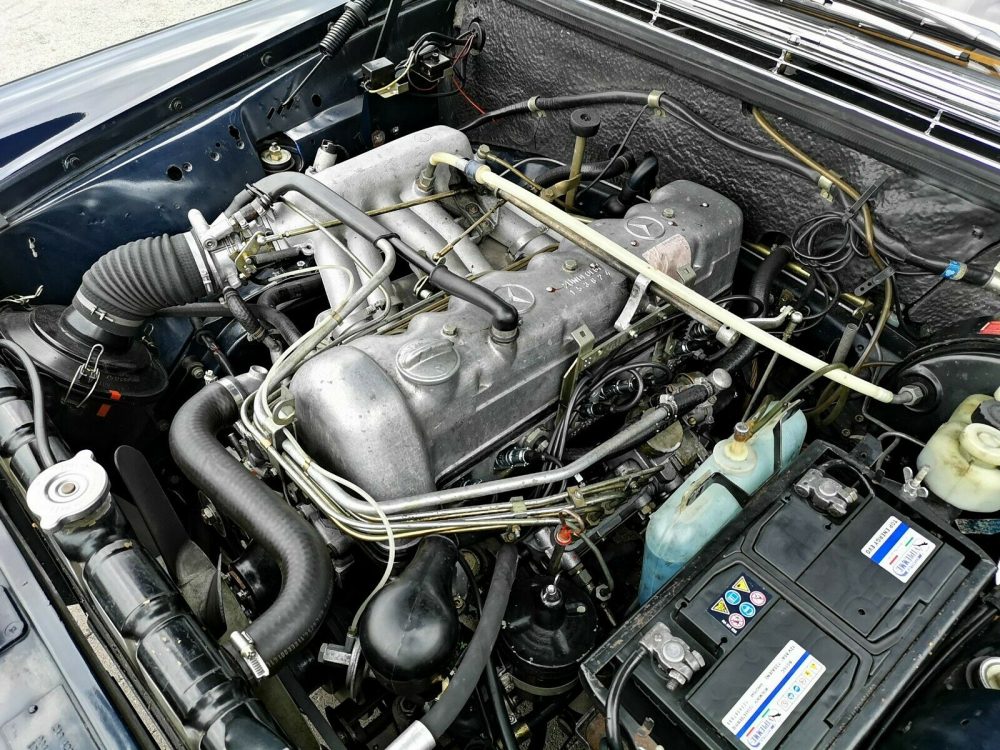 The seller tells the story much better than I can, but the short of it is the car was bought new by the Swiss ambassador to the United Nations and lovingly kept by him until his death in 2008. From there, the car went directly to his chauffeur until now that the car is up for sale. Even with over 90,000 miles, the condition is wonderful with lots of cadmium plating in the engine and under the car still shining bright. The interior is more of the same with real tobacco leather that looks like it has a fifth of the miles that it does. Outside, the dark blue paint shines extremely well for being nearly 50 years-old and could fool anyone as being a recent repaint. This is why these W108/W109s are so satisfying. A half a century old and it still impresses. I'm sold.
The prices however reflects the condition. Yes, this car is in Switzerland where a slice of cheese cost $17, but it looks like the seller of this car is expecting this to be a worldwide sale. $35,000 is dangerously close to 6.3 territory, but I can't really argue this price. Finding a car with this story and this condition will be is a rare feat, so you should probably be prepared to pay for it. I have a feeling that ultimately someone will.
– Andrew