Mercedes-Benz was in a period of transition at the outset of the 1970s. A new SL would be launched in 1971, replacing the popular Pagoda roof 230/250/280SL range. The new R107 SL would move the car further in the direction of a boulevard cruiser rather than a sports car. The large W112 coupes and convertibles were also on their way out, but not before the engineers at Mercedes had one last go at making these special cars into something even more special. Arriving in 1969, the new 3.5 liter, single overhead cam V8 engine was slotted into these stately cars, giving them a new lease on life. These were largely hand-built machines that were seriously expensive in their day, and to this day, still command big dollars.
Amidst the short production run from 1969 through 1971, a few 280SE 3.5 Coupes left the factory optioned with a 4-speed manual transmission. Seemingly out of step with the rest of the car's character, this was nevertheless a popular option for those German businessmen who would pony up cash for such a car and were looking for something with long legs for Autobahn cruising. This 280SE 3.5 for sale in California is one such coupe with the 4-speed manual.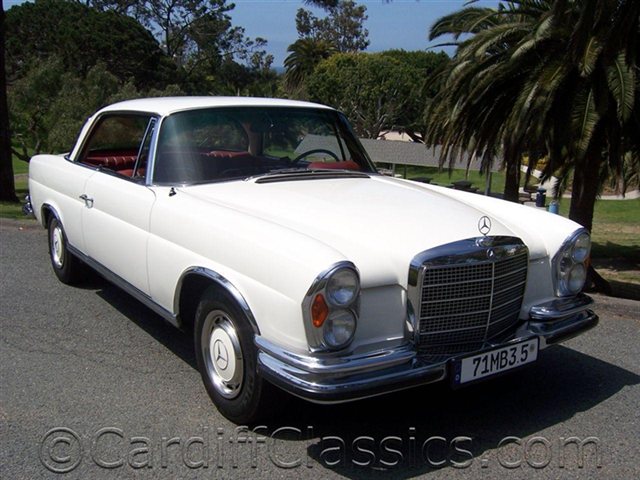 Year: 1971
Model: 280SE 3.5 Coupe
Engine: 3.5 liter V8
Transmission: 4-speed manual
Mileage: 51,325 mi
Price: $65,000 Buy It Now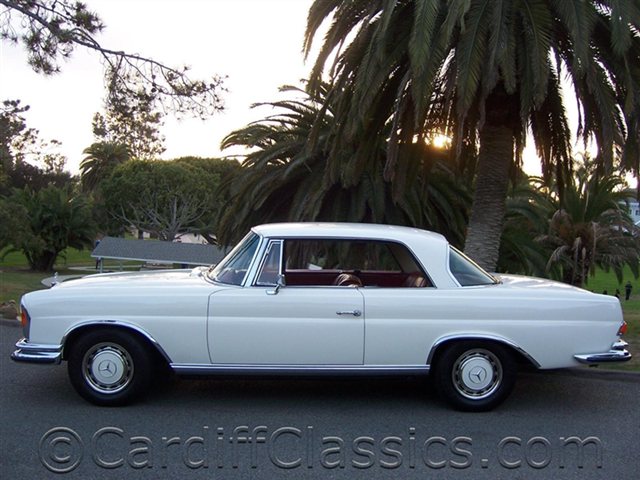 We are honored to be able to present to you this very rare European-Spec 1971 280SE 3.5 Coupe with only 51,311 original miles. These Grand Touring coupes are not only beautiful, but thanks to the 3.5L V8, it eats up miles effortlessly. This particular Mercedes features 2 options: An incredibly rare 4-speed manual transmission (thank you Europe!), believed to be 1 of only 122 built with this option, and also Sunroof Delete. It presents itself in excellent overall condition, with the red leather interior being original (never dyed), and in remarkable shape considering these are the hides that it left the factory with in 1971. The body was repainted (engine out) in its original White color in 2008. It also had a original style air-conditioning system installed by the dealer when delivered new in Italy. Even though the Interior is 100% original, the leather as soft/supple as when new, having never been dyed! The fact that this car was also shown at the 2009 Hillsborough Concours d' Elegance in Nothern California is further testament to its overall condition!

51,325 ORIGINAL Miles
30+ Years of continuous California ownership
Euro Spec Car that was Originally Delivered New to Italy
Documentation/Service Records From 1983
COPY OF ORIGINAL BUILD SHEET
Major Service (approx. $5,430) Completed in November of 2012
Alpine White over (original) Red Leather Interior
Wood Dash Accents Re-Finished to As-New Condition
3.5L V8 Engine
Hella H4 Sealed Beam Headlamps
Original Becker AM/FM Radio
Original VDO Kienzle Dash Clock
New 14″ Michelin Harmony Tires
Don't miss your opportunity to own this magnificent and very unique & ultra-rare Grand Touring Mercedes-Benz that is sure to not only please you, but the crowds wherever you go.

Please contact Cardiff Classics in North County San Diego at (760) 632-5555 with further questions.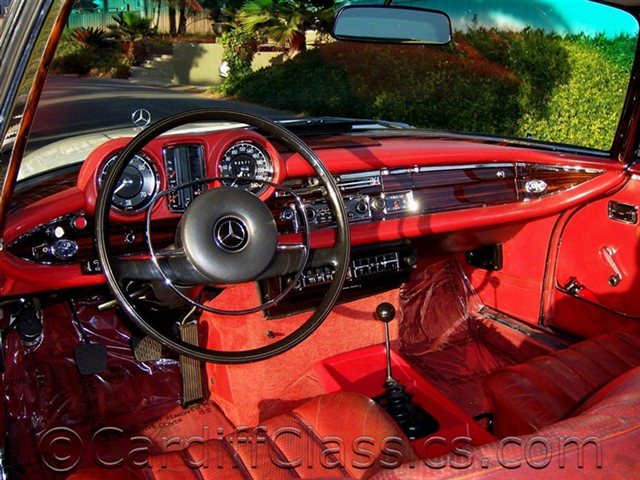 At first, the price for this 280SE 3.5 might seem a bit steep, but keep in mind that the open roofed variants regularly bring six figure sums and if you have a concours quality coupe, you might see the better side of $75k. I'd say this one is priced within reason, given its condition and rare transmission option. While I've driven some Mercedes sedans of this vintage, I've never gotten behind the wheel of a 3.5. With precision build quality, a 4-speed gearbox and a V8, I'm certain that it would not disappoint.
-Paul