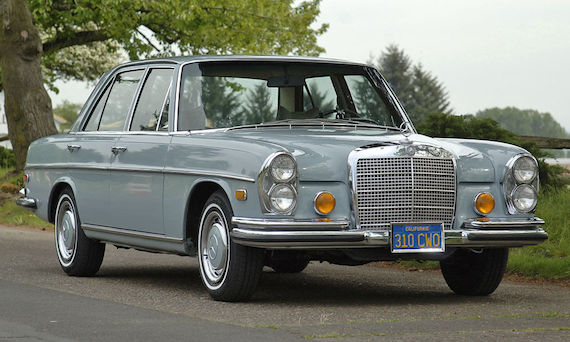 Survivor is a term bandied about in the automotive enthusiast communities but it's not always the case that a car will live up to the hype. Head west to California, however, and the state offers a treasure trove of all sorts of classic iron, from muscle cars to classic luxury, such as this one-owner 1971 Mercedes-Benz 280SE with 80,000 original miles. It's rather remarkable that a car over 40 years old hasn't cracked six figures in the mileage department yet, as you could consider my mom's 2000 C280 sedan with 115,000 miles as a little on the low side for the year. But this car, sold via the European Delivery program and having lived its life in California, has escaped the ravages of the years.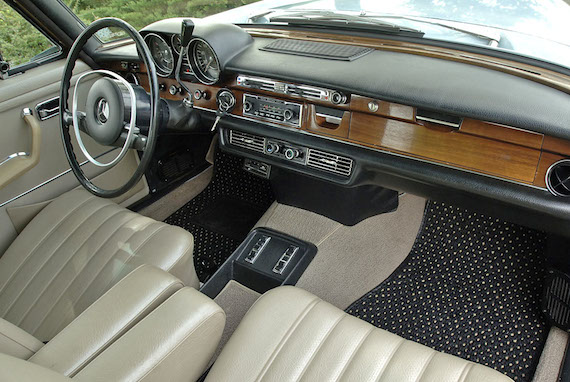 Year: 1971
Model: 280SE
Engine: 2.8 liter inline-6
Transmission: 4-speed automatic
Mileage: 80,285
Price: Reserve auction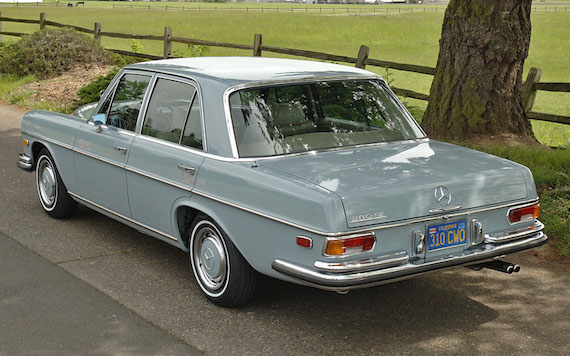 One owner from new

80K original miles

Original paint

Here up for bids on eBay is this incredibly well preserved Mercedes 280SE. This car was bought new through the Mercedes European Delivery program and after touring Europe in the Summer of 1970 it was shipped to California. The car has had just one owner from new, it has 80K original miles with service receipts to verify. If you follow these W108 sedans on eBay you know that the really good ones are not easy to find, I usually see only 4 or 5 on eBay each year. A lot of these cars suffered from deferred maintenance, uncaring owners, or rust. This car is the exception; it features all original paint with zero rust issues anywhere. The interior is all original and in outstanding condition. Undercarrige and engine bay are spotless. I believe that it's about as close to showroom new as you'll find.

For having original paint, this car shines. The paint quality is beautiful with excellent depth and gloss. No sun fading, checking or other age related problems. Original paint elimates a lot of guesswork about a car's past, what you see is what your get, and your'e going to like what your see here. The body is arrow straight with excellent panel gaps throughout. I have been over this car from top to bottom and have found no rust issues anywhere – no bubbling, no blistering – no problems. Tires are new Hankook Optimos with less than 100 miles on them. All 4 wheelcovers are in great shape.

Before coming to Oregon last month the car had spent all of it years in California. The license plates are the originals issued from new, they have current registration and are included with the car. The car has 2 flaws: a small scratch on the hood and a ding on the face of the grill surround. Wiper blade holders are original, the fresh air vent shows the original filter material still intact. Classic Hirchmann antenna is in great shape.

The glass is all original, including the windshield. It's all in excellent condition with no scratches or hard water spotting, although the windshield has one small star on the passenger side. The passenger side still has the "Einfahrgeschwindigkeit" (running-in speed) sticker, the drivers side shows the original antifreeze snowflake. The parcel shelf beneath the rear glass had been covered with a cloth for years, as a result it looks brand new.

The bumpers are in great shape with excellent chrome, they have never been replated and still look great after 43 years. Headlights are the original GE units from new. All car's anodized trim still looks great, and all of the chrome on this car is terrific with no pitting. The trunk has the original tool kit and Bilstein jacking equipment. W108 trunks often serve as a litmus test for the car's history. One look underneath the mat tells it all. Perfect side wells with no trace of rust. The 4th photo shows a rare early power antenna system from Hirschmann. It operates from the on-off swith on the radio and still functions correctly.

The interior in this Mercedes is like stepping back in time; it's perfectly preserved. The MB-Tex seats are all original but look like new. From the carpet to the wood to the headliner, the interior is simply excellent. All of the sill plates are in terrific condition. The car has a set of high quality Coco Mats which add a nice vintage feel to this interior, these were optional add-ons for Mercedes and Porsche automobiles from that era.
The back seat and arm rest are both like new. The car has a full set of Kangol seat belts, all in like-new condition. You'd be surprised at what these sell for on eBay.

All door panels are in great shape. All of the weatherstripping on the car is original and still holding up beautifully. All of the wood that frames the windows is in excellent condition with no sun or water damage. Nice steering wheel with no cracks or spidering. Every gauge, switch and control operates correctly except for the clock. The heater levers were a weak spot in Mercedes from this era, these have been replaced with Dura-levers and all move freely. The fan control on the upper left slider works correctly at both settings. The Becker Europa stereo works great. The A/C unit is fully functional but will need a recharge before next summer, it blows cool but could be colder.

All gauges work correctly and show consistent readings. Oil pressure readings are good and the car always runs cool, right around 180F. Power windows all work swiftly. The dash wood has an all original finish and looks terrific. Dash pad is perfect with no splits. I don't mean to sound effusive here, but this car is just that good. Clean underdash area with all panel boards present. The headliner is unmarked with no punctures or tears. The cloth binding around the door perimeter is all good, weatherstripping as well.

The car comes with 2 pouches full of factory literature as well as a folder of service receipts and registration slips verifying ownership history and mileage. The 4th photos shows correspondence from Mercedes regarding the European Delivery as well as German insurance paperwork from its overseas tour in 1970. This Mercedes runs and drives as well as it looks. The car starts easily and runs down the road with decorum. The car shifts precisely, brakes well, runs cool and has a firm, solid suspension. It emits a puff of smoke on startup but none once underway. The inline six produces plenty of power, the car is equally at home on the freeway as it is around town. You'll like the way this car runs and drives.

Lots of nice original details throughout, there's no substitute for a low mile car. The undercarriage is all original, still showing the cosmoline treatment from the factory. Never hit, never rusted, this is what a W108 undercarrige should look like. Clean and dry underneath, still showing the factory inspection marks in many places. Sills and jack points are all solid. Body-color wheel wells are all in fantastic shape. With each passing year, cars like this are becoming harder to find. This car is a prime example of what happens when Pride of Ownership meets Mercedes Build Quality.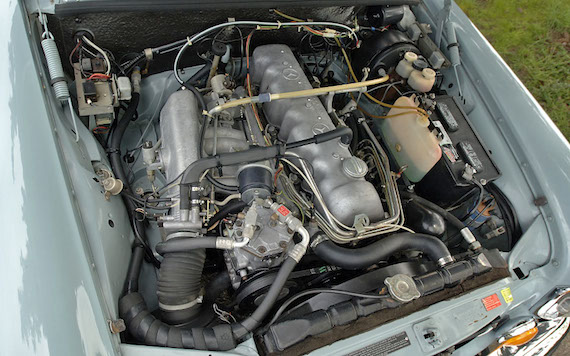 A big attraction of this car, for me, is the fact that it has the injected 2.8 liter inline-6, which, if you are going for fairly affordable running costs, is a good choice. The color is a bit uninteresting, but it certainly doesn't offend, either. Those who have driven these W108 sedans know how remarkably modern they drive, having conveniences such as fuel-injection, disc brakes, power steering and (most) including a 4-speed automatic transmission. A W108 sedan like this in average condition is an attainable classic, but this one looks to have the right stuff to bring the big money. The upper range in values for these cars is around the $20,000 to $25,000 mark and I wouldn't be surprised if it brought all that and then some.
-Paul