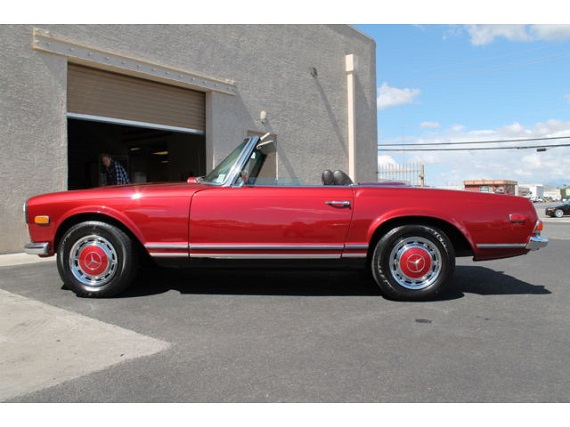 They say beauty is in the eye of the beholder. But I think few would have trouble seeing the beauty in any vintage Mercedes SL Roadster. I'm certainly not the first to say it, but there is something about these cars that transcends basic automotive design. They almost move into the realm of fashion becoming the ultimate accessory, but even for those who may not care about the adoring looks of others I think we can sense just what is so captivating about these cars. Like an E-Type Jag the design seems perfected from the start and all later variations continue to pay homage to that design, even if those later variants are never quite as pretty. They are complex, but also beautifully simple. The example we see here is a beautiful Burgundy Metallic 1971 Mercedes-Benz 280SL, located in Las Vegas, with a stated 11,116 miles on it, though that may be the mileage since its restoration.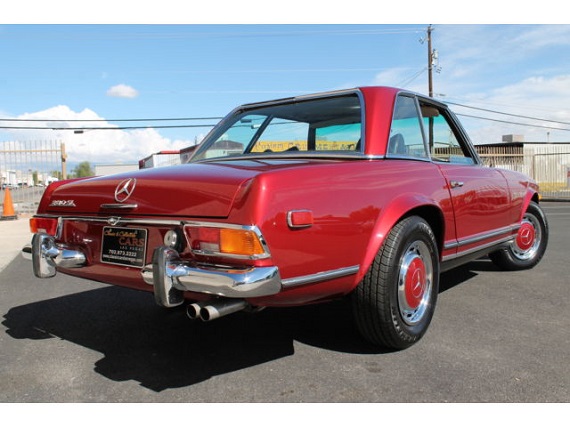 Year: 1971
Model: 280SL
Engine: 2.8 liter inline-6
Transmission: 4-speed automatic
Mileage: 11,116 mi
Price: $69,500 Buy it Now
1971 Mercedes Benz 280SL Roadster

We are proud to offer this stunning 1971 Mercedes Benz 280SL Roadster. These are the RAREST and most sought after of the pagoda SLs. This example was brought to us by a local private owner. He states the car was restored in 2005 but with very few miles since completion. It was only used for his Las Vegas vacation home.

The body was completely stripped and finished in a gorgeous red/burgundy metallic. The paintwork is of exceptional quality. The finish and panel fit are excellent. Most all exterior trim and bumpers were either restored or replaced. All weatherstripping was also replaced.

The interior is a combination of well preserved original and new components. The seat upholstery and door panels are original while the carpets and dash wood have been replaced. It has an older chocolate brown convertible top. The hard top is excellent and painted to body color.

He states the engine was rebuilt as part of its restoration. Custom, more efficient air conditioning was added. The engine and compartment are very clean and well kept. The car is in excellent running and driving condition.

Please take a look at the extensive, detailed photos we have posted. You will see how beautiful this SL truly is. It was built to drive and enjoy, not for the Mercedes perfectionist. It's reserve is reflective of that and is priced no where near the $100,000 plus examples seen on eBay and other forums.

As I am sure you know, the values for pagoda SLs are on the rise. We have placed a very realistic reserve on this example. The owner is not currently looking for any trades.

I am open to an offer prior to the end of the auction.

For more information please contact:

Mike Nicholl

(702) 873-2222 showroom or (702) 768-7245 cellular/text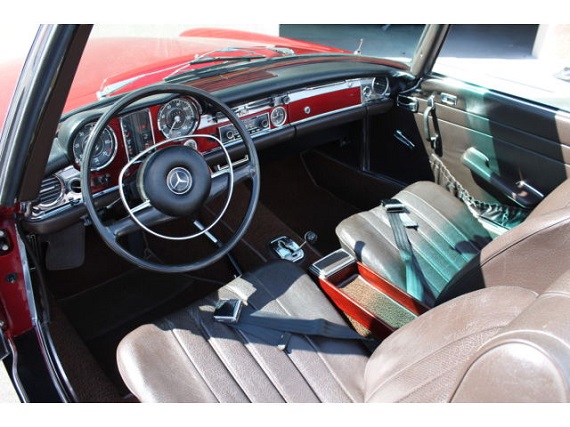 This is a car of contrasts: the Burgundy Metallic exterior looks wonderful, but the dark brown interior wouldn't really be my preference. A lighter brown or even just black would probably work better. The dark brown doesn't look bad, I'm just not sure it provides the right accent to such a vibrant exterior color. I could definitely see this turning a lot of heads cruising down the sunny streets of Las Vegas. Values for the Pagoda have continued to trend upward, though we see a pretty significant gulf between the very best examples and those with even minor flaws. This one, while not inexpensive, is priced somewhat reasonably and assuming it checks out in good mechanical condition should be fully capable of providing some delightful open-top cruising.
-Rob