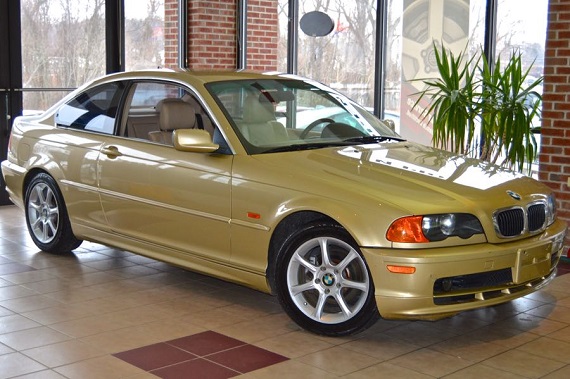 Sometimes it's not the performance of a car that catches my eye; case in point, today's bottom-of-the-E46 range for the U.S. market 323Ci. The budget entry, these often seemed to be snapped up by junior executive types that wanted to say they owned a brand new BMW, but couldn't actually afford a brand new BMW. Yet that's not the car's fault, and it's a lovely design. For a budget coupe with a fair amount of practicality and a special feel, the 323Ci works just fine. This particular car is presented in rarely seen Light Yellow Metallic and is interestingly optioned with Sport Package and little else: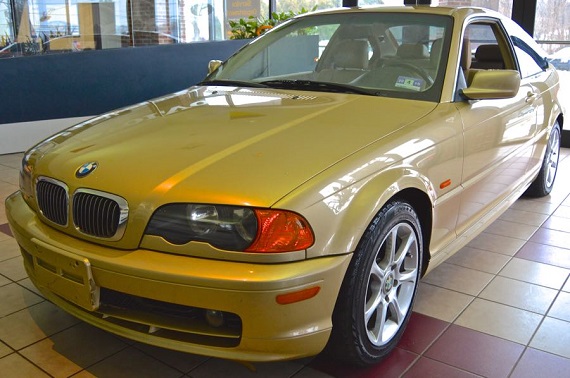 Year: 2000
Model: 323Ci
Engine: 2.5 liter inline-6
Transmission: 5-speed automatic
Mileage: 121,505 mi
Price: $6,995 Buy It Now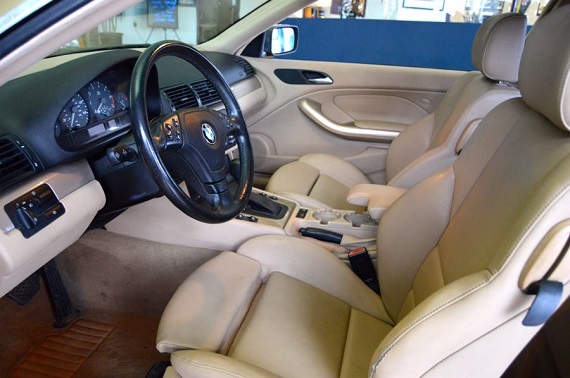 We are pleased to present this absolutely beautiful 2000 323Ci. This car is very unusually optioned and features no packages except the desirable sport package which gives it an exclusive sport tuned suspension, sport seats, sport steering wheel, variable-assist power steering and more. This car has spent nearly its entire life in Arizona and is 100% completely free of rust absolutely everywhere. On top of that, it is an incredibly rare special-order color called "Pale Yellow Pearl." It also features extremely low mileage for the year at just 94k.

The interior of this 323Ci is in very, very good condition. It has Sand leatherette heated seats. The upholstery is in flawless condition with literally no wear showing anywhere. This is fitted with the sport seats, which are very supportive and have extendable leg bolsters. The hand brake lever is leather-wrapped, as is the steering wheel and shifter. The car has an aftermarket Sony audio system which features a CD Player along with an aux input. The previous owner of this car was definitely a non-smoker. There is a cup holder that accommodates two beverages and two unused ash trays. This BMW has dual front airbags, as well as front side airbags and HPS curtain airbags. The cargo area is very generously large for a car of this size and can accommodate more than a weekend's worth of luggage easily. Because the car doesn't have the premium package, it has really nice painted interior trim rather than wood which gives it a great sporty appearance. It also doesn't have a sunroof which not only makes the body more rigid, but makes for more headroom in the interior. It is ideal for taller drivers and also improves handling overall. Of course, you don't have to worry about sunroof leaks either.

The exterior of this 3 Series is in stunning condition and has very very few dings, and very very few scratches. It is very rare Pale Yellow Pearl in color which I've actually never seen in person before. It's the main reason I sought out this car to offer here on ebay. I just love rare colors on cars. The car has Sport Edition 16″ alloy wheels which are in good condition. As was mentioned before, the exterior is in fantastic condition and the rare paint job is all original and looks fantastic. The previous owner debadged the model emblem on the trunklid, however it is included in the glove box if you'd like to put it back on the car.

The tires have very good tread life remaining. The brakes are in good shape and the car stops as it should. The legendary BMW Inline 6 cylider engine runs flawlessly and is very smooth. The transmission also operates properly. The car has traction and stability control which make this a truly usable car in the winter. It's very smooth, while still shifting crisply. These cars are known for being mechanically reliable. This 3 Series has a fairly recent Pennsylvania State Safety and Emissions inspection — one of the most strict vehicle inspections in the country. We are a Bosch Car Service Center, and all of the cars we sell go through two multi-point inspections. One at the time of check-in when we receive the car, and the other just before the new owner takes delivery. This ensures that we are maintaining a high rate of quality and that our cars are precisely as represented.

This car includes a 3 Month 4500 Mile powertrain warranty at no additional charge. The warranty can be used at any repair shop in the United States, no matter where you live. This warranty covers the engine, transmission, and drivetrain. This is in place in order to provide peace of mind when purchasing a car via the internet. Additionally, this warranty can be adjusted to cover nearly every component on the car, and can be extended up to four years and unlimited mileage. Contact us for details on this affordable upgrade in coverage.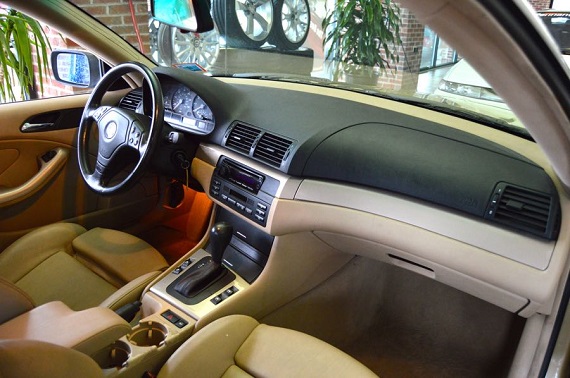 There was a subtle change in the front end of the E46 over its life span; the M3 kept the downward swept front corner lights, while later non-M coupes switched to upward swept. It was something I never really liked in the late non-M cars, with the early coupes always looking a bit more appealing to me. This car really has some interesting options – or, lack thereof. The Sport Package is certainly nice to see with manual sport seats, but it's odd that it's paired to an automatic. No sunroof and lack of other luxury options should mean this was a pretty light E46 you'd expect to be paired to a minimalist-approach manual. It's generally clean but not exceptionally so, with scratches visible all around. That makes the price seem all the more optimistic at nearly $7,000. Perhaps if the car was a manual it would demand close to that amount, but odds are with the automatic this 16 year old stripper Coupe has pretty limited appeal.
-Carter