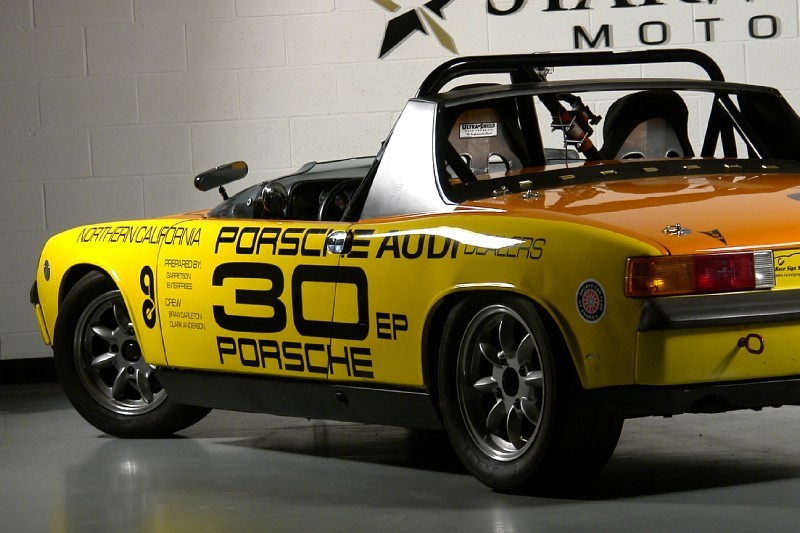 No, you're not on the wrong day; it's Sunday, and I'm reviewing a race car, something I'd usually leave until Motorsport Monday. But with "V8 Week" upcoming and time running out on this car's auction, it was too good to not write up – plus, we have something special for you tomorrow. While in the past I've focused on some big dollar 911s, today we're looking at a much more affordable to buy and run 914. For a long time unloved by most of the Porsche crowd, in race trim the 914 is a solid performer and hearkens back to a time when you had to drive the car yourself rather than relying on computers to do the heavy lifting. Better yet, without relying on the power of it's bigger brethren to drag it out of corners, the 914 is a fantastic platform for you to better yourself as a driver. Like the Martini Racing RSR replica I wrote up last week, today's 914 is a recreation of a more famous race car, this time the Richie Ginther 914-4 race cars built for West Coast Porsche and Audi: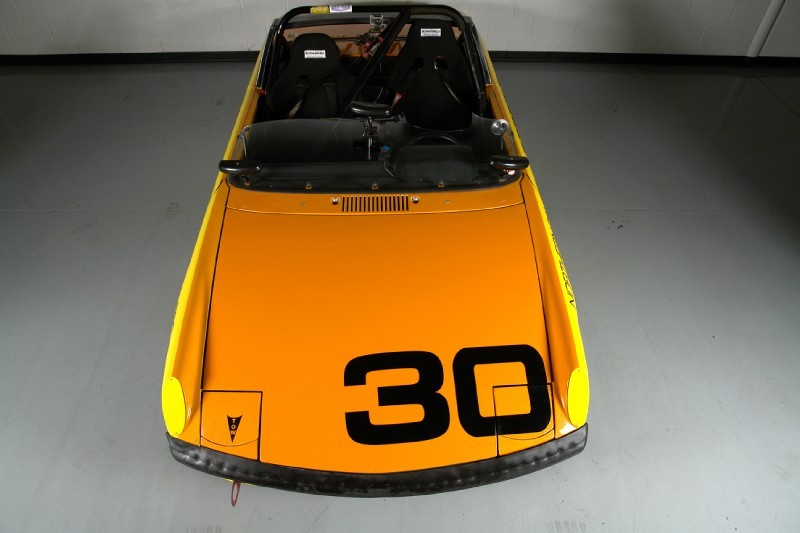 Year: 1971
Model: 914
Engine: 2.0 liter flat-4
Transmission: 4-speed manual
Mileage: "500" mi
Price: $49,888 Buy It Now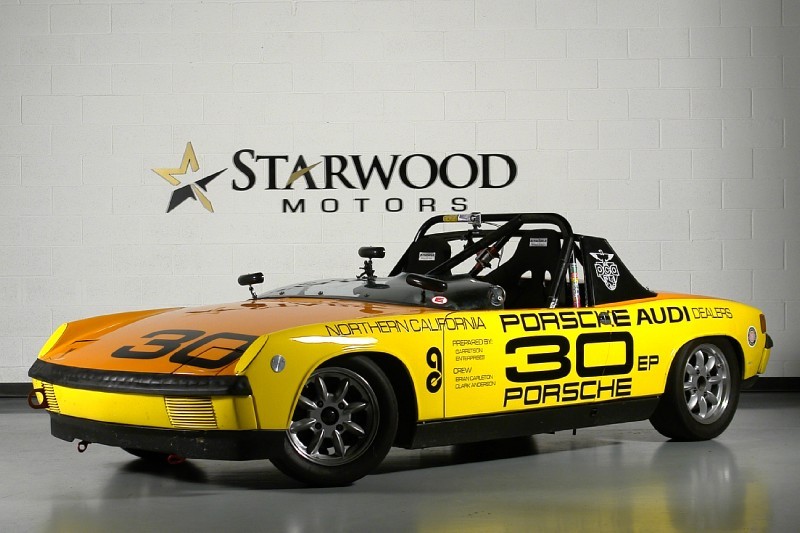 1971 Porsche 914-4 Race Car

Chris Campbell Moore ccmoore@starwoodmotors.com 214-367-5437 Direct 469-222-2507 Cell

Super Nice, Ready to race, Porsche 914-4, with 20′ Trailer, and custom Pit Bike!

Super Nice, Ready to race, Porsche 914-4, with 20′ Trailer, and custom Pit Bike!

Super Nice, Ready to race, Porsche 914-4, with 20′ Trailer, and custom Pit Bike!

Get a racing suit and helmet, and racing shoes and head to the track and race it!

ITS READY!!!

This is not just some modified street car, there were 7 hulls gone through, reinforced control arms and shock towers, cool shirt assembly included!

E/P Porsche 914-4, faithful replica of one of the 3 Ginther cars built in 1971.
CVAR Log Book (Corinthian Vintage Auto Racing)
A Total rotisserie restoration, Built, prepared and maintained by Jones Autowerks of San
Antonio. 1 race on fresh motor, long & short track 901 Mag case gear boxes with Guard limited
slips, 3 sets of wheels and tires, new rains, race track spares, second seat, AIM GPS timer, cool
shirt and on and on. 2.05s at Texas World Speedway
The car is 100% authentic and 100% legal

Custom Ruckus pit bike

Description:
This is a total ground up rotisserie restoration starting with a rust free car built as a faithful replica as one of
the three cars Richie Ginther built for the west coast Porsche/Audi Dealers. I was able to locate the driver of
the #30 car Dwight Mitchell. He has been very helpful with information and photos about the car.
The car has been prepared under the SCCA 1972 rule book and has a current Corinthian Vintage Auto Racing
Assoc. log book. The car was raced for 1 ½ years and it has been serviced, checked and ready to race. Every
part on this car is new, rebuilt or restored.
This car was built from the ground up to be the best possible 914-4 race car on any track.
Performance Data:
• The car runs in E/P
• Weight less fuel and driver is 1864 lbs.
• Best time at Texas World Speedway is 2:04.53
Engine:
• Built by Jones Autowerks of San Antonio Texas
• 2 liter, 4 cylinders, highly modified 40mm Solex carbonators
• JE Custom pistons, Power Rods, Mallory Unilite Distributor
• Duel Setrab twin fan oil coolers and the stock oil cooler
• Heads and manifolds are highly modified as is the oil system
• The motor also has an Accusump and a 6AL MSD with Rev Limiter
• 50 amp single wire alternator, Braille battery
• Horse power and motor modifications will be covered with a serious buyer
Transmissions:
• 2 901 5 speed Mag case transmissions both with Guard limited slips
• One is set up for long tracks, one for Short tracks
• WEVO transmission mounts
• Highly modified J West shifter
Body Tub:
• Totally soda and glass bead blasted
• One very straight rust free donor car
• Steel bumpers, and valances, fiberglass spoiler
• Jerry Wood drop link and tie rod ends, 10 lb. Halon system with 3 spray heads
• Smart Racing front bar, Raised rear Suspension towers with spherical bearings, rear pick point
reinforcements with heim rod braces
Other:
• Tangerine exhaust system, reinforced chassis, 4130 roll cage done by Brink Racecraft of Irving Texas,
• Trailing arms rebuilt, chassis reinforced with parts from Tangerine Racing
• All disk rotors are lighten and cryogenically treated
• Windshield made from the original plug used to make the Ginther windshields
• Rennline pedals, dead pedal, floor pan, 8 gallon fuel cell
• AIM GPS lap timer, MSD shift light
• Removable steering wheel, cool shirt box, Instructor seat removable

Also includes a very nice 20′ fully equipped trailer including an air conditioner, electric tongue jack with battery, built in
cabinets and more. Winch as well, aluminum jack stands full set, fuel jugs, trailer spares X 2.

The Trailer is a Continental Cargo, Auto Master

Total length is approx 24.5 long and width 8.5 wide.

Inside storage is about right at 19' total length and there is room for the Honda Ruckus!

I have tons of receipts for everything that has been done to this car. Old photos of the cars it replicates from the 70's, All maintenance records from day one. Its ready to race right now, the motor is still fresh, only has a few races on it. And it is a fun and fast car to drive. Set up better than any Porsche 914 out there!

Please contact me with any questions.

A little about Starwood Motors, We are a full service, licensed dealer in Dallas, TX. We ship worldwide via fully insured carriers. Call, email or text me today.

Chris Campbell Moore ccmoore@starwoodmotors.com 214-367-5437 Direct 469-222-2507 Cell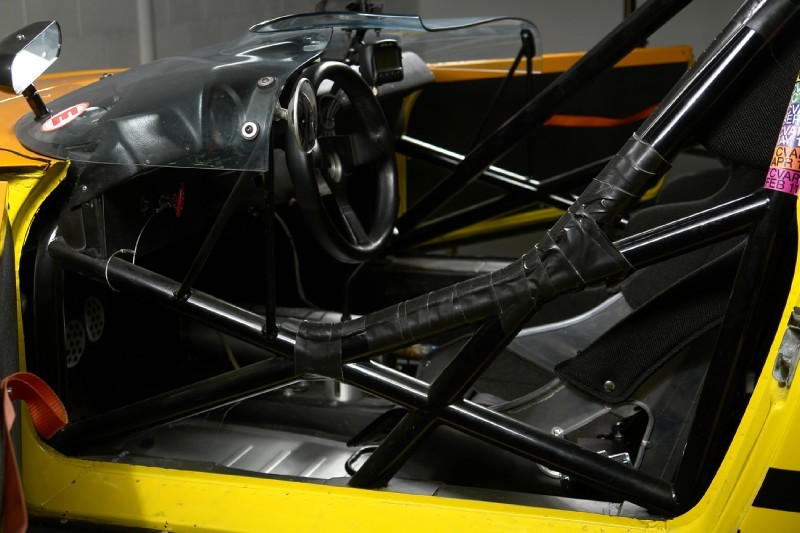 This car is the one to buy, with a full restoration already done. The correct race pieces have been fit, and this car will certainly hang with the competition. I think it looks awesome in yellow with the period graphics that we saw on everything from the 914 through the 917-30. But what really sets this car apart for most race wannabes is the full package; race car, enclosed trailer, and pit bike are all included in the purchase price. As a package then, all you need to show up with is a tow vehicle capable of taking your personal race team with you. I think this car looks fantastic, from the Panasports to the windscreen free profile. As complete packages go, this seems like a pretty reasonable deal. Yes, the car and trailer do show some wear, but you'd be hard pressed to recreate this package for less than the asking price, and you'd save yourself a lot of headaches and time not trying to reinvent the wheel.
-Carter