Skyrocketing prices of E30 BMW M3s has grabbed the attention of car enthusiasts around the globe and has people wondering what other compact sports sedans are out there in Bimmer land that could be had for more reasonable sums of money. The 2002tii is about as good a place as any to start. Of all the 2002 models, perhaps the one most beloved is the early 2002tii with the round tail lamps, affectionately nicknamed "roundie" by BMW connoisseurs. This 1972 roundie is a California car and has covered an impossibly low 69,000 miles throughout its life.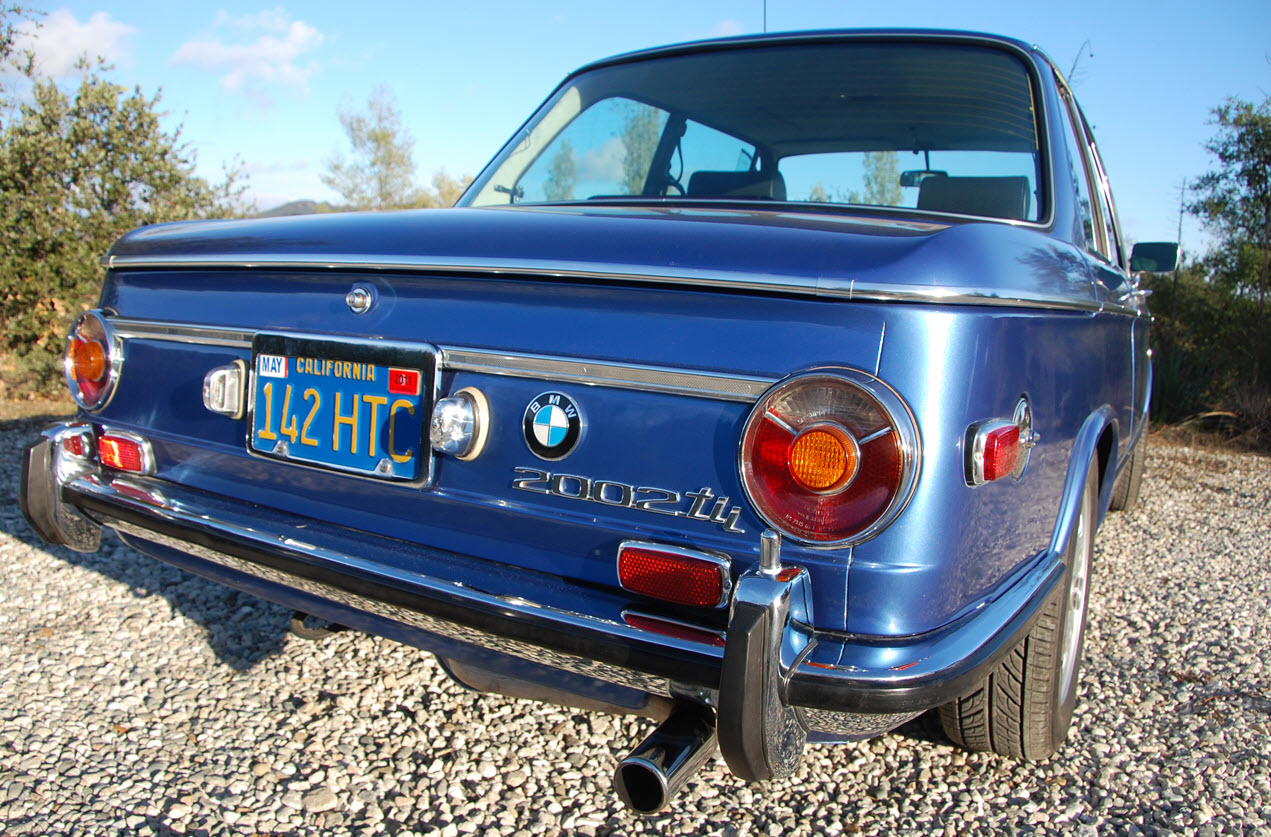 1972 BMW 2002 Tii

69,000 documented original miles
3rd owner
Originally inka orange, top-quality repaint in Ferrari blue by 1st owner
Absolutely zero rust (car has lived in L.A. all its life)
Mild suspension updates, handles superbly
Mild engine updates, pulls strong
Mechanically excellent except slight weakness in 3rd gear synchro
Interior perfect except for 3-inch crack in dash and slight stains in headlines (have brand-new one in box)
Lots of service records plus original books
New tires
Freshly serviced
Attention-getter and a blast to drive
Ready for show, weekend drives or investment

I received many questions over the last five days and would like to summarize and expand on them in the interest of full disclosure. First, if you are a prospective buyer, PLEASE contact me with any and all questions and concerns BEFORE the auction closes. 310/455-2081 is my home number. Better yet, come and inspect the car, call the restoration shop where it's been serviced for the last six years, or use a third party inspection service.

I'll start with the history of the car:

This Tii was a European delivery car, which, on February 26, 1973, was shipped from Bremerhaven to Los Angeles. I have all the original paperwork in mint condition, including the German Fahrzeugschein and Versicherungspapiere, the bill of lading, correspondence between the BMW factory, Hoffman Motors (the importer), Adolf Brauns (the shipping company) and the owner. According to those documents, the car was painted Inka Orange with the following factory options: power brakes, reclining seats, sunroof, tinted glass, heated rear window, limited slip diff., Michelin XAS tires, torsion bar stabilizers, tachometer, chrome exhaust pipe tip, bumper guards. Among much other documentation, I also have the original owner's manuals including manuals for the Schiebedach, seat belts, etc., all in mint condition.

In 2000, the engine and suspension were "street-prepped" (Mahle pistons, Kolbenschmidt bearings, all German parts, ported and polished head, TEP 284 degree cam, lightened flywheel, sport clutch, MSD ignition, headers, turbo tube presilencer, lowering springs, negative camber, etc.) by Far West Marine in North Hollywood at the cost of $9,874. While the drive train was out of the car, the entire car was stripped, rechromed and repainted with three coats of Monaco Metallic Blue at the cost of $4,376. In 2001, the first owner had a $1,400 Nakamichi sound system installed. It may not have all the modern bells and whistles like BlueTooth etc., but the sound is stunning. Beethoven's 9th has never sounded this good!

During my ownership, the following items and more were replaced with rebuilt or OEM parts: water pump, fuel pump, clock, cold start relay, alternator, muffler, timing belt, battery, regulator, motor and transmission mounts, strut mounts, drive shaft coupler, flex disc and a gaggle of gaskets, seals, bushings and other service items to the tune of ~$7,000. There is absolutely nothing mechanical that the car needs other than the previously-mentioned slightly weak 3rd gear synchro.

Now for its few cosmetic flaws: As mentioned earlier, there is a ~3" crack in the dash. Please see the photo below. There are a couple of nicks in the paint. One is about 1/4" diameter spot where the paint flaked off (no damage to the metal). The other is a duo of parking lot dings next to each other, one a vertical dent less than 1" long (no paint damage), the other a 1/4" dent with maybe 1/8" paint missing. The latter were hard to photograph. Please see photos below. While the car looks absolutely beautiful, you will be able to find slight imperfections here and there.

Summary: This is a very original, very unique and well-documented car that had three fastidious owners and is sure to appreciate. It has always been in California and there isn't a speck of rust on it. I have received countless compliments on it, and it is an absolute joy to drive. I have no doubt that the new owner will be delighted with his/her new acquisition!
I'm not sure if I would have changed the color from Inka Orange to blue, but the quality of the paint job looks good and the car has had a number of mechanical upgrades which make this a car you could use regularly, if the new owner had the nerve. A good tii will set you back solidly in the middle of the $20,000 range these days, with the roundies being valued higher than their later brethren festooned with crash bumpers. The very best examples of the earlier roundies will reach into the $30,000 range. While this isn't the most original or most perfectly restored example, I'm pretty certain with the bidding activity already seen that this car has a good chance of hitting the $30,000 mark.
-Paul