I never get tired of talking about the W126 Mercedes-Benz S class here on GCFSB, mainly because they are one of my favorite Teutonic cruisers from an era where engineering ruled the day at Mercedes-Benz. They were employed in a multitude of ways, from taxis to limousines to vehicles for heads of state. This short wheelbase 300SE for sale in Florida has 80,000 miles on the clock, which is just broken in for one of these beasts.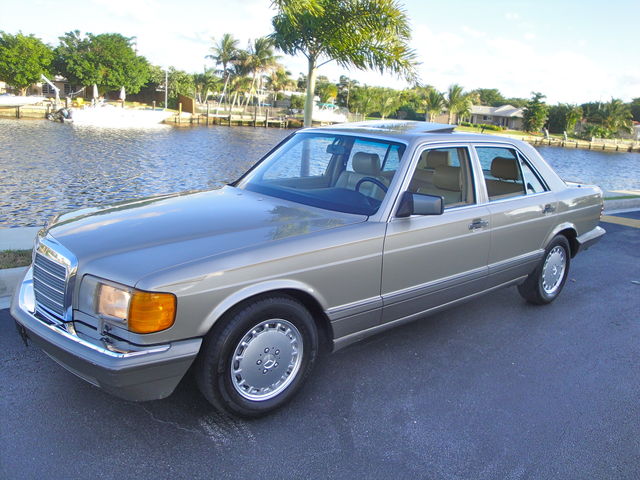 This is a fantastic 1990 Mercedes-Benz 300SE which is incredibly hard to find this nice with only 79,904 original low miles that has been kept in above and beyond condition. Rarely will you see an older vehicle so nice with such low miles and one that drives so good. Everything works perfectly including the cold air conditioning, cruise control and vacuum systems. The exterior is gorgeous and aside from a couple of small chips on the rear bumper and some of the panels the exterior is awesome looking. The interior is even nicer showing a vehicle that belies its age. No cracks in the dash. Trim that looks amazing and overall incredible shape. There is one small tear on the door post (pic) but that's it. The rear cap looks amazing and overall I do not think you will see many other vehicles of this age this nice. If your looking for that needle in the haystack then do yourself a favor and call me. Please note that the brake light is on and this is being caused by the emergency brake pedal needing adjustment and this has been taken care of by us and is now repaired.
For under $6,000, there are few cars out there which come to mind that would not only last the test of time like a W126 S class, but give the impression at first glance that you spent a lot more than you did. The W126 is one of my bucket list cars and unlike some, I'm more partial to the short wheelbase six cylidner variant. If I was in the market today, this particular car would be on my short list. Even factoring in maintenance and repairs over time, a car like this would be worth the investment. These are not just another luxury sedan. They are a durable good.
-Paul