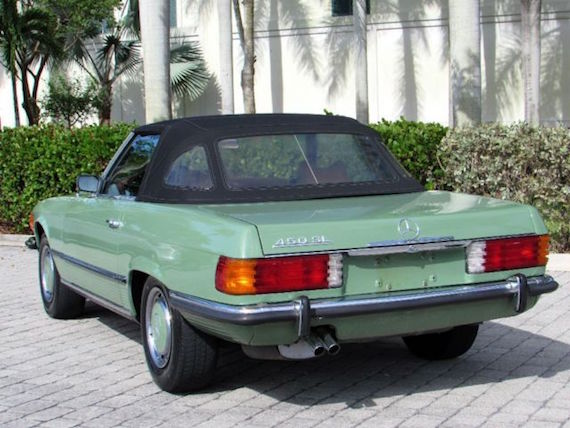 When the R107 SL first debuted, few could have imagined this roadster would have lasted in production for another eighteen years. This transformative roadster placed more emphasis on comfort and luxury than "sport and light" as its predecessor, the W113 had. Somehow, though, the R107 struck a chord with buyers and became a symbol of status and upward mobility for years to come, appearing prominently in television series and movies alike. This 1972 350SL represents the very beginning for the R107, painted in a rare hue of Reed Green with matching hubcaps, complimenting the early, slim bumper look quite nicely.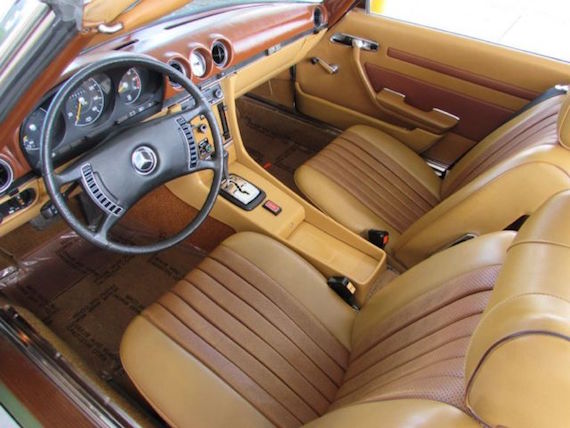 Year: 1972
Model: 350SL
Engine: 4.5 liter V8
Transmission: 3-speed automatic
Mileage: 72,230 mi
Price: $19,950 Buy It Now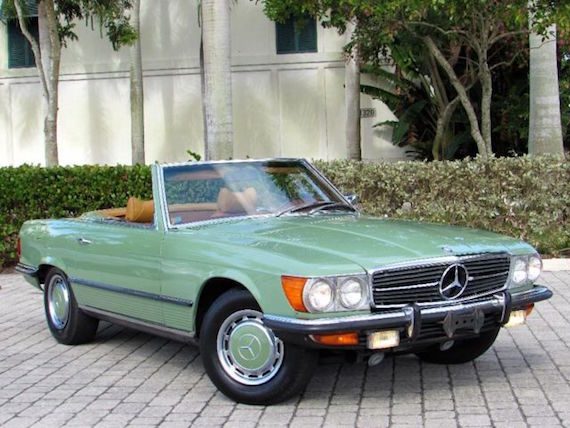 1972 Mercedes-Benz 350SL Roadster Convertible
4.5L V8 3-Speed Automatic Transmission

!! Excellent Mileage !! ONLY 72,230 MILES !! Non-Smoker !!

Reed Green Exterior – DB860
Two-Tone Brown Vinyl Interior

!! The Ultimate Top Down Boulevardier !!

It's not everyday that one gets to drive a legend. With a lineage of design and production longer and more distinguished than that of most other products of fine auto makers, the SL design owes much of its character to the carefully crafted and race inspired SLs which have fostered the mystique of Mercedes automobiles for generations. The one-year-only 350SL was a total makeover from the Pagoda cars of the 1960s. It offered V8 power, plenty of options, a refined design and interior. They were indeed cutting edge, as SLs always have been.

!! It spanned 18 model years in the United States and abroad without body panel changes of any kind. !! Since the 1950s, the SL designation represented "Sport" for S, and "Light" for L. !!

As it can be said with most makes and models, the first year of anything has certain importance, especially if it remains well-preserved and indicative of the manufacturer's original design and intent. The 1972 350SL offers purity of an original design and a new beginning. The example offered here is a very nice and mostly original 1972 Mercedes-Benz 350SL roadster. An extreme rarity, this 350SL has lived a privileged life of care and enjoyment.

Finished in a rare, Reed Green exterior with well cared for Two Tone Brown vinyl interior, this increasingly uncommon icon of the early 70's is well equipped with an excellent condition Black soft top and removable hardtop. The 4.5 liter V8 is matted to a smooth shifting 3-Speed Automatic transmission with just over 72K miles. Present are books, tool set, steel spare tire and the original jack. The Becker radio is still equipped and operational. A/C blows cold. Interior condition is superb for a 43 year old vehicle, no foul odors, Non-Smoker. No rips, tears or cuts in the seats. Carpets look brand new.

!! 14″ Pressed Steel Disc Wheels w/Matching Reed Green Full Wheel Covers Wrapped in Michelin MXV Radials All-Around !!

The "350" designation all U.S. 107s wore for the first model year was technically inaccurate, since it did not reflect the 4.5-liter V8 under hood. What it did represent was a 3.5-liter V8 created for European models, and Mercedes-Benz's desire to maintain name continuity among continents. It has been reported a short-lived bulletin from Mercedes headquarters in '73 directed dealers to replace 350SL badges with 450SL ones on any '72 models that came in for service.

!! 4 Keys !! Owners Manuals w/Case !! Various Literature !! Becker Audio Manuals !! 2-Piece Factory Floormats !! Hard Top !! Convertible Top Hardware !! Temporary Steel Spare Tire w/Jack and Tools !!

All things considered, this 107 presents a unique opportunity to acquire a well-kept Mercedes-Benz SL that is on the cusp of being a true collector car. Original books and manuals, finished in handsome colors and offered with both of its tops put this 107 in a category all its own.

We believe that a picture is worth a thousand words, so we have included nearly 100-Pictures so you can judge for yourself the condition this beautiful 1972 Mercedes-Benz 350SL Roadster Convertible is in.

!! Please call today for a complete and detailed walk around with one of our staff over the phone !!

All that's missing is you in the drivers seat, call us now and lets deal on this excellent luxury vehicle. We welcome pre-buy inspection of all units.

– EXTENDED WARRANTIES AVAILABLE AT UNBEATABLE PRICES –

YOU DO NOT HAVE TO WAIT FOR THIS AUCTION END! IF THIS IS THE CAR YOU'VE BEEN LOOKING FOR, CALL RON TODAY AT 239-910-1258 or DONNIE AT 239-603-3368 AND HOLD IT WITH A DEPOSIT! WE END AUCTIONS ON A DAILY BASIS!!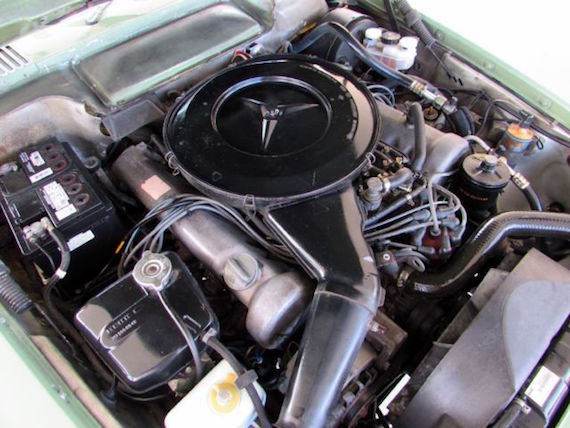 While I tend to lean more towards later model R107s, especially the 300SL, this 350SL is catching my eye. It's rare color and slim bumpers in conjunction with its early model status helps it stand apart. It's a nice, clean look and presents an opportunity to get into an R107 at a lower cost than what a late model 560SL will run you these days. In most cases, the very first and very last of a production run will tend to bring strong values. I'd suspect an SL such as this has a strong possibility of increasing collectability and value over the next decade.
-Paul