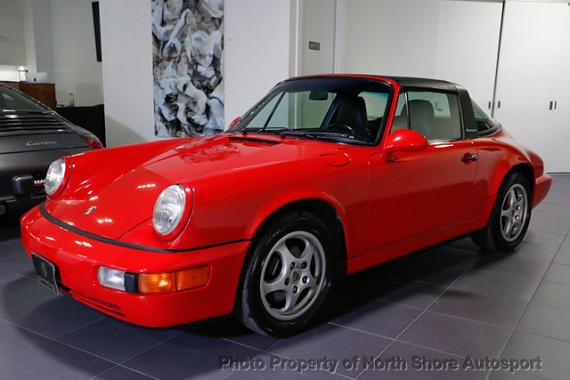 I became somewhat irrationally excited when I came across this Porsche 911. I say my excitement was irrational simply because this is just a standard 911 in a pretty standard (even if quite popular) color. But I'm a fan of the Targa and we don't come across all that many for the 964. Targas tend to be a little bit unloved and, as was discussed with Saturday's Carrera 4 Wide Body, the 964 generally wasn't well loved when it was on the market. So maybe there aren't a lot of 964 Targas out there. Regardless, I was happy to come across this one and, better yet, it comes from the last year of 964 production, which also makes this the last year of the original Targa design for the air-cooled models. The 993 Targa was a different design altogether, one that I don't care much for, and it is only with the 991 that Porsche has returned to its original design. For fans of the original Targa this is as modern as an air-cooled example will get. Here we have a Guards Red 1994 Porsche 911 Carrera 2 Targa, located in Chicago, with Black leather interior and 79,313 miles on it.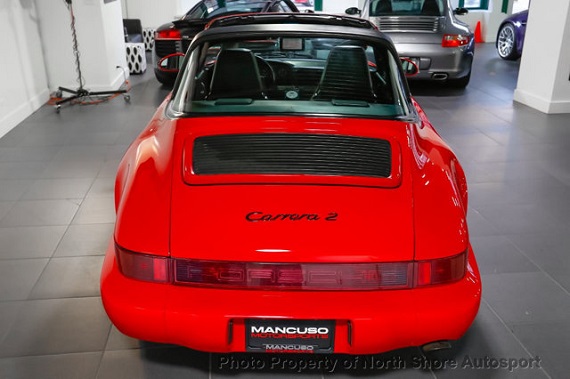 Year: 1994
Model: 911 Carrera 2 Targa
Engine: 3.6 liter flat-6
Transmission: 5-speed manual
Mileage: 79,313 mi
Price: Reserve Auction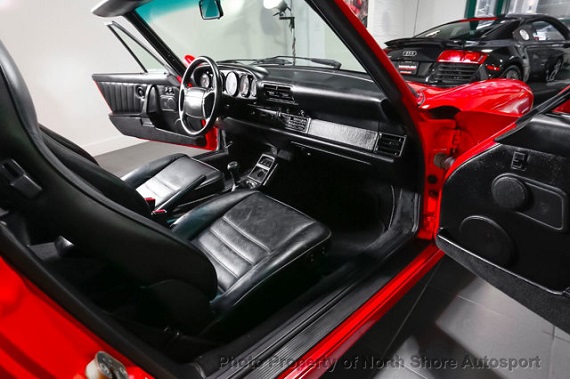 This is the last of the original Targas and one of only 20 brought to the US in 1994. Verified by Porsche with he full certificate of authenticity, it boasts it's originality. Paint work is minimal and only on the drivers door and bumpers. We have service records since new and this 911 had a factory replacement engine installed under warranty at 55k miles (see photos below). We also just performed a complete engine out service with a re-seal, complete tune-up, and new clutch kit. All belts were replaced, the tires are new and everything has been gone through or addressed. Most are unaware the Targa was even produced in 1993 or 1994 due to very low production numbers. Do not miss out on this rapidly appreciating 964 911.

call Frank @ (312) 884-1149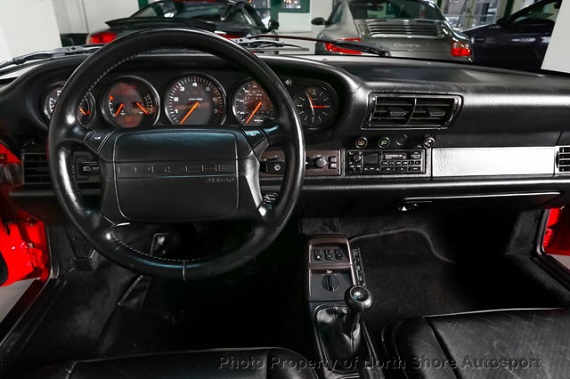 For the most part this Targa presents quite well. A little bit of wear shows on the seats, but it's nothing too out of line with the age and mileage. The exterior looks in very good shape. It also appears to come with a large amount of documentation of its history. All of that is a positive. The biggest negative in need of investigation is the engine. It was replaced at 55K miles, the reasons for which are unclear other than it had a knock. The good news is that documentation shows it was replaced by Porsche under warranty, so perhaps there is nothing to be overly concerned about here but I think it's still something worth consideration. Right now bidding sits at $41,100 with reserve unmet. Since I haven't encountered a lot of 964 Targas I don't have a good feel for their pricing, but considering this is a final year model bidding seems a little low compared to similar condition Coupes. While a lower price than most Coupes is to be expected I think we are still below even that threshold. Questions about the engine will naturally hinder an auction of this sort so we'll have to see where this ends and perhaps it will just take some time. Either way, I'm still happy to come across one of these and hopefully this one can find itself a good new home.
-Rob