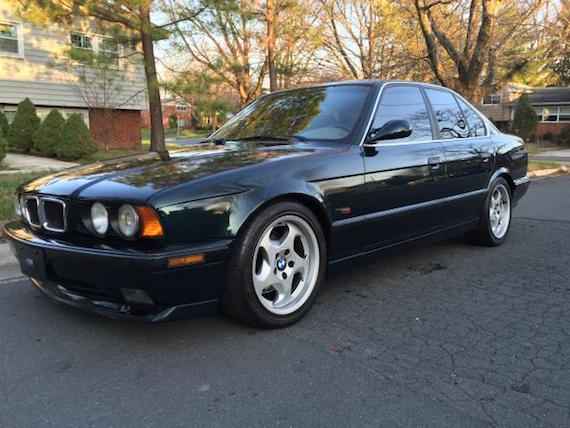 After the Japanese started an onslaught on the mid-sized luxury sedan sector in the 1990s, the Germans were caught a bit off guard. Sure, Audi had already introduced the V8, but it was aimed slightly higher up in the market than the BMW 5 series and the Mercedes-Benz E-class. Nevertheless, both BMW and Mercedes-Benz decided it was high time to jam an eight cylinder powerplant under the hood of their venerable mid-sized offerings. This E34 5 series would receive two V8s, a 3.0 liter and 4.0 liter. This 1995 540i M Sport represents the last year for the E34 but has been likened as an "M5 lite" by enthusiasts. Given that E34 M5 sales ended in 1993, it gave those speed freaks out there one last chance to get a fast five before the E39 would come along in 1996.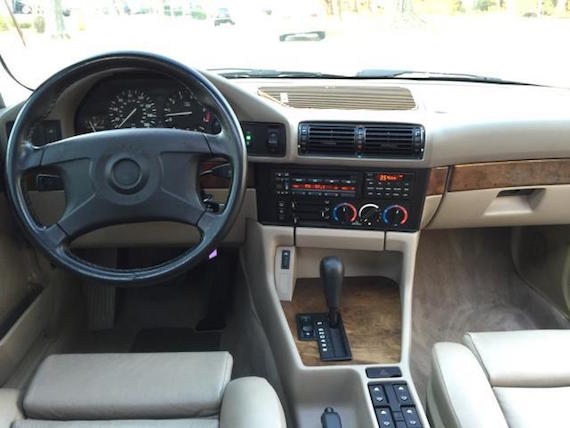 Year: 1995
Model: 540i M Sport
Engine: 4.0 liter V8
Transmission: 5-speed automatic
Mileage: 110,239 mi
Price: $7,400 Buy It Now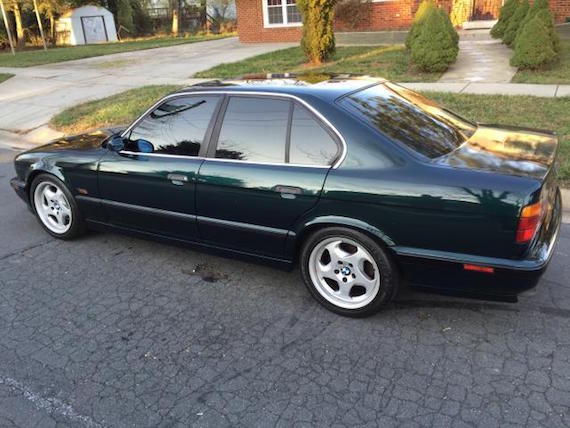 Up for sale is this ULTRA RARE 540i M Sport that is in EXCELLENT condition !!!

Only 200 Made in 1995 and 65 WERE AUTOMATIC

THIS IS ONE OF THE 65 !!

FOR THOSE WHO DO NOT KNOW WHAT THIS IS YOU CAN CHECK OUT THIS LINK www.kindel.com/bmw/m540_info.htm

IT WOULD BE VERY DIFFICULT TO FIND THIS CAR ON THE MARKET SO HERE IS A OPPERTUNITY TO OWN AND OPERATE THIS RARE VEHICLE

THIS IS A AUTOMATIC WITH A POWERFUL V8 ENGINE, ONLY 110K ORIGINAL MILES, DUAL POWER HEATED SEATS, SUNROOF, CD PLAYER, POWER STEERING WHEEL, 4 MATCHING MICHELIN TIRES WITH GOOD TREAD, FOG LIGHTS, PASSENGERS CLIMATE CONTROL, HEAT/AC, LIGHTED VANITY MIRRORS, VERY CLEAN INTERIOR THIS CAR IS LOADED !!!!!

I JUST HAD IT SERVICED AT ROSSI BMW IN SILVER SPRING MD ON 12-7-2015 NEW 02 SENSORS, NEW REAR INTAKE GASKET, AND A FRESH OIL CHANGE. DRIVERS WINDOW WORKS BUT MOTOR IS WEAK, NEEDS EDC SUSPENSION FIXED OR CONVERTED TO REGULAR SHOCKS, "WHICH IS THE REASON I HAVE THIS CAR PRICED RELATIVELY LOW", REAR VIEW MIRRORS NEED FUSE OR POSSIBLY MOTOR, AND LOWER DRIVERS SEAT SECTION IS LOOSE.

I HAD A COMPREHENSIVE INSPECTION DONE ON 12-11-2015 AT FOUR CORNERS CITGO IN SILVER SPRING MD. NO BODY RUST, COOLANT SYSTEM AND FLUID IS GOOD, BRAKES ARE GOOD, ENGINE IS STRONG!!, AND TRANSMISSION SHIFTS SMOOTH, NOTED SLIGHT SEEPAGE FROM VALVE COVER GASKET.

HISTORY: WE HAVE A CAR LOT IN WASHINGTON DC AND THE OWNER OF ONE OF OUR BODY SHOPS HAD THIS BMW FOR ROUGHLY THE PAST 5 YEARS. I HAVE WANTED IT FOR A WHILE NOW AND WE FINALLY TRADED IT IN FOR A JAGUAR THAT HE LOVED. I HAD THE INTENTION OF FIXING THE SUSPENSION, DRIVING IT FOR A WHILE AND RESELLING IT BUT I NEVER GOT AROUND TO DOING IT.

I HAD THE AC CHARGED, PUT A REGULATOR ON THE DRIVERS WINDOW AND HAD THE CAR DETAILED. AFTER THAT IT ENDED UP SITTING AT MY OFFICE IN SILVER SPRING MD FOR THE LAST YEAR. I HAVE DROVE IT HERE AND THERE AND START IT FREQUENTLY BUT NEVER FINISHED MY INTENDED AGENDA. I HAVE COME TO REALIZE THAT IT WILL PROBABLY END UP SITTING ANOTHER YEAR SO I DECIDED TO LET IT GO TO SOMEONE WHO WILL HOPEFULLY APPRECIATE AND ENJOY IT !

I CAN SEE A COUPLE OF AREAS HAVE BEEN PAINTED AND THE BLEND IN VERY WELL WITH THE REST OF THE CAR. ITS ONLY NOTICEABLE IF YOU COME UP CLOSE AND KNOW HOW TO TELL THE DIFFERENCE. MOST PEOPLE WOULD NEVER NOTICE. THE TRUNK AND HOOD HAVE AREAS THAT CAN BE BUFFED OUT TO BRING OUT A BETTER SHINE. SOME OF MY PICTURES REFLECT THIS. THE ONLY OTHER THING TO NOTE IS THAT THE ENTIRE CLUSTER WORKS AND HAS BEEN WORKING FINE, BUT AS I WAS DRIVING THE CAR LOCALLY ON 12-10-15, DAYS AFTER IT CAME FROM ROSSI BMW SILVER SPRING, I NOTICED THE MILEAGE SECTION WAS DARK. IT WAS DOCUMENTED ON 12-7-15 THAT THE MILEAGE WAS 110,328 AT BMW. I WILL PROVIDE THIS DOCUMENTATION WITH THE TITLE AND OTHER PAPERS I HAVE TO THE BUYER.

AUTOCHECK REPORTS 3 OWNERS AND CARFAX REPORTS A ACCIDENT ON 6-4-2005 AND I WILL INCLUDE THESE REPORTS AS WELL

DONT MISS OUT ON THIS RARE CAR !!!!!!

THIS CAR IS FOR SALE LOCALLY AND MAY BE SOLD BEFORE THE END OF THIS AUCTION
BUYERS WITHOUT PRIOR EBAY BIDDING HISTORY MUST CONTACT ME BEFORE PLACING A BID
WE DO BUSINESS WITH INTEGRITY AND TRANSPARENCY AND DO OUR VERY BEST TO DESCRIBE EVERY DETAIL THAT WE KNOW ABOUT AS WELL AS TAKING AMPLE PICTURES
WE VALUE YOUR BUSINESS AND ARE HERE TO ASSIST IN ANY WAY THAT WE CAN SO PLEASE DO NOT HESITATE TO CALL WITH ANY QUESTIONS OR CONCERNS
WE WELCOME BUYERS TO HAVE A INDEPENDENT INSPECTION DONE BEFORE BIDDING

THANK YOU FOR LOOKING AT OUR AD AND BID WITH COMPLETE CONFIDENCE !!!!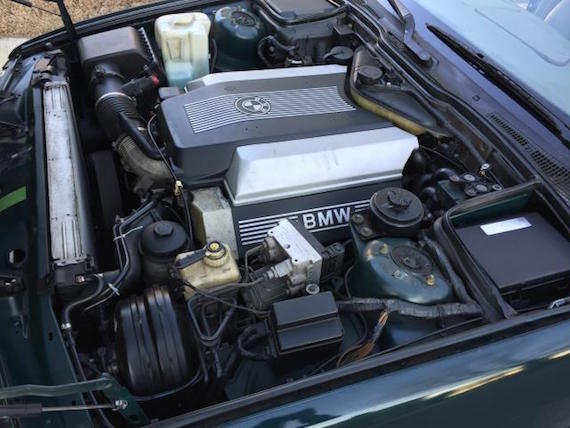 The glaring deficiency with this car is, of course, the automatic gearbox. However, for some, it might be a bonus, depending on if they are looking for a long range cruiser instead of a back road carver. There's some questions surrounding this car, including an accident reported which will require some further digging, but from the looks of it, it seems to be a fairly straight vehicle. With a little bit of bargaining, it would certainly be worth going to the effort of saving this rare E34.
-Paul