It's no secret I have a sweetspot for obscure German van and trucks which I then fantasize about having as an adventure/camping/towing vehicle. This weekend I went to the Going Away/Yard Sale Party of a friend who is getting rid of his apartment and most belongings to travel the country in an extremely clean and well-prepared 1986 VW Westfalia. How convenient that this Unimog came to my attention just after I drooled over the campervan life for a while.
The Unimog is one of the most capable vehicles on earth, and today's was made to fight fires WHEREVER they happened. A ton of the fire equipment remains, but I'm already seeing the bench seat as a bed and the amazing storage lockers as… well, as amazing storage lockers! It's only covered 16k miles and has been garage-kept since leaving its fire brigade in Austria.
Year: 1972
Model: Unimog Firetruck
Engine: 5.7L Diesel Inline-6
Transmission: 6-speed Manual (20 ratios available via cascade box, and all gears available in reverse!)
Mileage: 21,000 kilometers
Price: Currently $20,110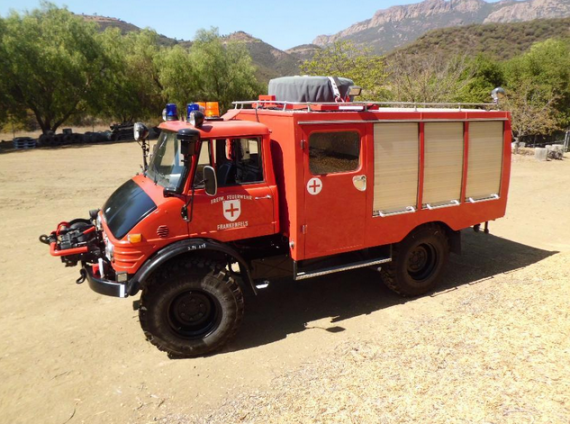 1972 Mercedes Unimog 416 Diesel 21000 km, "Garage Kept "!!! Look at the incredible original paint and overall condition. Good luck ever finding one this clean ever again! OM 352 Diesel motor 6-speed transmission with Crawler gears Standard axles with drum brakes.It has a two speed PTO for the front winch, factory front hydraulics and it has the original factory tool set and jack. I am the second owner of this 416 which has been garaged since new. The truck came from an Austrian fire rescue squad. Since I purchased the truck I have installed new tires including spare on the original rims which were bead blasted and powder coated gloss black. The spare tire carrier was custom built and powder coated.

The radiator was boiled and pressure tested and installed with all new belts hoses and thermostat and the proper diesel coolant was installed. All fluids were drained and re filled with factory correct gear lube. Fuel filters were replaced with Mercedes parts. Oil is changed each year with Mercedes filter. The truck always starts immediately and runs very well, all lights work, has factory horn and added air horn, CB radio with PA system. Original Mercedes winch is in excellent condition with no use on the original cable. Original Austrian Title that was delivered with the truck when purchased new. The truck is registered with clear CA title. If you have any questions ask before you bid. The truck weighs 10,000 lbs. if you are looking for shipping quotes.
CB, PA, PTO, winch, a million toggle switches I don't understand… this thing has more options than an S-class. It would be interesting a collector's item, but it would be awesome as a camping machine or racing support truck. Considering how much Westfalias go for these days, if you feel like being the king of the road and trail, you just can't go wrong with a Unimog.
-NR