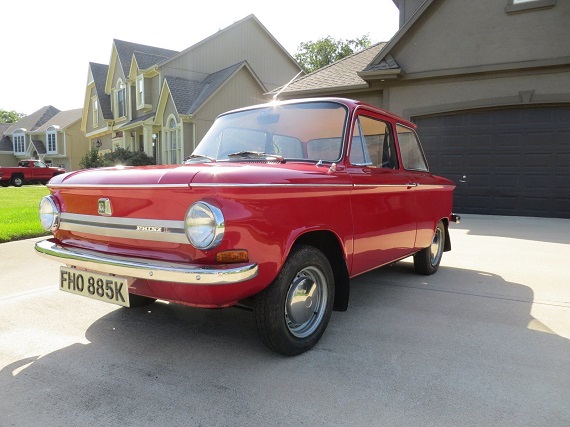 While I usually try my best to focus on bang for your buck cars, today's 1972 NSU will have difficulty fitting in to that category. It's not that superminis aren't valued as there are many who highly prize and collect the diminutive car class. But I'm talking about literal bang, or lack thereof. At 30 horsepower, the .6 liter single overhead cam inline-2 wasn't the most powerful engine available, but the Prinz 4 was intended to break into markets where the barrier to automobile ownership was not only entry cost, but tax brackets. Namely, this was problematic in the U.K., where the original Mini reigned supreme. The Prinz 4 offered an alternative, albeit a slow one – even weighed down with only around 1,250 lbs, the two cylinders struggled mightily to motivate the car. Acceleration curves depended on what you had eaten for breakfast, but figure it was the strong side of 35 seconds to reach 60 m.p.h.. But this car was about affordability and economy rather than speed, and threw a dose of more upscale-looking class into a segment dominated by quirky designs: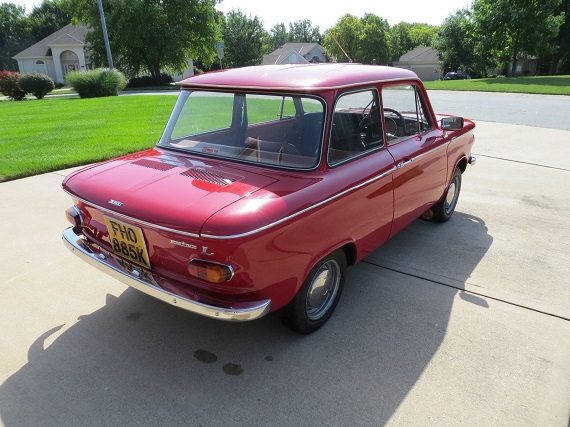 Year: 1992
Model: Prinz 4L
Engine: 0.6 liter inline-2
Transmission: 4-speed manual
Mileage: 16,566 mi
Price: $10,000 Buy It Now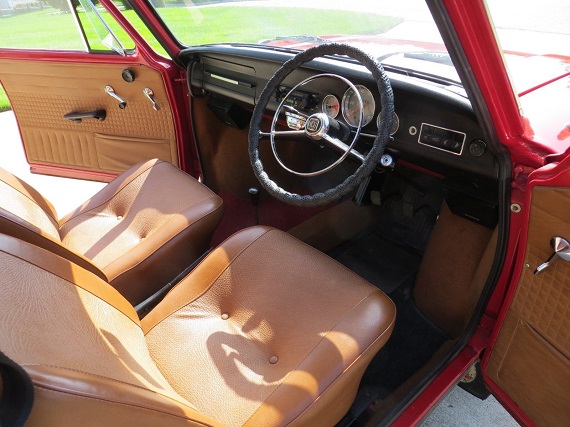 1972 NSU Prinz 4L in excellent original condition with a genuine 16,565 miles from new.

This car has been mostly unused for several years and is not currently registered for use on US roads.

I have owned this Prinz since 1987 when I bought it (in the UK) from the granddaughter of it's original elderly owner, who had recently passed away. I was an active member of the British NSU Owners Club for some years. The car had been well known to the club before I bought it and I continued to use it for club events and shows around England and Scotland.

I moved to the US some years ago and had it shipped over here intending to get it registered for use in the US and to find a US NSU owners club. However, family and professional obligations took precedence and this has not happened. Now I am heading back to the UK and it looks as though shipping it back with me may be prohibitively expensive so I am reluctantly offering it for sale. It has not been run much during it's time here, although has had the occasional outing on private roads from time to time. It had new brake lines and all fluids replaced very few miles ago and for it's age is in terrific condition with gleaming paint and bright work… as you would expect from a genuine 16K mile car. It has been garaged from new and I had the underside fully protected with Ziebert undercoating around 25 years ago. As far as I can tell there is no rust whatsoever anywhere on the bodywork or underside of the vehicle.

All I know of that it needs to get it road worthy is replacement of a small bushing that sits in a channel guide through which a connecting rod runs underneath the car, connecting the bottom of the gear stick to the transmission. The bushing has perished such that the connecting rod sits lower in the aperture than it should and because of that misalignment it will only go into first and second gears – the transmission itself is fine, it's just the alignment of the connecting rod that needs to be addressed but I have not sourced an appropriate bushing to replace the perished one. It would probably benefit from new tires also. Additionally, the bright waist band trim on the driver's side rear quarter panel was damaged some years ago and should be replaced if the car were to be returned to show condition.

Otherwise, it should need very little attention in order to once again become a show car or a first rate classic driver. Having owned it for close to 30 years, I would love to take it back to the UK with me but so far it's not looking promising on the shipping / import duty front so am, very reluctantly, open to offers. If I do sell it, I hope it will be purchased by a serious NSU / Collector Car enthusiast who will give it the new lease on life and regular use that it richly deserves.

Feel free to email me or post questions and I will respond as quickly as possible.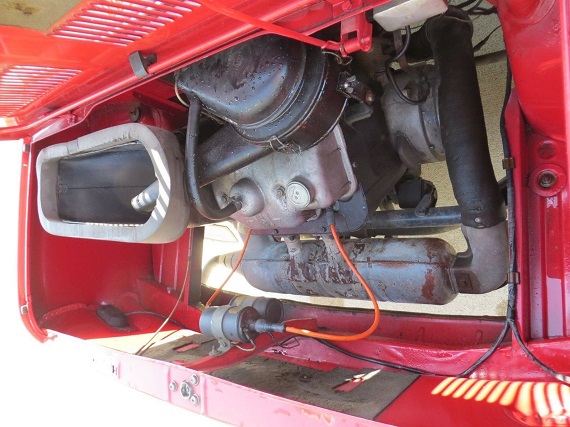 Though originally intended as competition for the Mini, it didn't manage the panache and consequently the market today for these Prinz models is pretty flat. The exception is the car that spawned a racer – the TT and TTS, which had double the motor and a little more than double the power of this example. In spite of this not being the more desirable model, this one is about as nice as a Prinz 4 comes to market today, and the right drive configuration just adds to the "whadizit" factor as you cruise down the road. And compared to the other designs, the NSU is pretty affordable; you'd be hard pressed to find a Mini anywhere close to this condition for a similar amount, and the alternative Isetta has rocketed off in value, with prime examples asking above $50,000 in some cases. Always a bit offbeat, these Prinz models remain a seldom seen bit of history. The the factory where they were produced, in Neckarsulm – shortened to NSU – was pivotal to the production of some of our favorite cars, such as the Audi 4000, Coupe, and Quattro models, as well as the Porsche 924/944 and still remains the base for Audi's A8 and R8 production. The roots may have been simple, but the relative success of the model paved the way for the significant development Audi in the 1980s.
-Carter