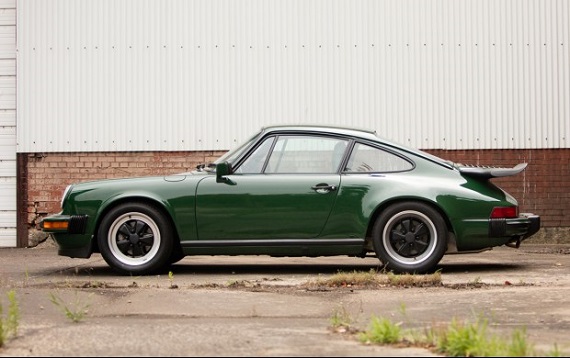 With a few of the most prestigious auctions of the year coming up this weekend it seemed worthwhile to see what sort of interesting vehicles would be crossing the auction block this season. I encourage anyone curious about these things to peruse the listings. There are quite a few of the typically fantastic vintage machines and racers from various periods. The car we see here may not immediately attract as much notice since compared with other options it looks quite subdued, but a closer appraisal reveals it is quite special. The 3.2 Carrera Club Sport remains for many the best of the '80s 911s Porsche produced. As with most companies whose pride of place stems from its racing history, the competition variants tend to attract greatest notice. The Club Sport is no different as it follows in the footsteps of the Carrera RS showcasing both a lighter overall weight and improved performance to provide the ultimate 911 package. The particular Club Sport we see here further distinguishes itself from other examples in that it is said to be the only one produced in Irish Green. I'm not sure if this would be the ultimate paint-to-sample option one could choose for attracting collector notice, but it surely would exist on a short list of very desirable exterior colors.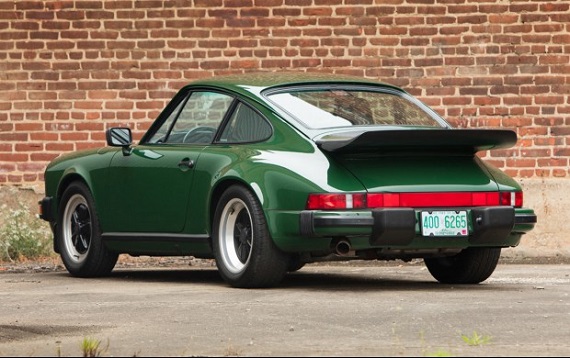 Year: 1989
Model: 911 Carrera Club Sport
Engine: 3.2 liter flat-6
Transmission: 5-speed manual
Mileage: 9,200 mi
Price: Reserve Auction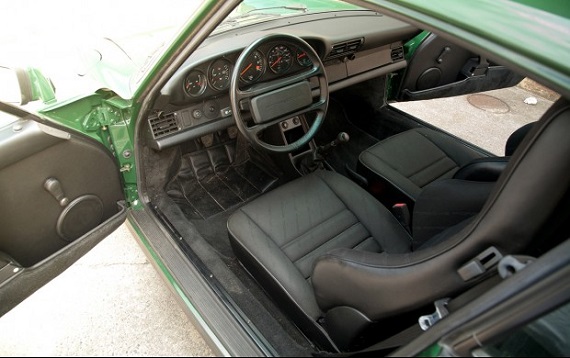 The Porsche 911's competition heritage is periodically applied to its road car offerings, beginning with the availability of sport-purpose options on early 911 models and continuing with the release of variants that showcased the company's racing technology in a limited-production package, such as the legendary 1973 Carrera 2.7 RS. Such occurrences continue to this day in the form of the 991-based GT3RS and recent introduction of the 2017 911R. Collectibility has followed each of these special 911s due to their rarity and desirable specification.

The Carrera model introduced in 1984 brought greater performance, economy, and refinement to the 911, with an increased engine capacity of 3.2 liters and, by 1987, a new gearbox that replaced the type 915 unit added in 1972. The Carrera was ripe for a high-performance variant, and Porsche introduced the Club Sport option in 1987. The CS was engineered to allow the customer to easily convert the car to club racing specifications and emphasized lighter weight, with most cars not including air-conditioning, undercoating, a rear seat, certain sound insulation, power windows, a sunroof, or fog lights, among other details. These missing items, which lowered the car's weight by approximately 155 lbs., were accompanied by subtle modifications to the 3.2-liter flat six, which was now blueprinted from the factory and featured hollow intake valves and a unique ECU with an increased rev limit. Suspension, gearing, and various other details were also modified in the pursuit of increased performance.Just 28 examples were imported into the US – 22 in 1988 and six in 1989. These very special 911s have become highly sought after.

The 1989 Carrera Club Sport offered here is one of the most exclusive limited production road-going 911s. As the sole example finished in paint-to-sample Irish Green, a classic 1960s Porsche color, this 911 further benefits from having traveled less than 9,200 miles from new. Retaining its original paint and interior and having been carefully maintained since the consignor's purchase less than 500 miles ago in 2007, the Club Sport is accompanied by its original owner's manuals (with rare Club Sport supplement), tool kit, jack, front-end bra, and window sticker.

The UK's EVO magazine rated the 1987-89 911 Club Sport second only to the vaunted Carrera 2.7 RS in its ranking of the top-10 911s of all time, demonstrating what owners already know: The Club Sport exemplifies the lightweight 911 formula and offers an experience not to be missed.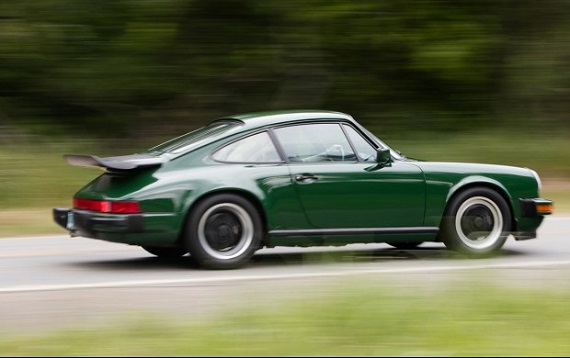 Naturally, just about everything about this Club Sport is exquisite and I think the only questions that will be asked will concern just how much it might be worth. The estimate given by Gooding & Co. is quite high and would certainly far eclipse even the very high priced Club Sports we've seen previously. Given the extremely low mileage and the paint-to-sample exterior a high price shouldn't surprise us and if there's a collector out there with a particular desire for Irish Green, then we could in fact see this reach its high estimate. As a key piece in a 911 collection it would be tough to go wrong there!
-Rob