One of the most favorite cars I have ever featured here on GCFSB was the slightly modified BMW 3.0 CS we featured back in January. This has to be one of the most handsome BMWs ever produced. It's delicate roofline, aggressive front clip and perfect proportions exemplify 1970s grand touring at its best. This example has undergone a partial restoration and has all the nice updates, from the 5 speed manual transmission to the deep inset cross hatch alloys.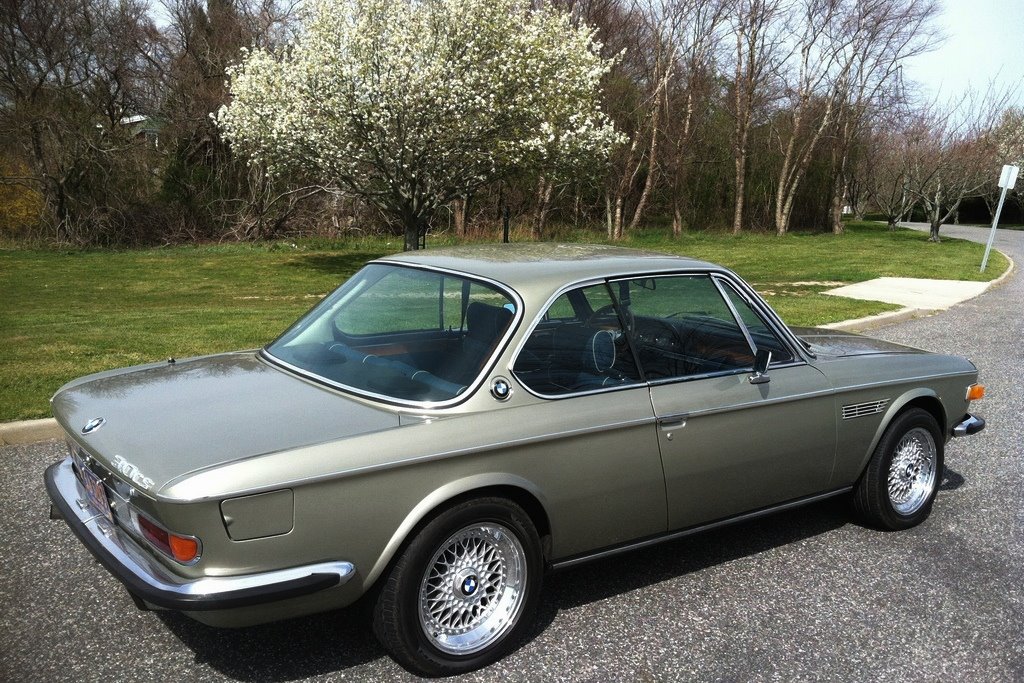 This is a 1973 BMW 3.0 CS in fully restored incredible condition. This car was fully restored by The Werk Shop in Lake Bluff Illinois, one of the most respected BMW restorers in the country, and is just a stunning example. Car has a fully rebuilt 3.5 litre motor, triple side draft Weber carbs, all new brakes, front end, 5-speed gearbox. Car has beautiful new paint and chrome, interior is all redone, leather seats and door panels, wood has been refinished, carpets are new, headliner is new. This is the finest example we have seen of a 3.0 Coupe.
I'm at a loss as to which E9 I like better; the black one featured in January or this car. I have to be honest and say that I'm leaning towards this car. The champagne paintwork over the nautical blue leather and creme piping just oozes class in a way we haven't seen since Steve McQueen and his Marrone Metallizzato Ferrari 250GT Lusso. As much as I dislike non-period wheels, these later BBS style rims work well on a variety of vintage BMWs, including this one. Every part of this car appears perfect, as it should at an asking price of $75,000. A quick check over at Hagerty shows values for a '73 CS peaking at around $50,000. As was the case with the last E9, this example is probably overpriced by a fair amount. However, I wouldn't be surprised if values were on an upswing for these coupes. Quite frankly, they have been under appreciated far too long.
-Paul