Perhaps one of the best known BMWs of all time, the 2002 is the car that brought BMW back from the financial brink and carried the company through the 1970s until the first generation 3 series debuted in 1975. This 1974 2002tii marks the year when BMW switched from round to square tail lamps, in addition to the federally mandated crash bumpers arriving on the scene. This 2002tii for sale in California features the higher compression 2.0 liter four cylinder featuring mechanical fuel injection. It has also been repainted at one point during its 78,000 miles.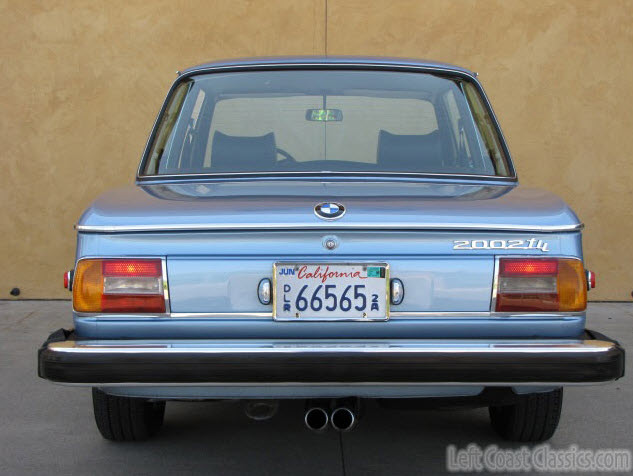 Beautiful 1974 BMW 2002Tii Coupe for sale with just 78K Original Miles and in Immaculate condition. Starts; runs and drives with plenty of smooth power, shifts exactly as it should with nice and tight handling. Car has had one respray of it's original and rare Fjord Metallic Light Blue. This is a really well preserved 2002Tii, an excellent one to enjoy and hang onto while it's value climbs. Not too many original, preserved cars exist anymore. I have hundreds of photos of this car, many in high resolution (too big for the web) so if you'd like to see anything in particular, let me know. Car is available to be seen in Sonoma California.
Inka Orange and Fjord Blue are my two favorite 2002 colors. Like most people I favor the "roundie" model, this tii is just too spotless not to like. Other than the rare Turbo models, the tii is always the 2002 which brings the most money. At the high end, you can see these cars trade hand for over $30,000. Realistically, we're probably looking at a $25,000 to $30,000 car here. The earlier non-crash bumper cars tend to command a bit more of a premium. That's a lot of coin and true, you could buy an almost new 3 series for that kind of money. Then again, most people looking at a 2002 prize them for their relative simplicity and pure driving fun. The new BMWs are certainly good performers, but, as the saying goes, they don't make 'em like they used to.
-Paul