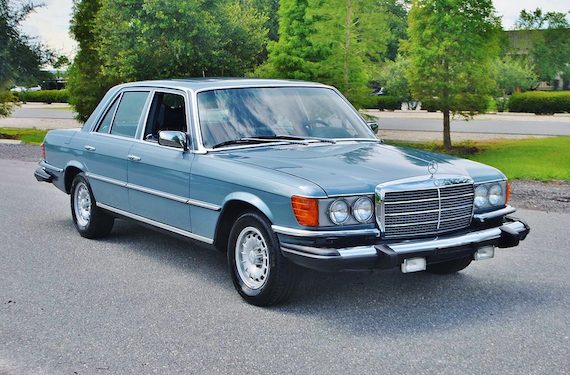 I don't see many W116s on the roads these days, although they do seem to be ubiquitous in certain kinds of Hollywood movies (usually those set in the middle east, in which they feature as the preferred ride of the terrorist bad guys). Produced between 1972 and 1980, the W116 was the flagship of the Mercedes lineup during the period and was the first car to be officially referred to as an "S-class." Penned in the 1960s, the design looks remarkably more modern than it really is, probably because many of the car's styling cues were carried over onto models built for a decade or two to come.
This particular example isn't the range topping, high performance 6.9 SEL model. Instead, it's a short wheel base, low mileage version of the ordinary 450. Nonetheless, it looks glorious and stately, which is exactly how an S-class should look.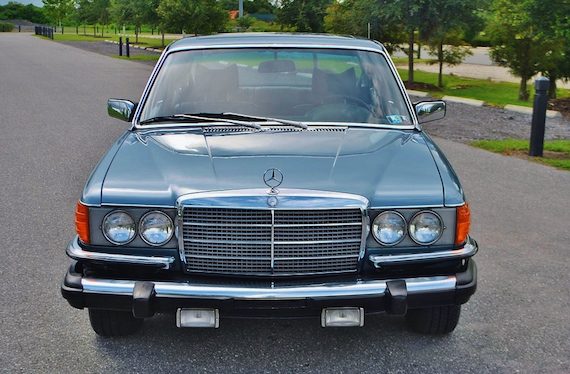 Year: 1975
Model: 450SE
Engine: 4.5 liter V8
Transmission: 3-speed automatic
Mileage: 71,250 mi
Price: Reserve Auction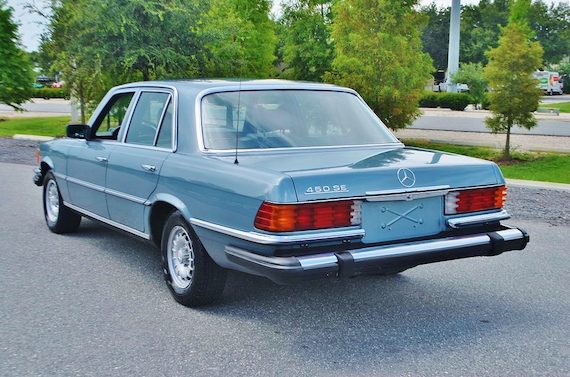 Gorgeous 1975 Mercedes-Benz 450 SE

71,250 Original Miles

Primo Classics International is proud to present this amazing 1975 Mercedes-Benz 450 SE. This classic luxury car has been extremely well cared for and is in superb original condition. The car has had one professional repaint and it is in excellent condition. The chrome and bright work are also in superior condition as you can see in the photos below. This beautiful Benz is powered by a 4.5 Liter V8 Engine paired with an automatic transmission- both of which perform marvelously. The car is also equipped with a Sunroof, Power Windows and an Aftermarket Stereo. All around, this is a great car that is turn-key ready to drive.

The photo gallery below contains over 30 pictures…. Enjoy!

Should you like to negotiate a fair and reasonable offer please call

Dan at (863) 370-6712

Or

Derek at (727) 361-8026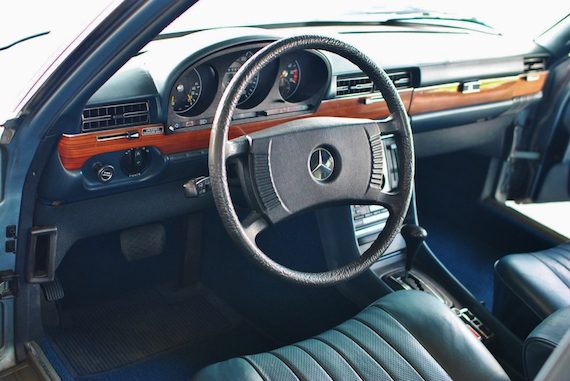 The exterior of the car has benefitted from a respray and looks to be in great condition. The exact color isn't specified but it's probably diamond blue, a lovely color that suits this body shape very well. The blue interior, which appears to be MB Tex rather than leather, looks good overall. It does show some signs of wear but nothing major stands out. The pictures of the engine bay depict a clean looking M117 4.5L V-8 motor, good for about 180 hp and 220 ft-lb of torque. Performance won't be blistering at the low ends but these cars move well at upper speeds, and with only 71k miles on the clock, there should be many years of motoring ahead for this relatively indestructible engine.
No maintenance history is given in the ad and no mention is made of whether all the electrical accessories work as they should. Potential buyers would be well advised to get a thorough PPI done; like a lot of old Benzes, these things polish up nicely for photos, which can distract from any mechanical issues that lurk underneath. The same car is listed on the dealer's website with slightly different ad copy and an $8k price tag, which is around the value of an example in "fair" condition according to Hagerty (somewhat disconcertingly, that other ad lists the paint as original, while the eBay listing notes that it is a respray). However, if it measures up in person, this car could provide a relatively inexpensive entry into classic Benz ownership, giving its new owner that ineffable sense of class and quality for which the three pointed star was once renowned.
– Craig